Who doesn't love going to the State Fair of Texas every summer? You might not be able to hit the fair more than once or twice each year, so why not take a bit of inspiration home with you? I'm bringing some of that fun right into your own kitchen with some fun fair-inspired recipes that you won't be able to get enough of. Kick up those boots and let's get to cooking, shall we?
---
Fried Chicken Waffle Cones with Spicy Honey Drizzle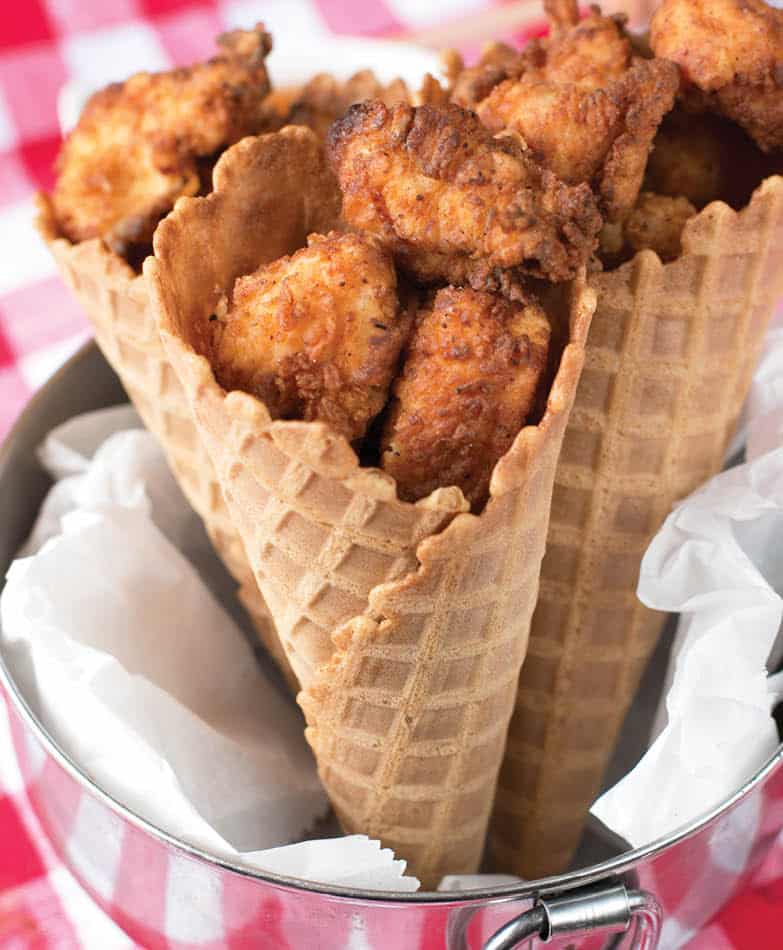 For the chicken waffle cones:
2 skinless chicken breasts, cut into 1 inch chunks

¾

cup buttermilk

2 teaspoons kosher salt

¾

cup all-purpose flour

1 teaspoons baking powder

1 teaspoons cayenne pepper

½

teaspoons onion powder

½

teaspoons black pepper

Canola oil for frying

4 pre-made waffle cones
For the spicy honey drizzle:
¹/

³

cup honey

½

teaspoons cayenne pepper
In a small bowl, whisk together honey and cayenne pepper for the spicy honey. Set aside. In a separate bowl, mix the chunks of chicken breast, buttermilk, and 1 teaspoon of salt. Cover with plastic wrap and let chill in the refrigerator for at least 1 hour.
Combine flour, baking powder, cayenne pepper, onion powder, and pepper in a large sealable bag. Seal and shake the bag well to combine the dry ingredients. Using a slotted spoon, remove the chicken pieces from the bowl, drain, then add to the bag with the flour mixture. Once all the chicken has been added to the bag, seal the bag and shake well until all of the chicken pieces are covered with the mixture.
In a medium heavy saucepan, heat approximately 4 inches of canola oil over medium heat until the oil reaches 350 °F. Add the chicken pieces, frying about 5 at a time, for about 4 to 5 minutes until the chicken is golden brown. You may want to cut a piece open to make sure there is no pink inside, or you can test the chicken with a thermometer, making sure it reaches at least 165 °F. Drain on a plate lined with paper towels. Add chicken to waffle cones and drizzle with spicy honey. Serve immediately. Makes 4 cones.
If you want a little more heat on your chicken, add some hot sauce to the buttermilk mixture for an added kick of spiciness.
---
Strawberry Banana Chocolate Kebabs
2 cups strawberries, tops cut off

3 bananas, cut into 1-inch pieces

1 cup dark chocolate chips

1 cup white chocolate chips

6 wooden skewers
Soak wooden skewers in a shallow pan filled with water for 15 minutes. Pat dry. Alternating between strawberries and banana pieces, add fruit to skewers. You should have approximately 2 to 3 pieces of each fruit on each skewer. Set aside on a parchment paper lined baking sheet.
Add dark chocolate chips to a microwavable bowl. Microwave in increments of 30 seconds, stirring between each one, until the chocolate is melted. Repeat this same process with white chocolate chips in a separate clean bowl. Drizzle skewers with both types of chocolate. Let rest until the chocolate is set, in a cool dry place or in the refrigerator.
Have fun with the kids and make the strawberry banana chocolate kebabs together! Experiment with different types of chocolate, add some sprinkles, or simply swap out the fruits for a whole new treat.
---
Smoky Chili Margarita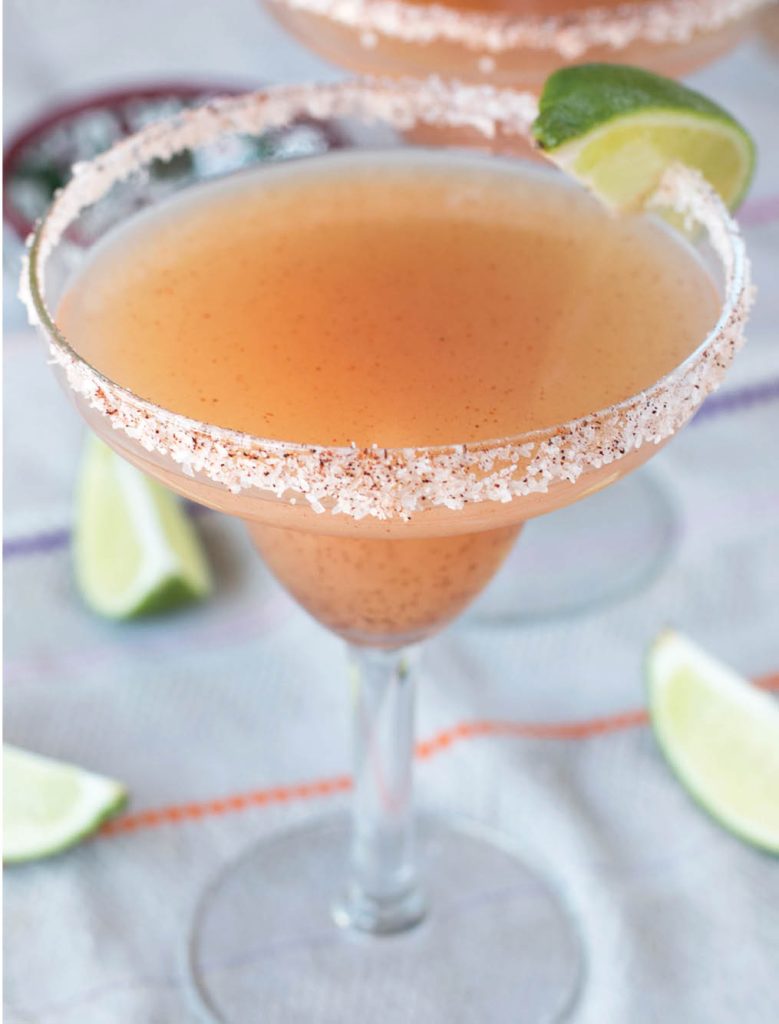 For the drink:
4 ounces tequila

½

teaspoon chipotle powder

3 ounces lime juice

2 ounces orange juice

2 ounces agave
For the rim:
2 teaspoons salt

2 teaspoons chipotle powder
In a small bowl, stir together salt and chipotle powder for the salt rim. Wet the edges of two margarita glasses with lime juice. Rim the edges with the chipotle salt. Set aside. Fill a shaker with ice. Add tequila, ½ teaspoon chipotle powder, lime juice, orange juice, and agave. Shake well. Strain into the rimmed margarita glasses. Garnish with lime wedge and serve immediately.
Love the smoky flavors of mezcal? Replace the tequila with mezcal to give it an extra smoky layer of flavor.
By Meghan Bassett