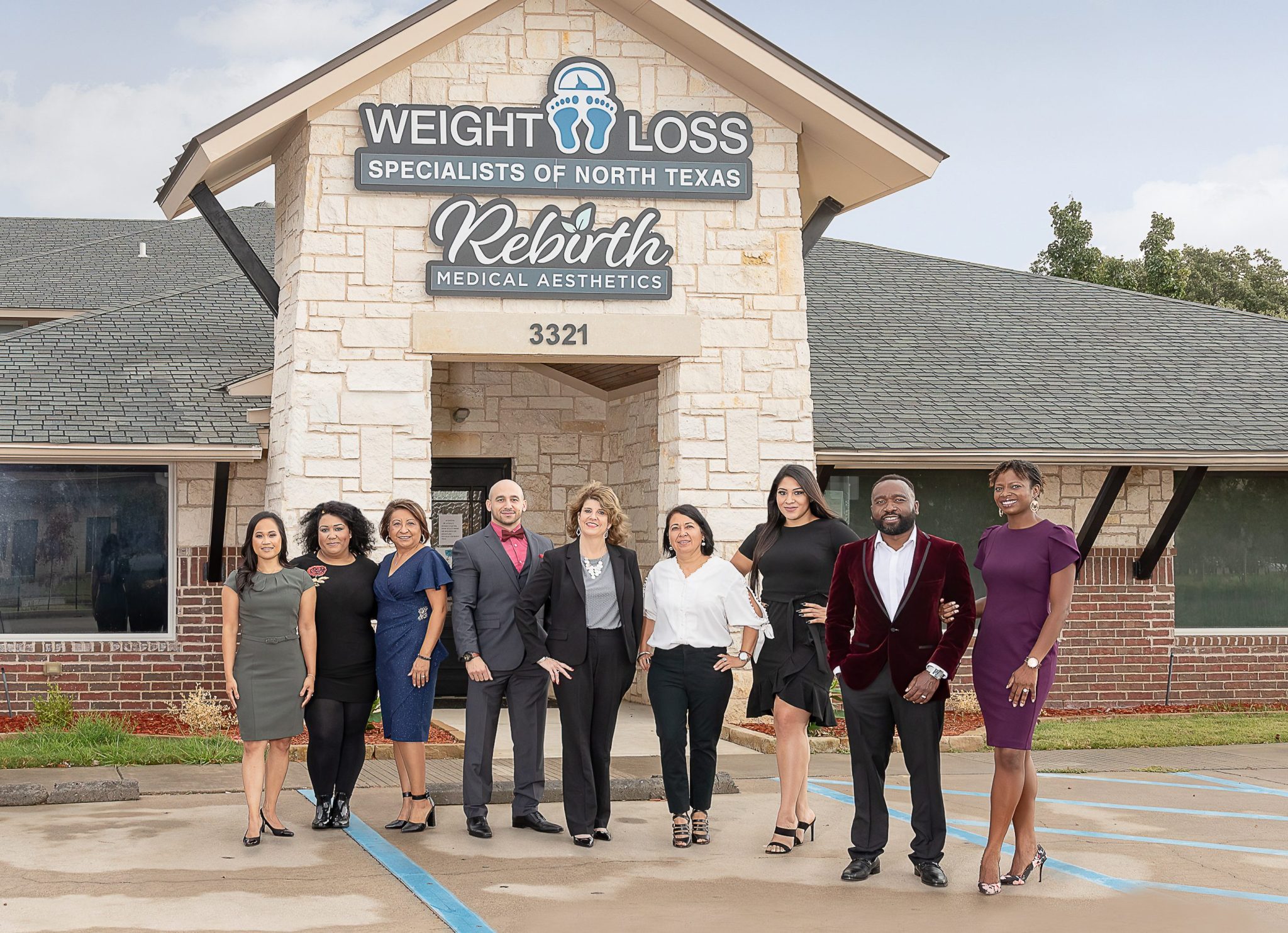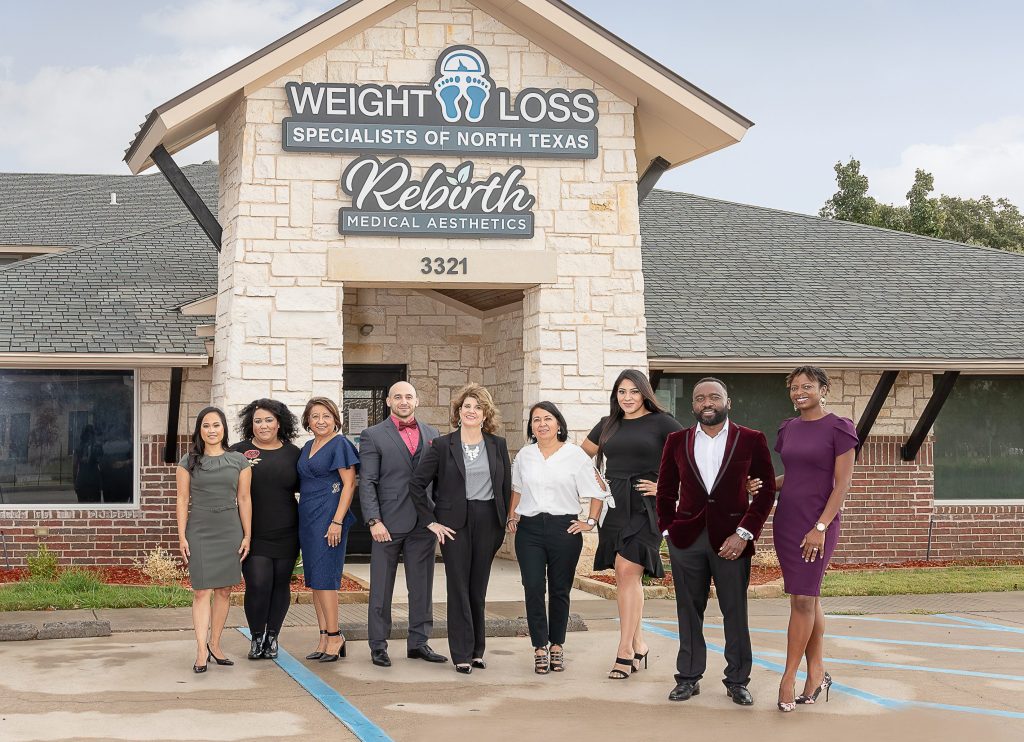 A baby discovering his toes. A teenager discovering a hidden musical talent. A busy professional discovering untapped potential that catapults her career. An empty-nester discovering new passions for a new season.
What do all these discoveries have in common? The joy and empowerment that result from the discovery! And that's how countless people describe feeling after discovering the best version of themselves with help from Weight Loss Specialists of North Texas; joyful and empowered.
If you've tried diet and exercise and feel like nothing works, a reputable medical weight loss practice can partner with you, bringing the extra support and solutions you need on your weight loss journey. Whether you need to lose a little or you need to lose a lot, the experienced, compassionate clinical team at Weight Loss Specialists of North Texas can help you get there.
"We want to help you uncover the very best version of yourself. You can do it, and we can help!." – Folahan Ayoola, MD – Weight Loss Specialists of North Texas
Comprehensive Weight Loss Solutions
Minimally Invasive Surgery:
Duodenal Switch
Gastric Bypass
Sleeve Gastrectomy
Revision Surgery
Nonsurgical Treatments/Services:
Gastric Balloon
Medically Supervised Diet
Exercise Programs
Prescription Medications
Nutritional Counseling
Medical Aesthetics
Online Tools and Support
Find Your Best You with Help from the "Best"
One more reason to choose Weight Loss Specialists of North Texas? They were named "Best Bariatric Surgeon" by Flower Mound Living readers in 2021. In fact, Dr. A and the team have been a Readers' Choice Award winner for six years in a row!
Discover Rebirth Medical Aesthetics
After you've done the hard work of losing weight, you may need or want a little help looking as great as you feel! "So many of our patients confide in us that while they're ecstatic about their weight loss, they feel frustrated with problem areas like loose skin and stubborn spots that have resisted cooperating. With Rebirth Medical Aesthetics, we have many solutions for that, too," said Dr. A.
Rebirth Medical Aesthetics was designed and birthed to meet this common need, with non-surgical procedures to help with the most common concerns surrounding significant weight loss as well as general concerns with aging skin.
Forma – skin remodeling for the face and neck
Lumecca – Intense Pulsed Light (IPL) for Pigmentation, Photodamage and Vascular Lesions of the face and hands
Diolazexl – laser hair removal
Vasculaze – leg vein treatment
Bodyfx – Body contouring and cellulite reduction
Minifx – Cellulite reduction for smaller areas
Bodytite – Skin tightening and fat reduction in the body (abdomen, thighs, arms)
Facetite – Skin tightening in the face and neck areas
The Weight Loss Specialists and Rebirth team will speak with you candidly and confidentially about your challenges and concerns, making a plan to help you achieve your goals.
Meet the Doctors
Folahan Ayoola, M.D. (Dr. A!) is fellowship trained in bariatric surgery and advanced minimally invasive (laparoscopic) surgery. He always takes a minimally invasive approach whenever possible to ensure faster and less painful recovery after surgery. He is the Medical Director of Bariatric Surgery at the prestigious Texas Health Presbyterian Hospital Flower Mound. During his training, Dr. Ayoola was the recipient of the I.A. Bigger award, the highest honor bestowed to any surgical resident at his program. This is a testament to his integrity, leadership, teaching and clinical ability.
But here's what you really need to know that you won't find on his resume. You're genuinely going to love him. He is warm, personable, compassionate and willing to invest the time each patient needs in order to feel comfortable and confident. Most of his patients describe him as a trusted friend.
Tarik Al-Kalla, M.D. is an expert in open, laparoscopic and robotic surgery with a focus on bariatric weight loss using minimally-invasive methods. He also uses robotics for revisional bariatric surgery, hiatal hernia and reflux surgery as well as abdominal hernia surgery. He uses minimally invasive techniques whenever possible.
Dr. Al-Kalla is dedicated to giving his patients the best care, treating them with dignity, respect and empathy. He strives to be their advocate, partnering with them to improve their health and well-being. He is a patient favorite!
You've Never Experienced Care Like This
The Weight Loss Specialists approach to patient care is a little old-fashioned but, across the board, their patients love it. "I believe you have to treat people with respect and you have to build relationships," said Dr. A. "You have to earn trust and you have to maintain that trust. So when we see patients, we have respect for what they're trying to accomplish. We have a lot of conversation and a lot of mutual respect."
If a struggle with obesity is part of your story, you don't have to hide. You can lose the weight, regain your health, improve your quality of life and feel great about yourself. Discover your best you today! Weight Loss Specialists of North Texas has three locations in Denton, Flower Mound and Frisco.
You've got this.
We've got you.
Schedule a no-risk consultation today. Visit weightlosssurgeon.com or call (940) 382-9429 for details.
Contact
(940) 382-9429
weightlosssurgeon.com