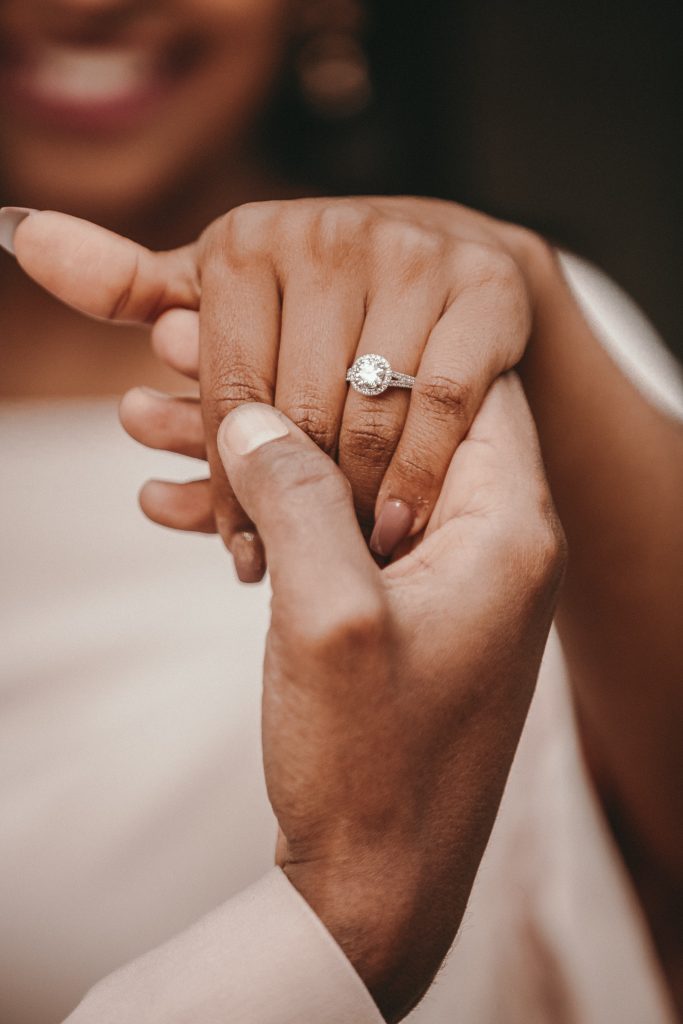 Selecting engagement and wedding rings is a deeply personal experience. They symbolize your devotion to one another and your enduring bond. An engagement ring is usually given during a proposal or early in the engagement, signifying your commitment to your upcoming marriage. A wedding ring is traditionally a band received by both partners when exchanging vows.
Although wedding and engagement rings are steeped in tradition, today's couples have more options than ever to customize their designs to match their unique style and expression of love.
Three Options for Choosing Your Wedding Rings
Bridal Set or Wedding Set
A bridal set consists of an engagement ring and a matching band for the bride. It's a popular choice because it takes the guesswork out of matching rings and ring-stacking. When the engagement ring's shape compliments the wedding band's shape, it creates a perfect, comfortable fit. Equally important, an engagement and wedding ring should meld together to create a combined aesthetic that enhances their beauty and symbolism.
A wedding set consists of a bridal set and a matching wedding band for the groom or partner. Buying a wedding set means all three rings are taken care of at once. This can help you save money and time when you're busy preparing for your wedding day.
Getting an Engagement Ring and Band Separately
Sometimes it's not possible to get the engagement ring and band together. Especially when you want to completely surprise your beloved by "popping the question," band selection occurs afterward.
If your engagement ring does not have a matching band, the key is to find a band that fits flush with the engagement ring and that compliments versus distracts from its style. It's essential to look at the shape of the band next to your engagement ring. One option that usually works well is a curved band, also known as notched, V-shaped, or chevron wedding bands. Designed with a curve on one side, these bands can be paired comfortably with an engagement ring that features a prominent center stone.
Other considerations include matching the diamond size on your engagement ring to the diamonds' size on the wedding band, especially if you have a pavé diamond engagement ring. Most people choose a matching metal, such as yellow gold, platinum, white gold, or rose gold, but you can mix metals, too, if you desire.
Wedding and Eternity Bands without an Engagement Ring
A growing number of couples are going with wedding or eternity bands only exchanged at the ceremony. They can be studded infinity twists or single, double, even triple bands with either a few diamonds or encrusted in diamonds, to name a few styles. And they don't necessarily have to be matching bands or even the same metal, so each of you can express your bond in a way that is deeply meaningful as individuals and as a couple.
While not quite as common, another trend is selecting a diamond eternity band that is more fashionable and stylish compared to traditional wedding bands, which can be worn on its own.
Regardless of the option you end up selecting, start by exploring your preferences, narrowing your choices, keeping your lifestyle in mind, and setting a budget. Then relax and enjoy this fun and exciting process. Once you've made your decision, all you need to focus on is planning your wedding and living happily ever after.
---
Contact
(888) 487-2145
CleanOrigin.com