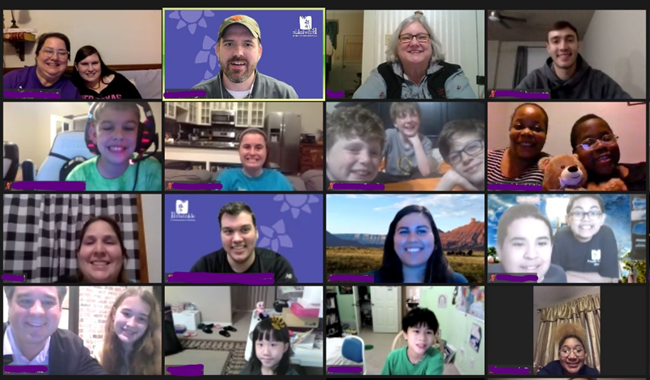 In March, 72 campers, including 20 patients, 23 siblings, and 33 parents/guardians, participated in The Periwinkle Foundation's Virtual Periwinkle Family Camp – a digital take on the organization's annual family camp. The camp was designed as a way to meet the needs of the entire family unit as they collectively grapple with the emotional roller coaster of a pediatric cancer diagnosis and the ensuing treatment.
"Since our first Family Camp in 2009, we have been honored to be able to create an environment in which participants gain tools to make them stronger survivors and stronger families," said Doug Suggitt, executive director of The Periwinkle Foundation. "Family Camp programming allows and encourages families to spend healing time together creating treasured family memories and invites them to get to know other families who are experiencing or have experienced similar issues."
Despite the ongoing challenges presented by the COVID-19 pandemic and to ensure the safety of everyone involved, The Periwinkle Foundation reimagined Family Camp into a virtual retreat that included family games, arts and crafts, yoga, cooking, and more. The activities were facilitated through a combination of live programming on Zoom and recorded tutorials for families to access at their convenience. To enhance the camp experience, each family received a complimentary camp-in-a-box, which included supplies and materials to be used during the various activities. On Saturday evening, each family was also surprised with a pizza dinner delivered directly to their home.
Periwinkle Family Camp is just one of the many programs that The Periwinkle Foundation offers to children, young adults, and families who are challenged by cancer and other life-threatening illnesses. Other programs include Camp Periwinkle, Camp YOLO, Periwinkle Day Camp, the Long-Term Survivor Program, and the Periwinkle Arts In Medicine Program at Texas Children's Cancer and Hematology Centers. Periwinkle Programs are provided free of charge to patients, siblings, and families, thanks to the generosity of individuals, corporations, and foundations.
It is never too late to help support The Periwinkle Foundation and the more than 14,000 children, teens, and families they serve. To learn more about the work they do or help the organization reach the event goal of $150,000, visit them online at PeriwinkleFoundation.org.