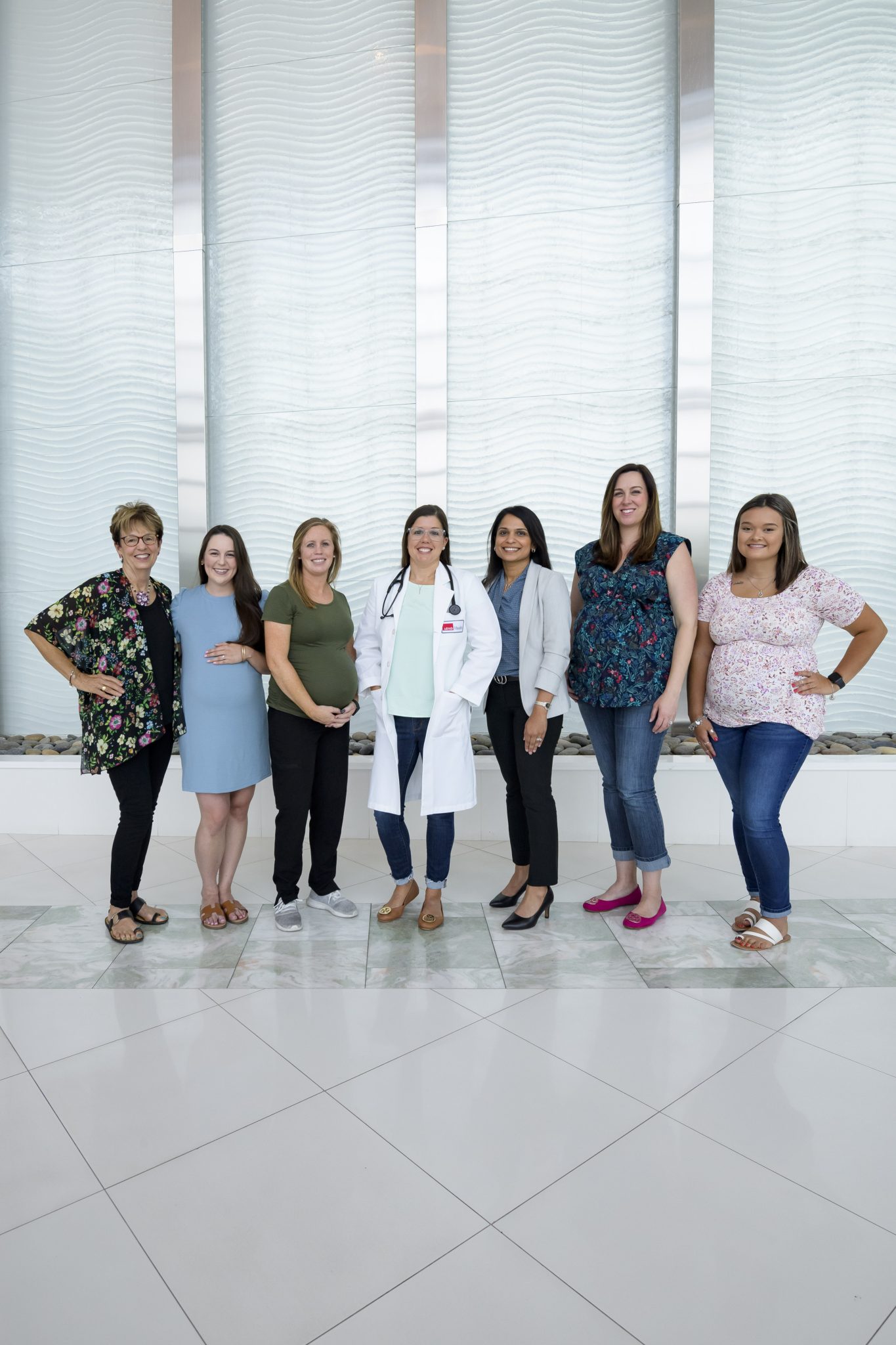 ---
Whether seeking prenatal care for mother and baby, scheduling a first-ever gynecology appointment or looking for a provider to help navigate the changes that come with age, UTMB Health has a women's health care specialist ready to care for every season of life.
For Taylor Thurstonson, who recently gave birth to her second child at the UTMB Health Clear Lake Hospital Campus, selecting an OB-GYN at UTMB came down to the positive word-of-mouth she was hearing about the local providers, particularly Dr. Joyce Muruthi, an OB-GYN based in the UTMB Health Women's HealthCare office in Friendswood.
"I had heard really good things about them, and all the OB-GYNs had excellent reviews online as well, which pushed me to go there," Thurstonson said. "Every staff member I came in contact with was amazing. The whole office was absolutely incredible."
Unbeknownst to Thurstonson, she was going to meet even more members of the team before her second pregnancy was complete.
One was Dr. Kimberlyn Robinson, the on-call doctor at the UTMB Health Clear Lake Hospital Campus when Thurstonson delivered unexpectedly at 30 weeks via an emergency C-section last year. Robinson was forced to take charge of the situation when Muruthi couldn't be present for the birth. Since Thurstonson gave birth to her son in 2021, the Clear Lake Campus Hospital has added Level 2 Neonatal Intensive Care Unit (NICU) capabilities as well, enabling the hospital to provide comprehensive care for more seriously ill newborns.
Thurstonson described her experiences with Muruthi in her pre- and post-natal care as "phenomenal," and she credited Robinson, an OB-GYN at the UTMB Health Women's HealthCare office in Clear Lake, for keeping her and her newborn son healthy.
"Things did get crazy, but I felt like we were both in good hands with the doctors at UTMB," said Thurstonson.
A First Women's Health Appointment
When Summer Miller-Clark scheduled her first-ever women's health appointment, she was just 15 years old and was hoping birth control could help manage her period symptoms, including severe acne.
"I started getting acne and one of the things that they mentioned was if you got on birth control that would help your acne a lot, but I was really young and I didn't really feel like that was a good decision at the time," said Miller-Clark who is now 23 years old. "But as I got older and the acne got worse, my parents and I decided it was time to contact someone and see what my options were."
That someone happened to be Dr. Tonya Callender, board-certified family nurse practitioner and the director of the multidisciplinary Women's Comprehensive Care office in Clear Lake—one of the many women's health practices UTMB Health offers throughout its expansive network in Southeast Texas, the Bay Area, Galveston and Brazoria County.
Since that first encounter, an almost decade-long patient-provider relationship between Dr. Callender and Miller-Clark has blossomed. When reflecting on those first few visits and conversations, Miller-Clark fondly describes how comfortable Dr. Callender made her feel, even in those early stages when she was a bit embarrassed about the whole situation.
"Given my age during my first appointment, my mom was with me," she said. "So that was a little awkward; becoming a woman is a sensitive topic, and Dr. Callender handled it all really well. Now I look forward to seeing her every time."
Tilly Clark, Miller-Clark's mom and fellow patient of Dr. Callender's, was integral in Summer's decision to choose Dr. Callender as her women's health provider.
"The second you get in the room with Dr. Callender, you have her undivided attention, and she has a calm demeanor that makes you feel really comfortable," said Clark. "That's what I love about her so much, and that's why I was confident in trusting her with the care of my daughter."
Care That Reflects Changing Needs Throughout a Woman's Life
A woman's health needs change throughout her life in important ways. The gynecologists, urogynecologists and breast health experts at UTMB Health understand these changing needs and partner with our patients to keep them healthy and living their best lives.
"At UTMB, we put an emphasis on preventive care to ensure we catch any problems early," said Dr. Truong Nguyen, a women's health specialist who sees patients in Clear Lake, League City and Galveston. "Many of the health concerns women face are easily diagnosed and treatable. If you need treatment, we work with you to determine the most effective course of action."
Some of the common conditions our OB/GYNs treat include infections, menstrual discomfort, urinary incontinence and gynecological disorders such as endometriosis. In addition, UTMB Health provides surgical treatments, including advanced minimally invasive procedures like robotic hysterectomies and uterine fibroid removal.
Additionally, certain providers like Nguyen have been trained to do hysterectomies, cystectomies and oophorectomies using a newly developed technique known as vNotes (vaginal natural orifice transluminal endoscopic surgery), that provides many benefits to female patients, such as a shorter hospital stay, less postoperative pain, no visible scars, and a faster recovery time.
A Solution for an Overactive Bladder
Anita Conerly, a 74-year-old retired teacher who lives in League City, underwent surgery performed by UTMB Health urogynecologist Dr. Elisha Jackson to get a handle on her overactive bladder, and she's so grateful she did.
"It makes life easier," said Conerly, who had been searching for a fix for her condition for years before finding Dr. Jackson. "It's so much better than what it used to be."
Board-certified OB-GYN and fellowship-trained urogynecologist, Dr. Jackson is just one member of the UTMB Health Pelvic Health and Urogynecology team, which practices in Clear Lake, Pearland, Angleton and Galveston. One of her colleagues, Dr. Gabriela Halder, sees the specialty they offer as a chance to help women refocus on themselves.
"I see all types of women who are busy with full-time careers or stay-at-home moms who manage everything, and it's rewarding to help them when they've been focused on their families," she said.
Whether it's irregular bleeding and childbirth or menopause and pelvic floor issues, the scope of health conditions and concerns women have throughout their lives is far and wide, just like the UTMB system of care that has experts prepared to help patients of all ages.
---
Contact
To learn more about women services at UTMB Health, visit utmbhealth.com/womens. To find a provider and schedule an appointment, visit doctors.utmbhealth.com or call (800) 917-8906.