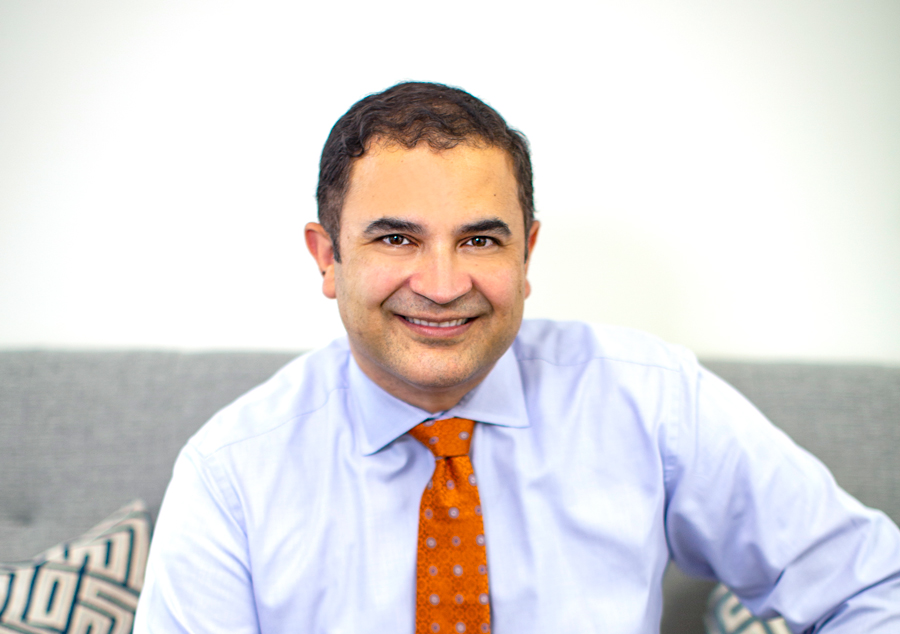 Advanced, Evidence-Based Interventional Pain Management
By Annette Brooks
Photos by Kelley Sweet Photography
Where do you go to get real relief from sudden or chronic pain? Do you see a primary care doctor, an orthopedist, a spine surgeon, a neurologist, or seek alternative medicine? In the majority of cases, interventional pain management is the first course of treatment — the very services provided by Dr. Jaideep Mehta at University Pain Associates. So, why not make an appointment at University Pain Associates and skip the time-consuming steps of going from doctor to doctor seeking relief?
Shedding Light on Pain Medicine
Inscribed in University Pain Associates logo are the Latin words fiat lux and vita excolatur, which essentially translates to "let life benefit from knowledge." Dr. Mehta and his associates strive to educate and illuminate the public about their special brand of advanced, evidence-based interventional pain management, and how it can improve quality of life.
"Most people don't instinctively think about seeing us as their first line of defense against pain, but they should. In fact, the majority of my patients come as referrals from other physicians, including surgeons," says Dr. Mehta. "Consider us as your pain management quarterback, calling the plays to relieve pain while working cooperatively with your family, primary care provider, medical specialists, physical therapists, and other practitioners involved."
Faster, Better, Smarter
Helping relieve pain is what Dr. Mehta does, all day, every day. His special training enables him to effectively treat pain due to a wide spectrum of issues, including sports injuries, back and neck pain, cancer pain, arthritis, and neuropathy, to name a few.
"We see a lot of complex cases and treat them with science, art, and finesse," Dr. Mehta shares. "Every treatment plan is highly customized. Nothing is cookie-cutter."
Once you meet Dr. Mehta, you'll realize that not all pain management specialists are created equal. Dedicated to evidence-based medicine, academics, and education, he is an elite pain medicine physician on the cutting-edge of innovation in his field. This enables him to offer the most effective, up-to-date treatments available. Taking a holistic approach, he investigates and offers optimal solutions, acting as a pain detective and problem solver.

Full-Service Practice Includes Groundbreaking Options
University Pain Associates provides a complete suite of advanced services, including epidural injections, nerve blocks, radiofrequency ablation, and regenerative medicine. They also provide spinal cord stimulation, which Dr. Mehta says can be a godsend for patients suffering from nerve pain. "Patients with neuropathy often think it can't be fixed. We've had exceptional success treating neuropathy and radiculopathy with spinal cord stimulation," says Dr. Mehta.
At the forefront of his field, Dr. Mehta's services include new, minimally invasive breakthrough procedures that can safely and effectively help you avoid spine surgery. For example, if you're diagnosed with lumbar spine stenosis, you may be a good candidate for injections, but over time they can stop working. Instead of being referred to a neurosurgeon or an orthopedic surgeon for spine surgery, Dr. Mehta may recommend a minimally invasive treatment called a Vertiflex procedure. Vertiflex is designed to relieve back pain by restoring the disc space between the vertebrae.
"Unlike spinal fusion, Vertiflex can restore the disc space on multiple levels, while still preserving the option for future surgery if necessary," explains Dr. Mehta.
Kyphoplasty is another cutting-edge, minimally invasive, in-office procedure provided by University Pain Associates. Kyphoplasty helps stop pain caused by a spinal fracture by stabilizing the bone and restoring some or all of the vertebral height loss due to the compression fracture. Here's how it works. A special balloon is placed into the vertebrae through a tiny tube, then gently and carefully inflated. As the balloon inflates, it elevates the fracture, returning the pieces to a more normal position, and creates a cavity inside the vertebrae. The balloon is then removed, and the cavity is filled with a cement-like material that hardens quickly and stabilizes the bone.
University Pain Associates also offers regenerative medicine, such as platelet-rich plasma and stem cell therapy, but they note that regenerative medicine needs to be carefully selected to make sure it's offered for the right patient — that it's not a panacea.
"One of the perceptions I'm out to change is that pain doctors just prescribe pain medicines," Dr. Mehta says. "At University Pain Associates, we diagnose the cause of your pain, then develop a treatment plan designed to address the source using innovative interventional solutions and therapies to eliminate pain all together."
More About Dr. Jaideep Mehta
Jaideep Mehta, MD, MBA, FASA, is a double board-certified anesthesiologist and fellowship-trained pain medicine physician. After finishing an internship in internal medicine at Mt. Sinai Icahn School of Medicine in New York, Dr. Mehta completed his residency in anesthesiology at George Washington University and a fellowship in interventional chronic and cancer pain at MD Anderson Cancer Center in Houston, Texas. He taught at the University of Texas Houston McGovern Medical School in the Department of Anesthesiology for years, where he rose to the rank of associate professor of anesthesiology and served for many years as the director of acute pain medicine service at Memorial Hermann – The Texas Medical Center.
There's no greater joy for Dr. Mehta than to successfully treat patients suffering with pain so they are not only able to perform daily life activities but do the things they love. Visit UniversityPain.com to read his complete bio.
"I review and explain options with my patients and make treatment recommendations that are in their best interest. The key is to determine what will give a patient the best therapeutic benefit. I look for the silver bullet — treatments that will be the most effective for a longer period of time," says Dr. Mehta.
---
CONTACT
Find out what Dr. Jaideep Mehta can do to relieve your pain. Schedule an appointment today. Most major medical insurance plans are accepted, including Medicare and Tricare.

1140 Business Center Drive, Suite 110
Houston, Texas 77043
(281) 896-0100
24510 Kingsland Boulevard
Katy, Texas 77494
(281) 896-0100