By Mimi Greenwood Knight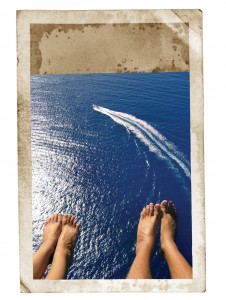 The average German worker is allotted six weeks of paid vacation per year and uses every minute of it. The average American (according to a recent Reuters poll) is offered two weeks and 57 percent of us don't even take that. Americans vacation less than residents of England, France, Germany, Norway and Japan, and far less now than we have in the past. Let the change begin with you!
Vacations are vital to our mental, physical and spiritual wellbeing and important for deepening family bonds. We return from vacation refreshed, renewed and ready to be a better spouse, parent, employee and friend. Even more so if we elevate our vacation to a life experience; something that takes us out of ourselves and our comfort zone. Two types of vacation do this best—an adventure vacation or a ministry trip.
Adventure Vacations
Getting out and taking our chances in nature has countless benefits. It renews our ties to our world and prepares our kids to be Earth's next caregivers. It lowers our blood pressure, tests our mettle, offers perspective on problems back home, provides personal achievement, allows our kids to see us in new ways and deepens our family bonds. Consider adventures like:
Sky diving
Mountain climbing
Zip-lining
Parasailing
Big game hunting
White water rafting
Backcountry camping
Shark cage diving
Snorkeling
Spelunking
Kayaking
Working a real cattle ranch
And do all of the above sans TV, cell phones, Internet, iPods or gaming devices.
Ministry Vacations
Vacations with a purpose are nothing new. Groups such as the Sierra Club have been organizing them for years. Last year the group ran 90 service trips where volunteers used vacation time to donate roughly 27,000 man hours to state and federal parks, keeping them attractive for us to use.  Maybe it's your turn.
This winter, World Endeavors took volunteers to far flung places such as India, Nepal and Thailand, where folks escaped winter temperatures and experienced a rich, new culture while working alongside native peoples. Many local churches are organizing mission trips for summer 2013. One of them may have a spot for you. So step out of your comfort zone, immerse yourself in another culture and return a better, spiritually-richer person.