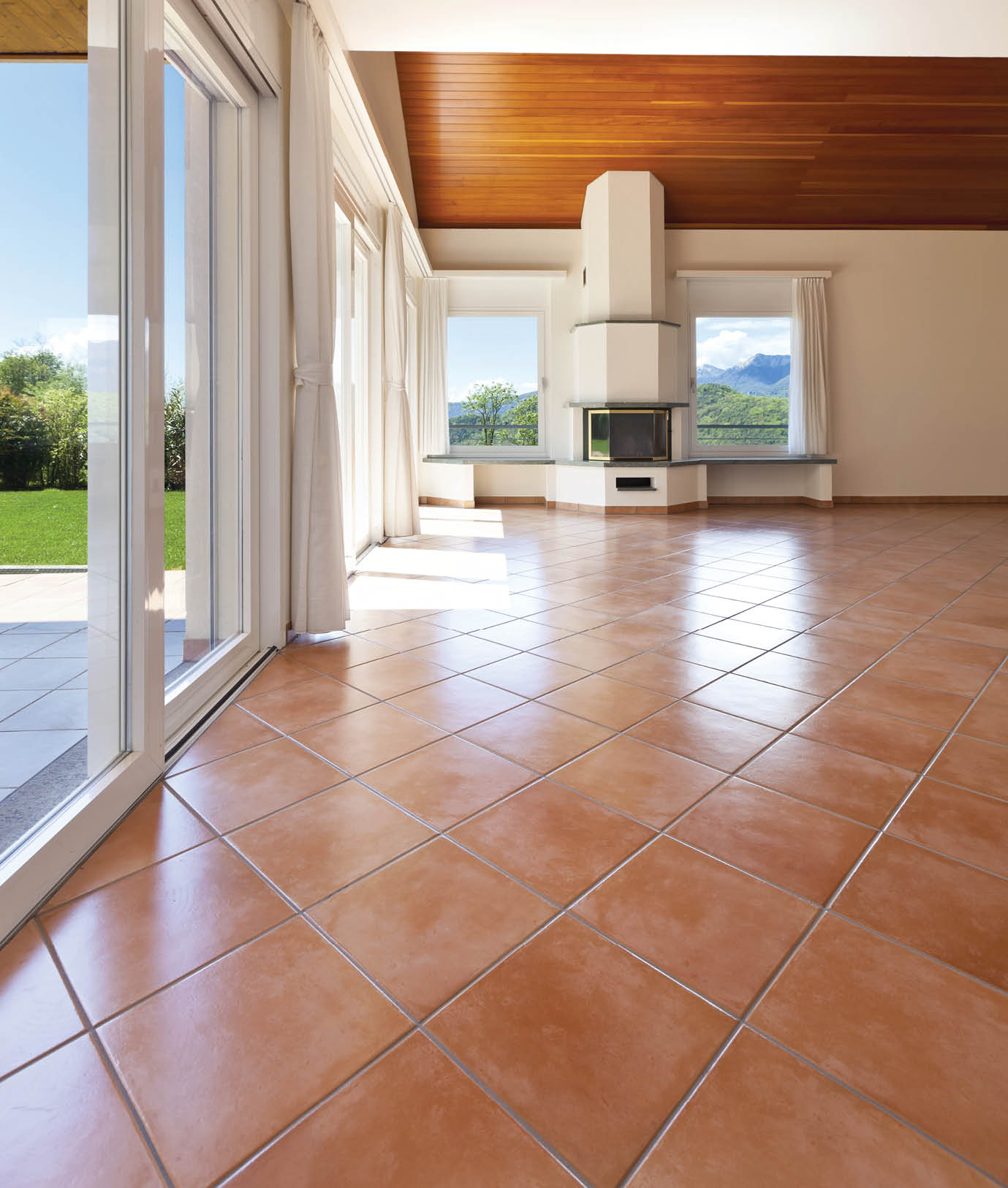 Terracotta tiles have been used around the world for thousands of years, but are recently enjoying a resurgence of popularity—for very good reasons! These tiles are made from natural clay that is fired to become a porous ceramic with warm reddish tones. The distinctive color of terracotta comes from the iron in the clay, so there is a wide array of products and tiles available that reflect the unique properties of the clay used.
One of the most wonderful things about this material is its versatility. Often used as flooring tiles, the warm tones of terracotta can create a wonderful contrast to and balance for an otherwise modern kitchen of bright whites and industrial finishes. The tiles have a beautiful variation and organic quality, and these slight, pleasing imperfections can soften a room that might have ended up giving off a cold and sterile atmosphere.
"Large square paving tiles create a simple yet elegant floor that instantly creates an authentic atmosphere for homes…"
At the same time, this age-old material fits in perfectly in an older home, particularly one built in a Southwestern or Mediterranean style. Large square paving tiles create a simple yet elegant floor that instantly creates an authentic atmosphere for homes in this architectural style—after all, the kind of soil and clay that terracotta is made from is plentiful in those regions, and the tiles are eminently well suited to the climate, remaining cool underfoot and pleasing to walk on even during the hottest of days.
But the versatility of terracotta means that you are not limited to simple, monochromatic shapes. Terracotta tiles have been used throughout the ages to create surfaces that are just as much art as they are functional architecture.
For instance, one timeless use of terracotta is to color the tile with gorgeous earth tones using glazes, and create elaborate patterns of color and shape. A floor, or section of floor, laid in a creative pattern of terracotta tiles is particularly breathtaking in an entranceway, patio, or living space. This kind of terracotta tiling is also a wonderful option to create a unique, beautiful, and functional backsplash in a kitchen.
While good quality terracotta is a workhorse material that can be maintained with a little effort for decades, terracotta of questionable quality can be prone to cracking and chipping. Make sure you source your tile from a company with a solid reputation that you can trust.
By Marie Pappas