Courtesy: South Texas Folds of Honor
---
Thanks to the generous support of donors, sponsors, and corporate partners, the South Texas Chapter is aiding the Folds of Honor with its singular, noble mission. Through various campaigns, including The Veteran Golf Classic, which takes place annually at Golfcrest Country Club, we can bridge the financial gap to ensure all qualified applicants from Texas receive scholarship assistance as they pursue their educational goals.
Folds of Honor is a 501(C)(3) nonprofit organization, rated a four-star charity by Charity Navigator and platinum on Guide Star, which provides educational scholarships to the families of military men and women who have fallen or been disabled while on active duty in the United States Armed Forces. 91% of all funds raised directly impact the mission. Their scholarships support private education for children in grades K-12, as well as higher education tuition assistance for spouses and dependents. Founded in 2007 by Lieutenant Colonel Dan Rooney, a PGA Professional and Air Force F-16 fighter pilot who served three tours of duty in Iraq, Folds of Honor is proud to have been awarded approximately 40,000 scholarships in all 50 states.
Diane Nemecek is the Regional Development Manager for Folds of Honor and manages the South Texas Chapter. "It is an honor to work alongside so many amazingly generous patriots from the great state of Texas. Together, we carry forth the mission of the Folds of Honor. Community, generosity, and selfless service to others are qualities each Texan proudly displays. It is an honor to represent the Folds of Honor as the second largest chapter in the country, made possible thanks to the unwavering dedication of our supporters from the great state of Texas. Despite the unprecedented times created by the pandemic, our resolve as a generous and giving community remains stronger than ever! We hope you will join our worthy and noble mission. With your help, we will honor the sacrifice of those who serve by educating their legacy."
This year, Folds of Honor announced the expansion of their mission to the dependents of fallen and catastrophically wounded first responders. In 2022, Folds of Honor awarded over 9,000 scholarships nationwide, 1,055 in Texas alone. Please consider joining the mission or participating in one of our many events.
---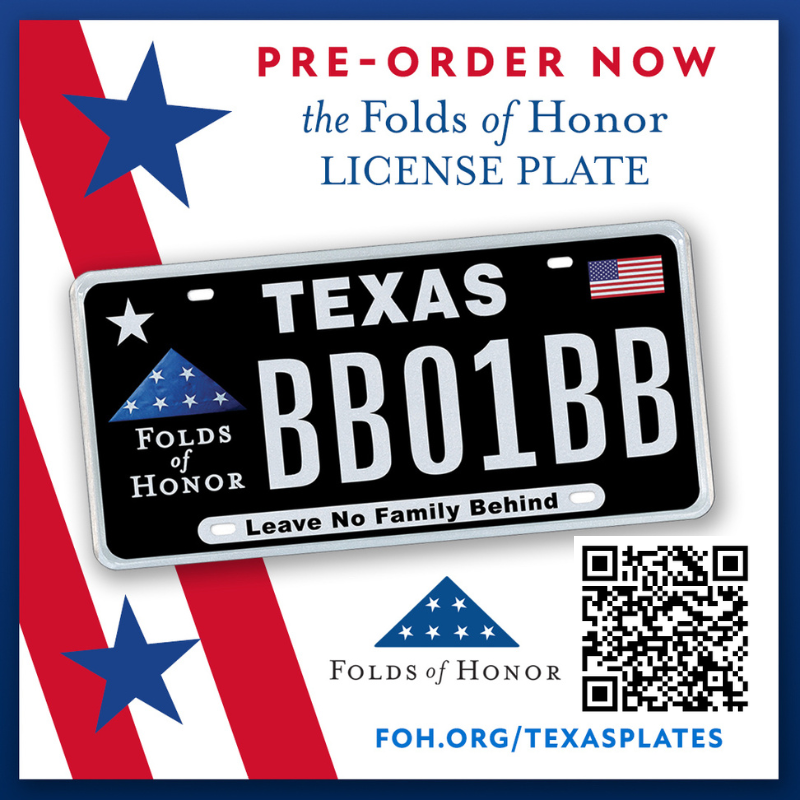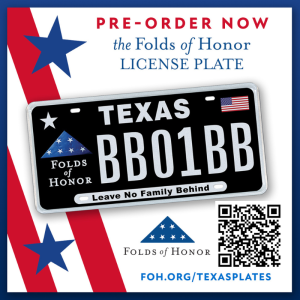 Visit SouthTexas.FoldsofHonor.org to donate and learn more. Additionally, Texas recently launched a Folds of Honor license plate. To pre-order, scan this QR code.