Town and Country Neurology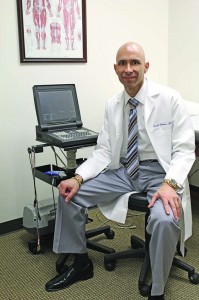 Dr. Sevak Ohanian is a board-certified neurologist who delivers high-quality personalized care. He has been in private practice for 14 years, and is affiliated with Memorial Hermann Memorial City Hospital. Being a solo practitioner, Dr. Ohanian is able to devote a generous amount of time to each patient, evaluating and discussing their unique medical concerns.
As a native Houstonian who is dedicated to serving his community, Dr. Ohanian is known for his caring, compassionate nature and commitment to excellence. "We spend quality time with our patients and know everyone by name. We also run on-schedule so patients don't waste time waiting to see me. I have a great staff who help patients feel welcomed and at ease, always providing a personal touch," he said.
Dr. Ohanian diagnoses and treats a wide range of conditions including headaches/migraines, dementia/Alzheimer's, stroke, multiple sclerosis, movement disorders including Parkinson's, neck and back problems, and more. He offers BOTOX injections for chronic migraines. In addition, Dr. Ohanian has specialized training in neurophysiology, performing in-office EEG's for epilepsy and EMG/NCS (nerve conduction and electromyographic) studies for nerve and muscle diseases including neuropathy and carpal tunnel syndrome.
After Dr. Ohanian received his medical degree in May of 1990, he completed a residency in neurology, and a fellowship in clinical neurophysiology at The University of Texas Medical School at Houston, Hermann Hospital.
Dr. Ohanian is an active member of numerous professional organizations including the American Medical Association and the American Academy of Neurology. He lives in Houston's Memorial area with his wife and two children, and enjoys spending time with his family when not working.
Call today and schedule an appointment with Dr. Ohanian. Most insurance plans are accepted.
713-461-7878
10575 Katy Freeway, Suite 425 (4th floor)
Houston, Texas 77024
townandcountyneurology.com