Rock Sports & Spine Therapy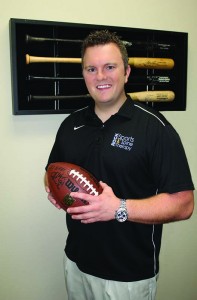 Dr. Bart Kennedy has one goal each day: to get athletes—from weekend warriors to pros—off the sidelines and back in the game. Whether you make your living in the sports arena, compete in triathlons or marathons on the weekend or just enjoy a brisk walk around the block, an injury to your foot, ankle, lower back, shoulder, neck or wrist can keep you away from the activity you love. Dr. Kennedy specializes in non-invasive, non-surgical treatments to do more than address your symptoms; to get at the root cause of your problem and fix it, so you're back in action again.
"My approach is simple," he said. "I repair what is biomechanically causing the problem. Once everything is in balance, the symptoms will take care of themselves." At his state-of-the-art facility within the Memorial Athletic Club, he has access not only to cutting-edge chiropractic equipment and technology but to an indoor track, indoor swimming pool and advanced rehab equipment, to help his patients from ages five to 95; from super star athlete to soccer mom.
"After five years of pain and many doctors later, Dr. Kennedy was the first to help me get back behind the plate, to play the sport I love pain-free," said MLB pro catcher Humberto Quintero of the Seattle Mariners.
"I was so excited about my new running hobby until lower back pain and IT band syndrome stopped me dead in my tracks. Thanks to Dr. Kennedy, I'm running again and loving it!" 
Cindy L.
So what is it you love to do but can't because of a sports-related injury?
Dr. Kennedy can target and correct your overuse sports or spine injury problem and get you on the road to better health naturally. Dr. Kennedy and his beautiful wife, Paige, are proud parents of three girls, Kaylee, Addisyn and Brooklyn. They enjoy traveling and attending every sports event they can. He is currently accepting new patients at his state-of-the-art Rock Sports & Spine Therapy Clinic.
281-531-7465
14690 Memorial Drive
Houston, TX 77079
RockSportsTherapy.com