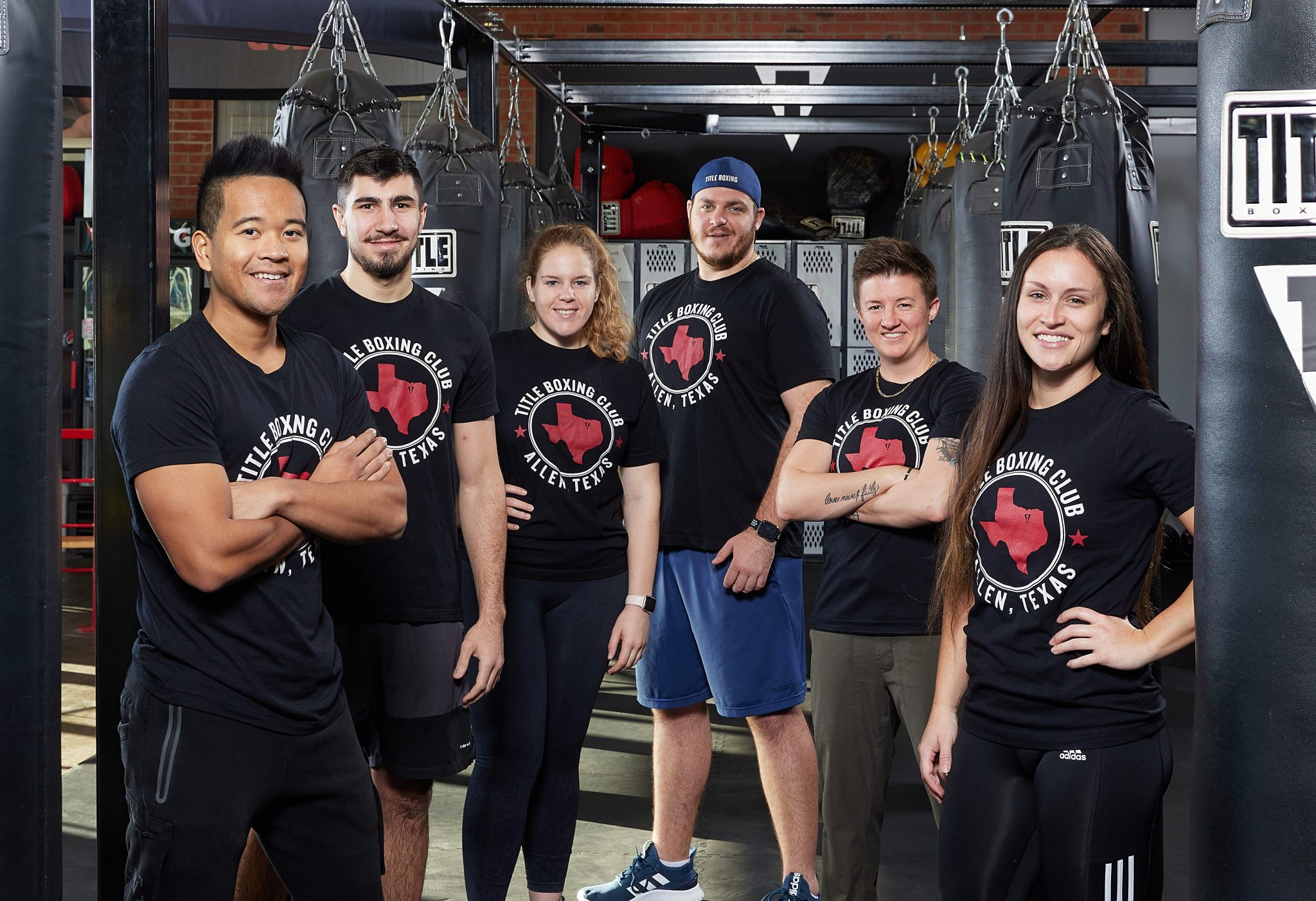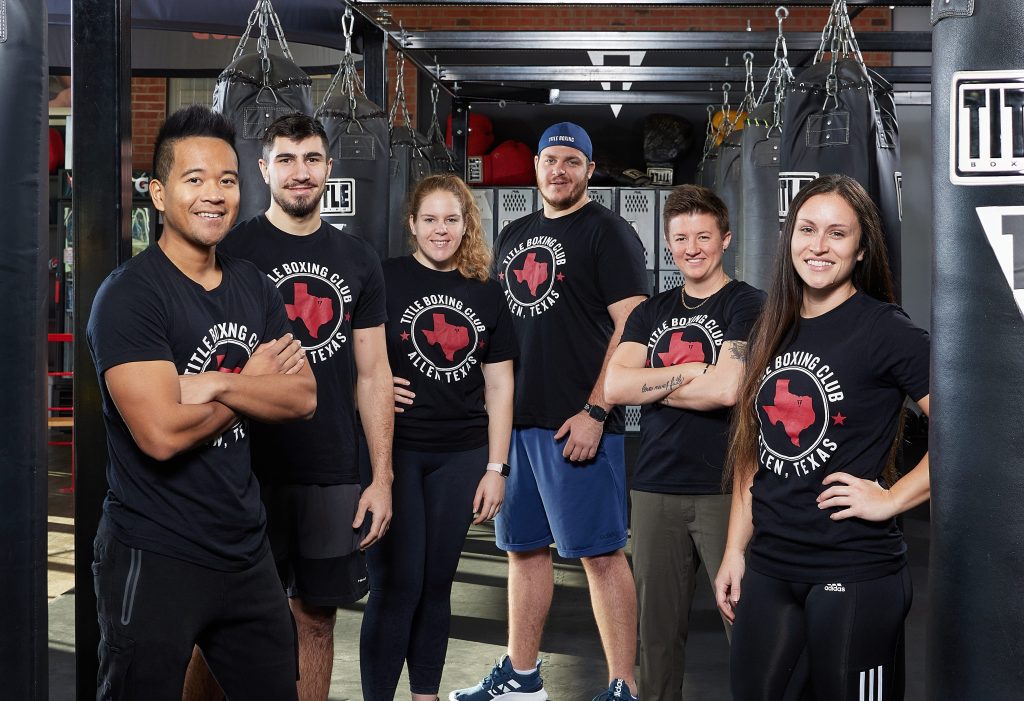 BY MELISSA GAUTIER | PHOTO BY SCOTT PEEK PHOTOGRAPHY
Ever feel like punching something when you're uptight or stressed? Title Boxing Club Allen (TBCA) gets it. They've taken the sport of boxing and modernized it into a workout that not only gives you satisfaction and confidence but offers a fun and welcoming place to get fit. Their qualified, experienced instructors provide each person with an incredible and empowering boxing workout every day. Their welcoming attitude fosters a supportive, family-like atmosphere, allowing members and guests to feel both emotionally and physically secure, regardless of their age, body type, weight, or ability. Even if you've never donned a pair of boxing gloves or hit a punching bag in your life, TBCA has you covered. They're ready to show you the ropes every step of the way.
Fitness, boxing, and kickboxing enthusiast James Walk took over Allen's TBC ownership 18 months ago after a career in the military and corporate world. "Title Boxing Club is a brand of inclusion, where you're welcomed, wanted, supported, and encouraged," James emphasizes. "Our classes engage the body, mind, and spirit by channeling the fundamentals of a true boxer's workout."
Boxing Newcomers Welcome
TBCA welcomes all ages, and currently has members from age six to 80. "Most importantly, you don't have to know how to box. We only hit heavy bags and there's no sparring. You go at your own pace," James explains. "Just you and your bag."
Boxing newbies should arrive 15 minutes prior to their first class. They'll learn how to wrap their hands for protection before putting boxing gloves on and be introduced to instructors who will teach them the six basic punches. Each regular session focuses on basic form and function.
"We teach how to throw punches correctly and use proper form," James says. Workouts are broken into three-minute rounds of punching or kicking on the bag, followed by one minute of active rest. You'll start with a small punch combination that gradually builds to longer punch combinations.
"People love our entertaining workouts designed to benefit you individually," says Mal Chappell, general manager and trainer at TBCA. Mal's love of boxing began in the U.S. Navy. Mal is an undefeated amateur competitor, 2018 Dallas Golden Gloves champion, and a history professor. "We're passionate about sharpening the mind and body while instructing and motivating others to achieve their own fitness goals," Mal says. "I love how boxing and all martial arts have a way of showing exactly what you're made of."
Nicole Domm is TBCA's manager and says, "Title brought me back to reality after I left the corporate world and welcomed me without having technical fight experience. It changed my world emotionally, physically, and technically." Since Nicole had never boxed before, training was paramount. "Mal taught me absolutely everything I know," she says. "I want newcomers to know that you don't have to be a pro boxer to come here. This is a very learnable skill. We welcome everyone wanting to be a healthier, better version of themselves."
Get a Kick Out of Classes
Boxing and kickboxing classes are a fun way to work out with others while concentrating on your own abilities. Classes are designed to challenge mind and body, without regard to disability. Instructors can even design a supportive, customized workout to meet an individual's physical needs. Various membership plans are available and class packs can be purchased in increments of three, six, and nine class credits.
A FreeMotion program is also offered, designed for people coping with Parkinson's disease and other neurological disorders, or seniors looking for a fun community with lower-impact boxing workouts that focus on issues associated with active aging. "People with Parkinson's come for this program from all over the Metroplex," Mal says.
Compassionate Support for Each Other
"We know sometimes, at the end of the day, you just need someone in your corner," Mal says. "For just one hour, you can beat up a heavy bag, relieve stress, and feel truly alive." TBCA is proud of the community and culture they've built and maintained. "We're here for you, just like a close-knit family."
Whitney Wolff was challenged for many years with severe hearing loss before she became a TBCA member. "I cannot imagine doing life without this gym and these people," she says. "I was concerned about joining due to my severe hearing loss. However, the TBCA trainers could not have been more amazing to work with. They are knowledgeable, encouraging, and supportive, no matter where you are in your journey. They trained with me to get my body and mind ready prior to my ear surgery, and they walked compassionately with me post-surgery to build up my confidence." A member for the past four years, Whitney says, "The trainers are constantly assessing my progress to help me be successful in my workout."
Introducing Streaming Online Workouts
Now you can reach your goals from the comfort of your own home or work out on the go. Streaming workouts allow you to exercise and box anytime using any mobile device. Designed by TBC trainers, these workouts offer all fitness levels to choose from. Convenient and easily accessible, you can supplement your class workouts or catch up on ones you've missed. All you need is yourself and your goals.
Whether you want to learn how to throw a killer left hook, or just want to work kicks and stretch, TBC is the destination of choice for an incredible workout in a fun, inviting atmosphere. Show up, go at your own pace, and give it your all. TBCA looks forward to welcoming you into their family of boxing enthusiasts.
We welcome everyone wanting to be a healthier, better version of themselves."
Boxing classes
Kickboxing classes
FreeMotion lower-impact program
Streamlining online workouts
Membership plans
Class packs for purchase
Contact
503 West McDermott Drive, Suite 100
Allen, Texas 75013
(214) 644-2640
TitleBoxingClub.com/Allen-Tx