An Ancient Art Form That's Newer Than Ever
By David Buice
Tile is all around us for everyone to enjoy, and has been for thousands of years. It's the simplest form of ceramic art, and the earliest examples are Egyptian, dating back to about 4,000 B.C.
From its original Egyptian home, the art of making tile gradually spread to Europe in the 10th century. Because of its expense, however, initially its use was largely limited to the continent's magnificent edifices, like Europe's many cathedrals.
In the 19th century, Britain pioneered the mass production of tile, greatly reducing its cost, and by the beginning of the 20th century an increasing emphasis on cleanliness and hygiene led to its extensive use in kitchens and bathrooms in Europe and America. Even subways were often lined with colorful tiles and beautiful wall murals.
Technology's Touch
Today, the use of tile is more popular than ever because of its durability, ease of maintenance, and the use of modern technology in transforming and modernizing this ancient art form. Technology such as digital printing enables tile manufacturers to produce new and distinctive forms and patterns that can be used virtually anywhere in the home, not just in the kitchen and bathroom.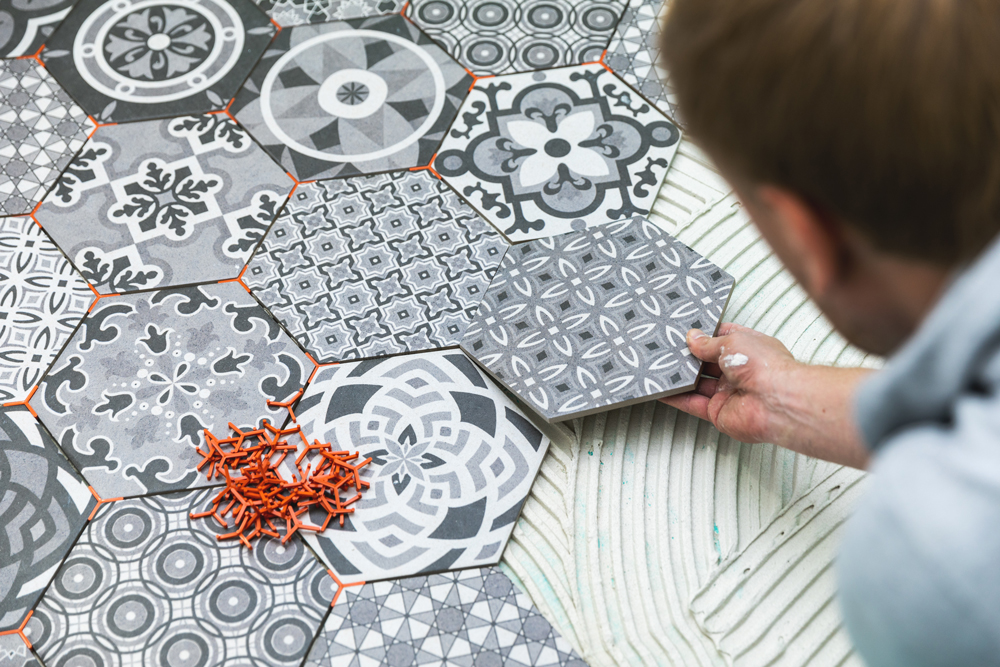 Tile Trends for 2020
With this history and recent innovations in mind, here are some of the expected trends in tile for the coming year and beyond.
Color
Color appears to be a top trend to consider in 2020. In the recent past, greige (a mix of gray and beige) was the rage. For 2020 many interior designers expect warm and neutral colors–grey, white and ivory–will be staples. The attraction to these colors seems to be an emphasis on minimalistic interior design and the mixing of neutral colors with industrial elements like brass and other metals.
Imitating Natural Materials
Natural stone will continue to be used, but the use of stone-look and wood-look tile is expected to increase. There will probably also be an increasing use of tile that resembles marble, metal, and concrete, all made possible and believable thanks to modern, high-definition printing in tile production.
Shapes and Patterns
Although patterned flooring and wall tiles have been used in the past, 2020 is predicted to be the year in which bold patterns and shapes really come to the forefront. In the coming year you can expect to see a lot of creativity in the use of both floor and wall tile.
Coverings 2020
Finally, if you're a real aficionado of all things tile, you might want to take in Coverings 2020, an international tile expo to be held in New Orleans this April, featuring tile producers from around the world displaying their latest wares. That seems like a great excuse to sample the hottest trends in tile, as well as some of the Big Easy's fabulous cuisine while you're at it.