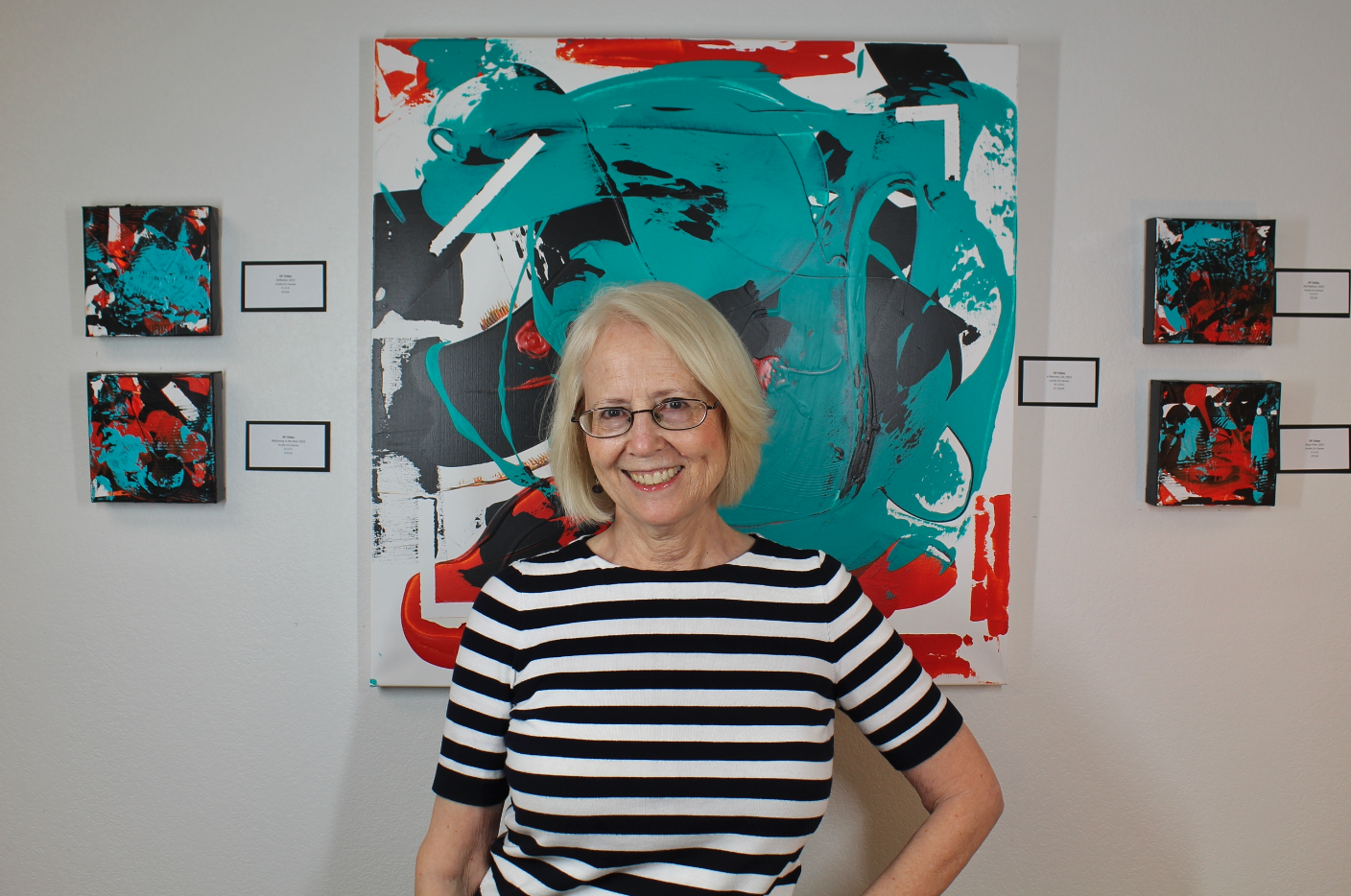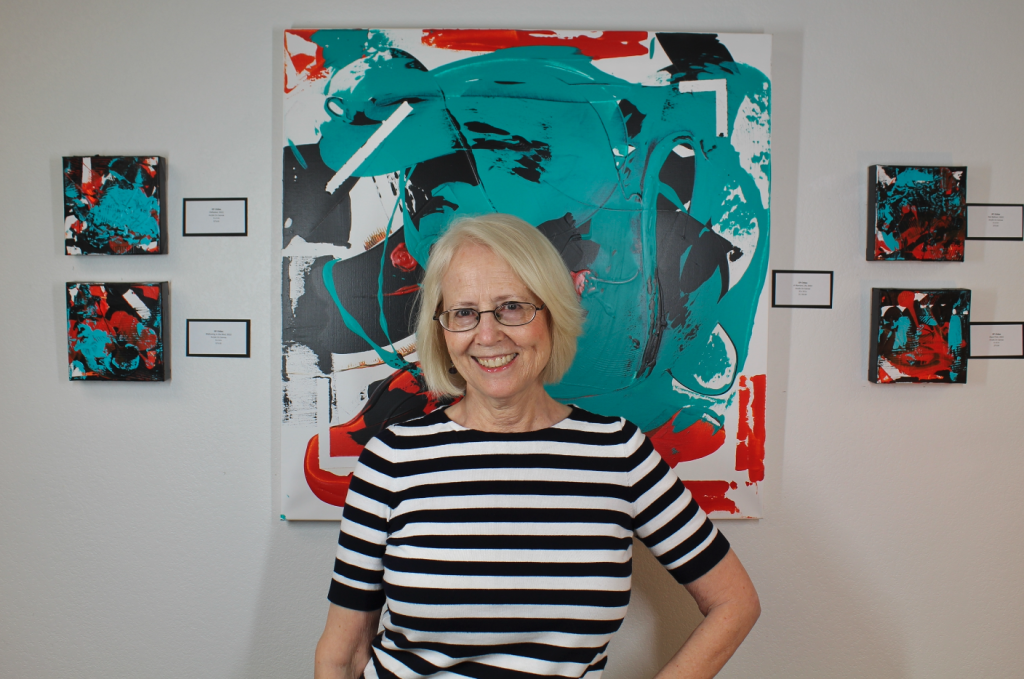 By Annette Brooks
---
Our living spaces are designed with sleeker lines today, and we're personalizing them with minimalist overtones and modern eclecticism. Along with this sophisticated trend, a new demand for one-of-a-kind abstract art has emerged. Local artist and owner of The Woodlands Art Gallery & Studios, Emily Chiles Startz, has embraced our renewed interest by creating more of her distinctive abstract art. Now, with more than 20 of her new pieces ready to show, she opened a must-see abstract art exhibit in her gallery in The Woodlands that will run to mid-October.
"I want to make art accessible and exciting," Emily says. "My favorite tool for creating abstract art isn't a brush, but a six-inch stainless-steel scraper. With brushless art, I can create sweeping shapes that exude incredible energy. They're amazingly powerful and have interesting effects. Most are in black and white, although sometimes I incorporate color. I often use tape to create a hard edge that juxtaposes the sweeping lines."
The abstract exhibit includes a few of Emily's earlier abstracts, like Pastel Seas. The breathtaking four-foot by 25-foot piece on unstretched canvas is suspended on fishing line so it can undulate like the ocean.
Emily creates her art in the studio that's part of the gallery. The studio is also available to visiting artists. If she's not there when you drop in, her talented manager knows her vision for each piece and will share Emily's insights.
Gallery Inspires Curiosity and Conversation
Like Emily and her art, her gallery is inviting and accessible. The open, welcoming space illuminated with ample natural light offers a relaxed, home-like atmosphere. Emily calls it "everyone's gallery."
Whether you're a long-time art lover or an interested newcomer, The Woodlands Art Gallery & Studio invites you to slow down, take your time, and let your imagination wander. It is a perfect backdrop for her abstract art exhibit, inviting you to dream and explore different thoughts and new ideas as they come to you.
In addition to abstract art, there's a space in the gallery that includes Emily's landscape pictures. Drawn to painting en plein air — French for "in the open air" — she has traveled to regions that inspire her, painting outdoors in Maine, Alaska, and even in Monet's Garden in Giverny, France.
Part of the Fabric of the Community
Emily lives in The Woodlands and finds joy in inspiring and enriching the community with artwork. She also generously contributes to local nursing scholarships and the SNAP Spay-Neuter & Animal Wellness Clinic.
You can find out more about this exciting exhibit at WoodlandsArtAndStudios.com. Emily invites you to visit the gallery, browse the artwork, and get inspired. Gallery hours are Tuesday through Friday, 10 AM to 6 PM, and Saturday, 10 AM to 2 PM.
Beyond the Exhibit
On the third Thursday of every other month, The Woodlands Art Gallery & Studios comes alive with a valet and bartenders as patrons come to discover the work of a new featured artist.
The gallery includes an independent used bookstore and is available for small corporate events, private parties, and other catered occasions.
Emily sells art on consignment for families who've inherited or want to sell their collection and make room for new pieces.
If a piece is out of reach for your budget, Emily can create a print of the work.
Do you have a favorite photograph of a loved one, vacation, or landmark? Emily is happy to create a painting for you from your photograph.
If you have something in mind that isn't in the gallery, Emily knows about pieces she can access for you that aren't on display.