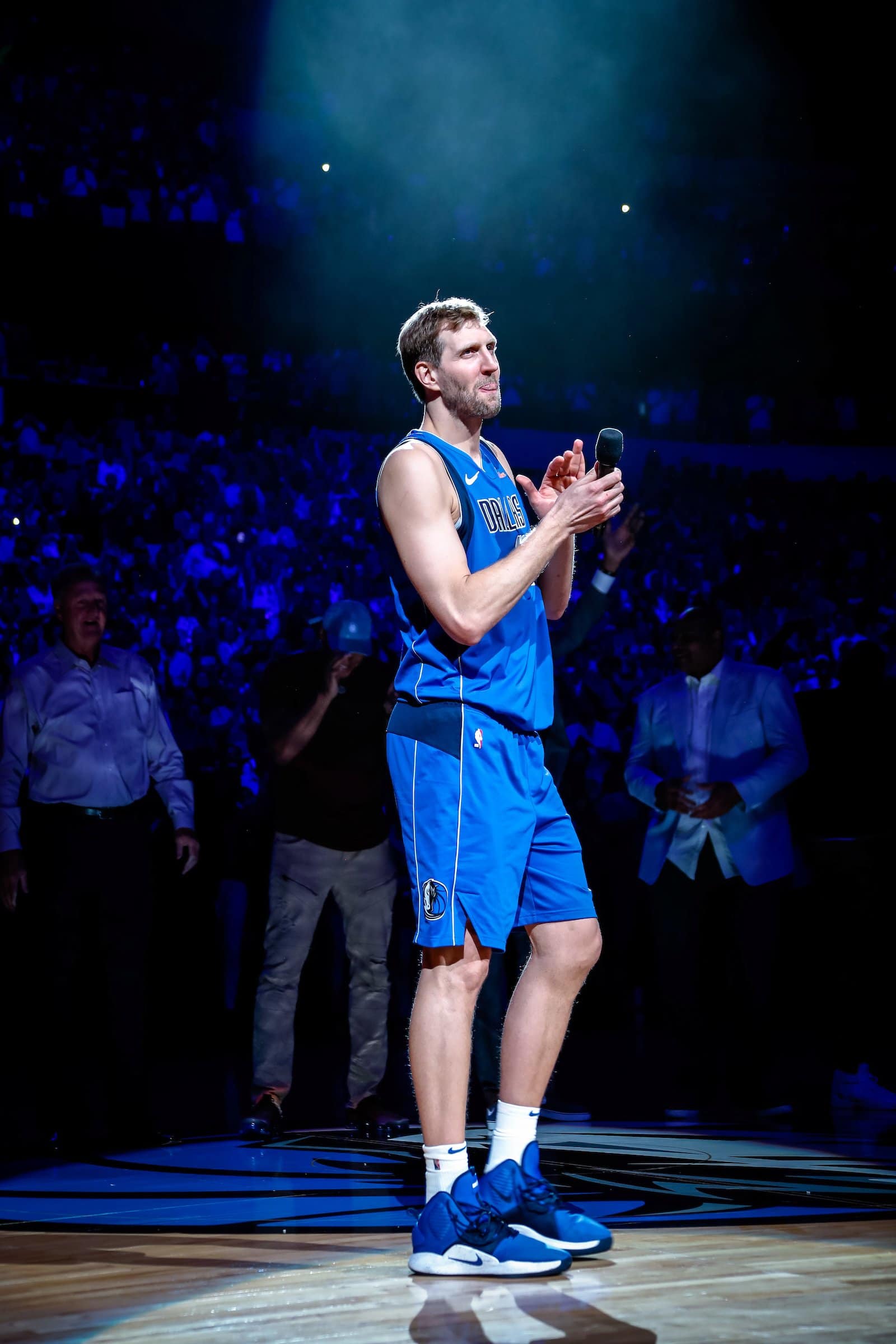 After 21 seasons, DFW's greatest basketball star retires
DIRK NOWITZKI, THE "BIG GERMAN" who spent more time with the Dallas Mavericks than he did actually living in his home country, officially announced his retirement to a sold out crowd on the night of his last home game early last month. Basketball legends Larry Bird, Charles Barkley, Scottie Pippen, Shawn Kemp, and Detlef Schrempf were on hand to send off the famously modest No. 41, who was "a key figure in the Dallas community, visiting children's hospitals while offering both financial and emotional support to families in need," according to Dwain Price of Mavs.com.
"I left Germany 21 years ago and became a Texan," Dirk Nowitzki told a packed crowd, acknowledging the record he holds for the longest time any one player has spent with a single NBA team, a record that is likely to stand for some time. That same night, at the age of 40, he set another record, surpassing Michael Jordan to become the oldest NBA player to score 30 points.
"As you guys might suspect, this is my last home game," Nowitzki said, candidly addressing the crowd with few words but trademark sincerity. "It's been an amazing ride."
Basketball fans, players, Dallas residents, the City of Dallas, and even President George W. Bush took to Twitter to send off Nowitzki, who will likely be regarded as one of the greatest power forwards of all time, holding sixth place on the NBA's list of career scoring leaders behind only Kareem Abdul-Jabbar, Karl Malone, Kobe Bryant, LeBron James, and Michael Jordan.
"Hey Dirk, congratulations on a great career," said President Bush in a video on Twitter. "And now that you've retired, if you get bored, come and paint with me."
"You've been an icon to the city," said Emmitt Smith. "Thanks for all you've done and for your legacy."
"Dirk is the franchise, the franchise is Dirk," said owner Mark Cuban. "He's our culture, he's everything. He's who we are. Who he is off the court is far more important than who he is on the court–what he's done in the community and what he's done for others, just the big heart he has. I hope he knows how many people care about him. There will never be another one like you, Dirk."