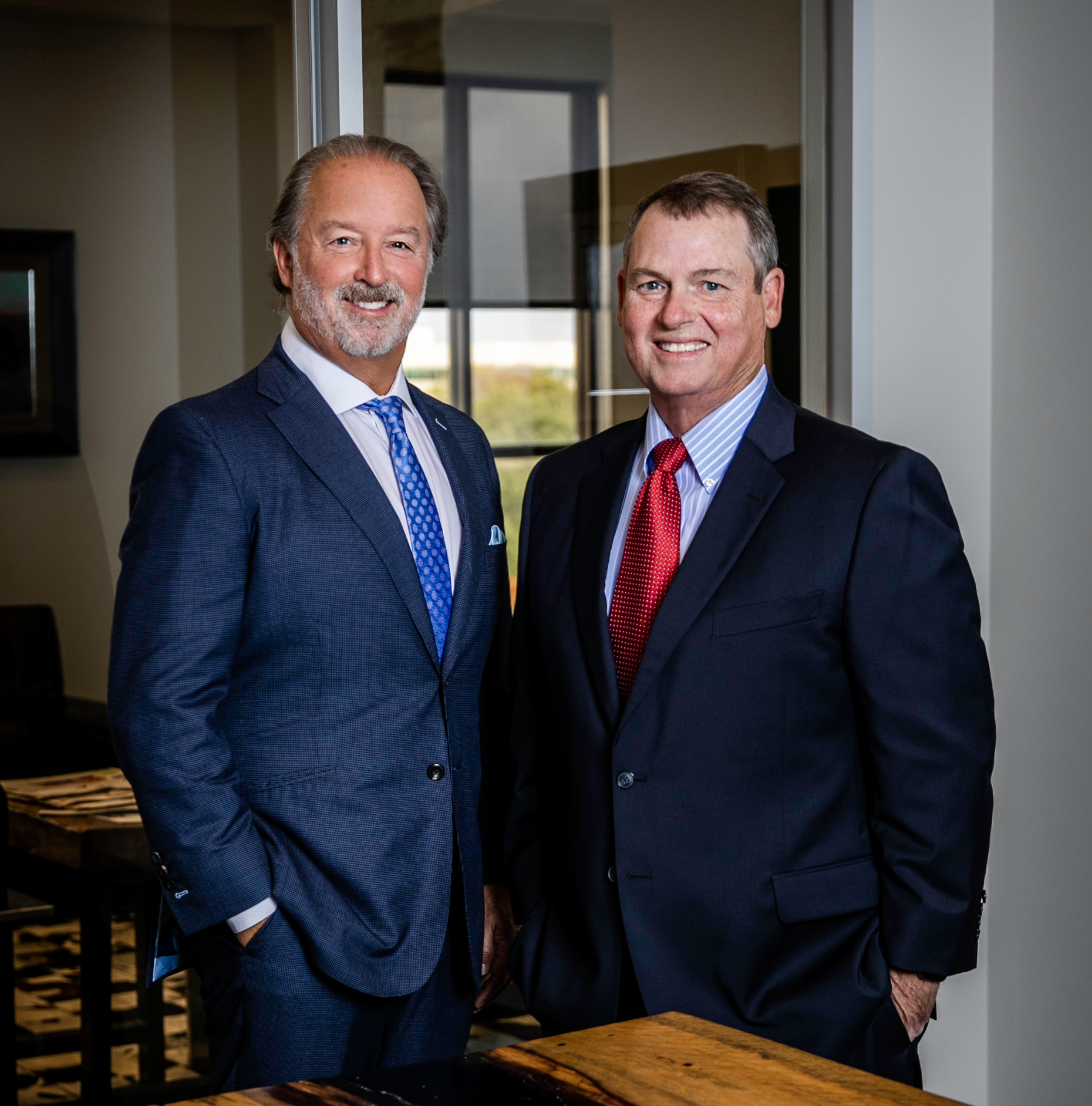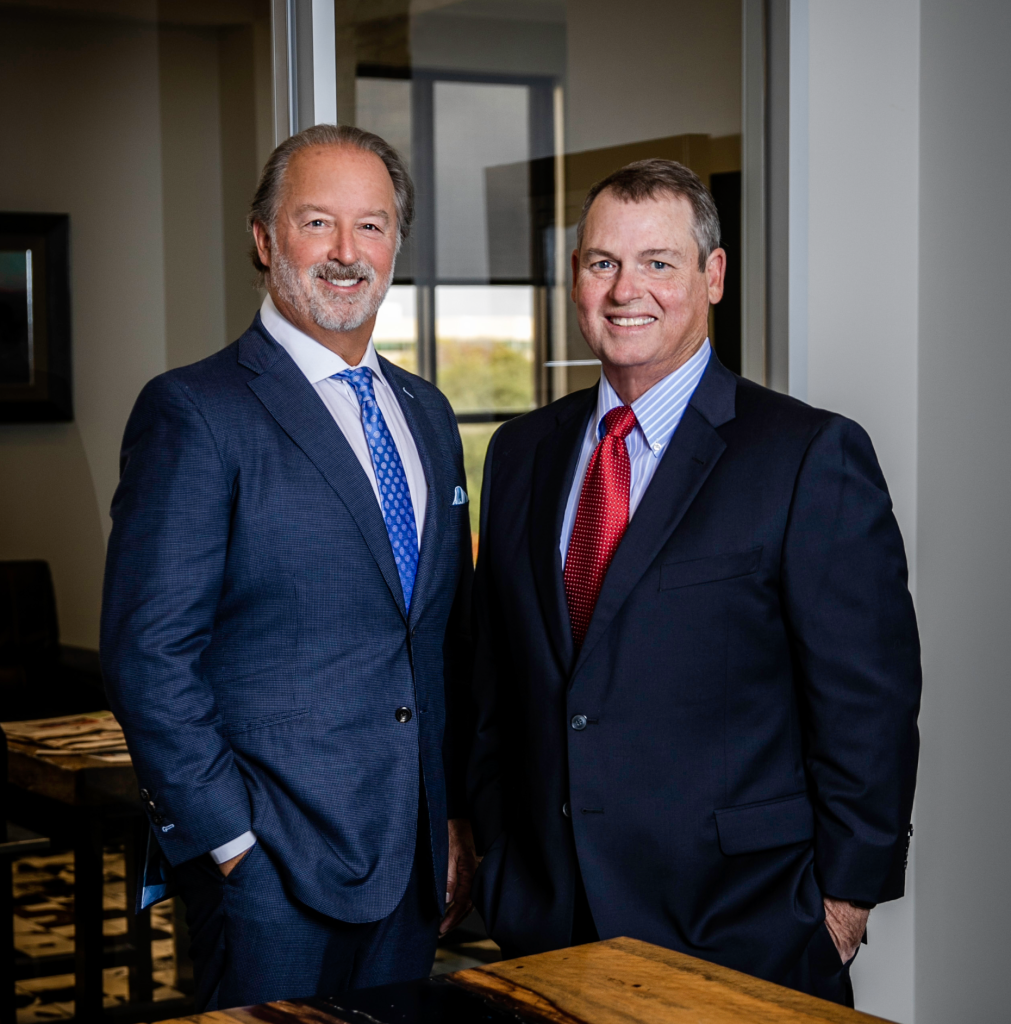 By
Stephen Hun
t

|

Photos by
Kelley Sweet Photography
---
Jackson (Jack) Reed and Travis Terry met in 1990 as first-year law students at South Texas College of Law. As their friendship developed, they discovered a mutual interest in personal injury law, also known as "tort" law. In 1994, their shared vision of specializing in personal injury law came to fruition when they opened Reed & Terry Law Firm in Sugar Land. This local law practice specializes in representing individuals who have been injured in motor vehicle-related accidents. They also represent clients who have sustained injury due to defective products, defective medical devices or medications, premises liability cases, and other injury-related cases. Premises liability occurs when a property owner, landlord, or manager is reckless or negligent and their wrongdoing leads to an injury or loss.
Experience Matters
With almost 60 years of combined legal experience, the Reed & Terry Law Firm has built a stellar reputation as an experienced, trusted, and proven trial litigation firm. Reed & Terry advocate on behalf of individuals and families who have suffered an injury or loss due to the negligence of others, and the firm has won hundreds of millions of dollars in settlements for their clients. According to Travis, "Despite our steady growth over the years, we never wanted to get really big. It has always been our priority to devote ample time to each case we accept, to develop genuine relationships with our clients, and to obtain equitable financial settlements that our clients are entitled to."
These longtime friends not only continue to share a similar vision for their firm, but they've also developed a clear division of job responsibilities. Jack manages the pre-litigation department by evaluating cases and working with clients on a day-to-day basis, and since Travis enjoys taking depositions and attending court proceedings, he heads up the litigation department. Simply put, if the insurance company doesn't agree to compensate their clients fairly in the pre-litigation phase, then the case is sent to the litigation department and official legal proceedings begin, i.e. a lawsuit is filed seeking to hold the insurance company or corporation accountable.
The Reed & Terry Law Firm helps clients to recover damages for lost wages and/or reduced earning capacity, medical bills, disfigurement, impairment, pain and suffering, property damage, wrongful death, and all other types of damages allowed under Texas law. The initial no-obligation consultation is always free, and the firm only gets paid for services when they win a settlement for their client. They also provide virtual, hospital, and home visits upon request. 5 Star Google and Facebook reviews from Terry & Reed's satisfied clients describe them as: Exceptional, Professional, Attentive, Genuine, Committed, Qualified, Caring, Trustworthy and Knowledgeable, Compassionate, Outstanding, Reliable, Splendid, and Amazing.
Active members of the Fort Bend community, Jack and Travis volunteer with Fort Bend Lawyers Care, an organization which provides free legal assistance and advice to low-income residents, and with the Fort Bend County Bar Association. Travis is a native Houstonian and Jack grew up in Rosenberg. "We are honored to say that a large percentage of our cases come from past client referrals, word of mouth, and referrals from other attorneys. Our niche market is the triangle between Katy, Richmond/Rosenberg, and Sugar Land/Missouri City," Reed said.
Fighting For the "Little Guy"
If you or someone you know has been involved in an accident due to someone else's negligence or recklessness which resulted in bodily injury or death, it is extremely important to secure a qualified personal injury attorney as soon as possible. With a proven track record of achieving maximum monetary damage settlements and jury verdicts to compensate clients for their physical and mental injuries, the lawyers at Reed & Terry work to level the playing field against negligent corporations and greedy insurance companies. The firm can also assist with medical appointments, medical bills, lost wages, and other hardships caused by the accident. Ideally you should contact an attorney within days of an accident, however Texas has a two-year statute of limitations to file a personal injury lawsuit involving third-party accident cases. If you sustained injuries resulting from an accident that happened within the last 24 months, provided you haven't accepted a final settlement yet, it is worthwhile to contact Reed & Terry so they can determine if you have a case.
Proudly Affiliated with:
American Association for Justice

American Bar Association

Houston Trial Lawyers Association

Texas Trial Lawyers Association

Board Certified Personal Injury Attorney

A+ rating with the BBB
Who Needs a Lawyer?
Few things are worse than suffering the physical, emotional and financial setbacks due to a severe injury or from losing a family member in a serious accident. Unfortunately, many people don't realize that the primary goal of insurance companies and the attorneys who represent large corporations is to persuade victims to accept a settlement offer that is far less than the compensation they are entitled to by law.
It is estimated that Terry & Reed's clients receive settlements at least 2 to 3 times higher than if they negotiated with the insurance company or corporate lawyers directly. Protect your interests and attain the justice you rightfully deserve by retaining knowledgeable, trustworthy and experienced personal injury attorneys to represent you. They will make sure you receive all the medical treatments you need now, ensure all negligent parties are held financially accountable for damages, and secure the maximum compensation for your pain and suffering so you can get back on your feet and move forward with your life.
Don't get steamrolled by insurance companies determined to minimize or deny claims – let Reed and Terry take the hassle out of the legal process and fight for you. Contact them today!
---
Contact
Available For You 24/7
Call or Text
281-491-5000
ReedTerryLaw.com
Office Open: M-F, 9 AM – 5 PM
56 Sugar Creek Center Blvd., Suite 300
Sugar Land, TX 77478
Satellite Offices in Katy & Richmond/Rosenberg