One Texan Reconsiders a Revitalized Oklahoma City
By Jennifer Simonson
"This is Wednesday, April the 19th, 1995," a woman's voice announces on a crackly tape recording played at the start of a self-guided tour through the Oklahoma City National Memorial Museum. The woman is moderating a board meeting to settle a case involving a resident's request to bottle and sell groundwater. She starts recording at 9:00 AM, exactly two minutes before an explosion two blocks away will redefine the city from that point forward.
As the moderator talks I tense up. I catch myself holding my breath, waiting for the sound of the impending explosion, like being on a carnival ride knowing the bottom will fall out below you, just not when. I remind myself to breathe as the seconds tick away, then feel it pause as I listen to the recording distort with the sound of the blast.
Up until the trip, the bombing was the primary thing I had associated with the city. I had heard faint rumblings of its cool, up-and-coming vibe, along with a relatively recently-formed NBA team, but I hadn't paid much attention to the metropolis in the north until last year, when a fellow travel writer raved about all the wonderful things to do in the city.
"We have an Olympic-worthy whitewater rafting course that runs through downtown, a huge park with hiking and biking trails, a downtown minor league baseball stadium, and a thriving arts and restaurant scene," she said.
"Wait, in Oklahoma City?" I had to double check that I had heard her correctly.
It might have been my "superior Texas demeanor," but while growing up in Dallas I always pictured the city three hours north as nothing more than a flat, dusty wasteland. Until recently, one could have made a case that I wasn't that far off. Oklahoma City has a long history of ups and downs. The city hit rock bottom in 1991, when after offering $120 million to entice United Airlines to build its maintenance base in the city, the company refused, citing the reason that they could not in good conscience ask their employees to live there. Ouch.
After that, the mayor was able to talk the citizens of this deeply conservative city into approving a one-cent sales tax to fund special civic projects. Slowly but surely, while few people outside of the state were paying attention, city leaders used that money to rebuild the downtown into a destination-worthy area.
Six months after talking to my travel writer friend, I find myself driving up I-35 to check it all out. Along the way are a variety of attractions that are destinations in their own right, including the impressively ostentatious WinStar World Casino and Resort, the largest casino in the United States, featuring a highway-facing façade of exterior architecture lifted from travel destinations around the world (perhaps hence the name) that will have your head on a swivel until it's a dot in the distance. Turner Falls Park (with an impressive and also titular waterfall), famous pastries at Arbuckle Mountain Fried Pies, and the Chickasaw Cultural Center are a few other notable stops that can make the short journey a day trip of its own, if you're so inclined.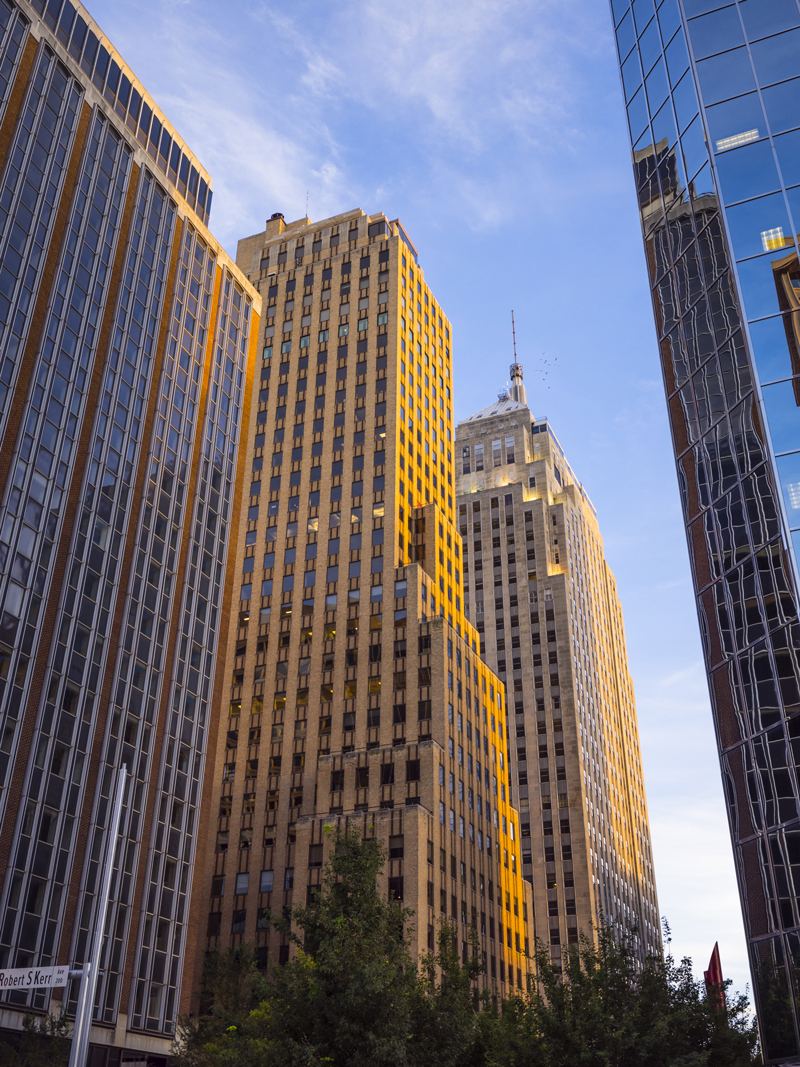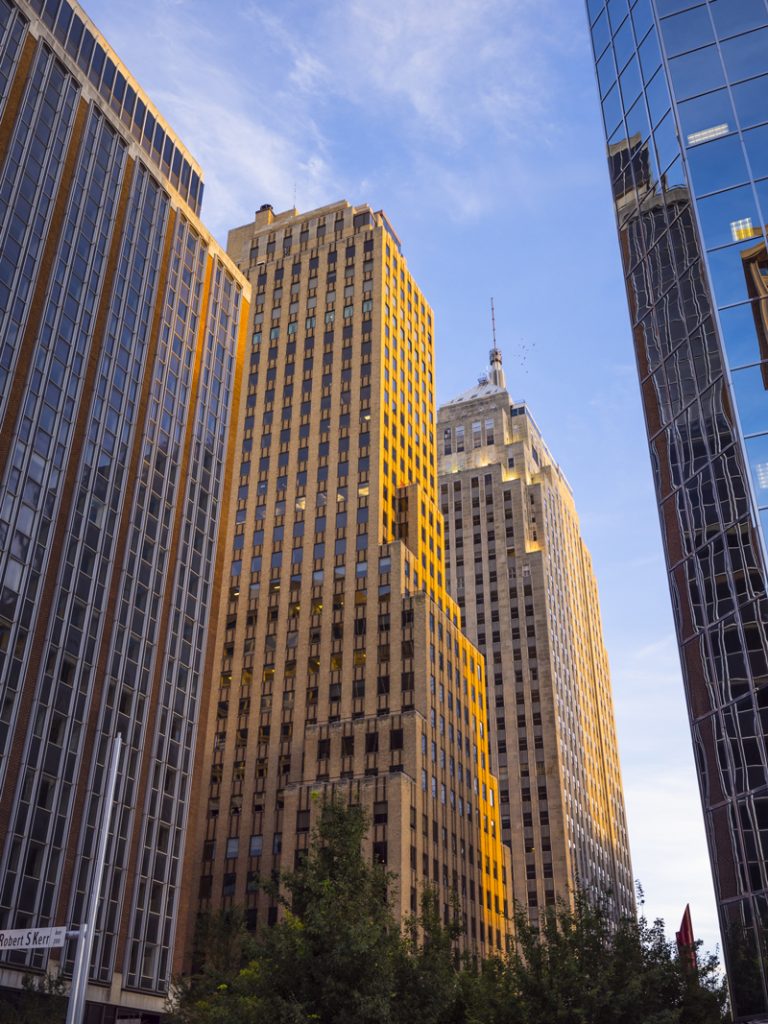 When I arrive, I check in at the Skirvin Hotel. Built in 1911 during an oil boom, it is one of the only historic hotels to have survived the city's bust periods—though just barely. The hotel began to struggle in the 1960s as people abandoned downtown for the suburbs, before finally closing during the oil bust of 1988. It sat empty for almost 20 years. Then, in 2005, like much of downtown, developers poured millions of dollars into its reconstruction. The lobby, with its marble floors, stained wood, and gold leaf, is the pinnacle of early 1900s elegance.
During my weekend in Oklahoma City I see an Andy Warhol exhibition at the National Cowboy Museum, eat a farm-to-table kale salad in a former Model T showroom space, drink horchata lattes at a Latin American cafe, wander around Spanish revival architecture that houses the twenty art studios in the Paseo Arts District, watch an Oklahoma City Thunder game in the city's new downtown arena, walk through part of a 70-acre park, hop on a streetcar for a ride through downtown, view artwork at a free art museum that never closes, and sample local beer at three breweries. A far cry from the Oklahoma City I've long kept in my mind.
And yet, among the revitalization, the memories of 25 years ago remain. They're reflected in the impressive Oklahoma City National Memorial that I stop by late one evening. It sits outside the museum on the footprint of the former Murrah building. A field of 168 glass chairs, one for each victim of the bombing, rests in front of a black granite pool. At night, the chairs light up, with the reflecting pool's flowing grabbing that light and reflecting it back. Visitors are encouraged to take a seat, listen to the running water, reflect on the past, and breathe.