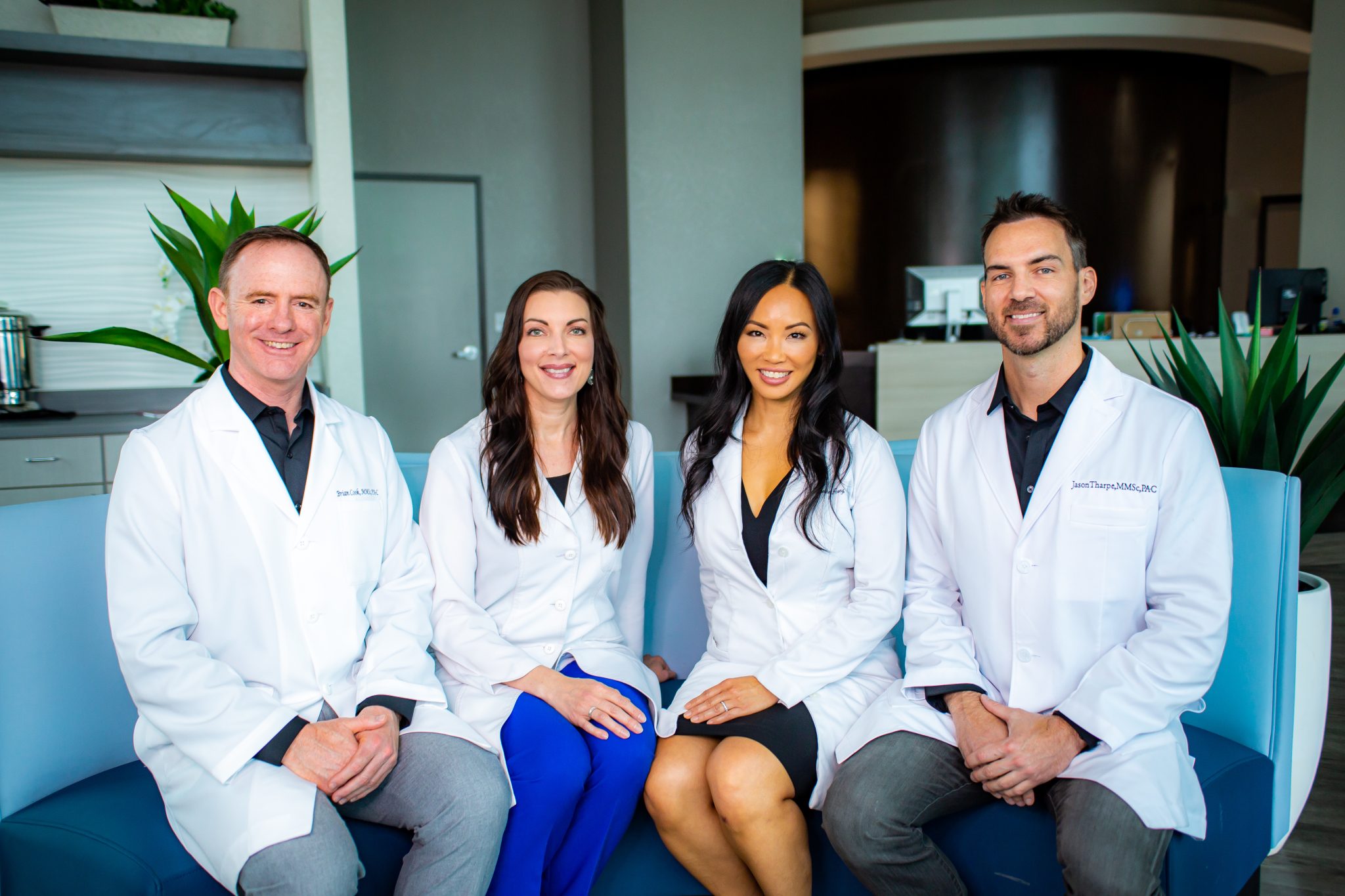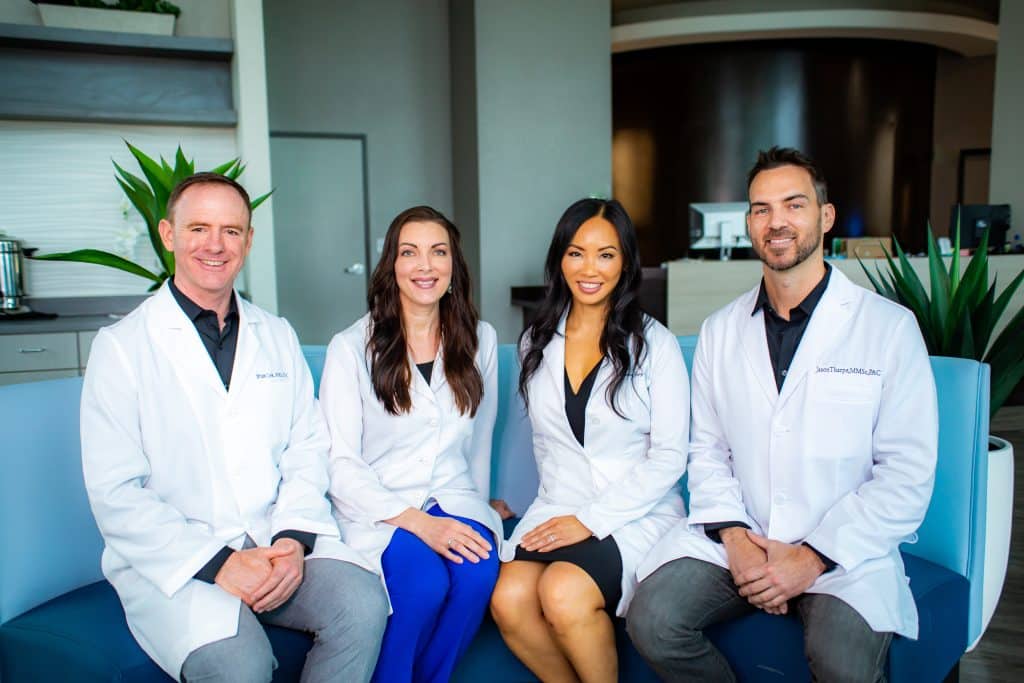 By Melissa Gautier | Photos by Lake Pointe Photography
---
United Dermatology has served patients in Mansfield, Arlington and surrounding areas since 2007. With five locations across Mansfield, north and south Arlington, Burleson and Flower Mound, UDA offers a full range of skin health services including cosmetic and aesthetic care, medical dermatology and dermatological surgery. The practice's founder, Dr. Jeannine Hoang, has built a thriving team focused on unparalleled medical care and innovation.
Dr. Hoang's aesthetic philosophy focuses on preventative treatments, favoring early, simple interventions that prevent and stall the signs of aging. She has curated a collection of treatment options that address all aspects of aging skin. Dr. Hoang and her team focus on delivering the most natural-looking results with minimally invasive procedures that are personalized to each individual's issues and concerns. "Prevention is better than treatment," says Dr. Hoang. "Getting to someone earlier rather than later in the course of aging is a powerful tool in maintaining a youthful appearance."
Dr. Hoang also believes in treating the total patient and takes a holistic approach to beauty. Her knowledge of anti-aging and longevity goes beyond dermatological treatments, addressing a range of health aspects including nutrition, exercise, mental health, sleep and hormones – as all of these can have an effect on a patient's appearance.
Cosmetic
Dr. Hoang and the UDA team specialize in subtle, noninvasive cosmetic treatments and minimally invasive enhancements that provide the most natural looking results possible. She introduced The Spa at UDA – located at the Mansfield location – in 2013 to focus on aesthetic treatments. The Spa offers a full menu of typical spa services delivered by medically trained professionals in a luxury setting.
Services include:
Injectables including Botox® and Dysport® (also available at other UDA locations)

Various Hydrafacials focusing on specific patient needs

"Perk" treatments including

noninvasive lift procedures

Add-on treatments and boosters including lymphatic face therapy, red/blue light therapy and Dermaplaning

Waxing

Tinting
More on Injectables
Botox and Dysport injectables are powerful tools to improve the look of wrinkles. The procedures are FDA approved to treat the frown line between the brow (glabella), and are also effective on forehead lines, crow's feet, lip lines and neck lines. When used around the eyebrow, they even provide a subtle eye lift. These quick and painless injections provide visible results within a few days that last an average of 3-4 months.
UDA Mansfield also offers clients service from one of the nation's best injectors. Mimi Phan, PA-C, was nominated for 2021's Top 100 Best Aesthetic Injectors in America® – a tremendous honor that recognizes her skill and success in non-surgical facial and body rejuvenation. Her signature natural full facial rejuvenation with Botox and filler treatments are well recognized by many in the aesthetic industry and on various social media platforms. Her Instagram page (@PhantasticDerm) has more than 98,000 followers. Mimi's skills are so impressive that she's also a Galderma trainer, teaching and training other aestheticians on injectables.
Additional cosmetic care offerings include various laser and light treatments, fat reduction, scar treatment and hair restoration.
Medical
UDA's team of skilled providers also uses the latest technology and treatments to help patients with medical conditions including acne, cysts, eczema, infections, psoriasis, rosacea and shingles, along with melanoma and skin cancer – and many others. UDA providers create long-term relationships with patients through annual skin exams and ongoing consultations and treatments as their skin care needs change over time.
Surgical
Dr. Hoang and UDA's team of highly trained providers routinely perform a variety of surgical procedures to treat both benign and malignant skin conditions. All procedures including excisional surgery, electrosurgery and cryosurgery are done at UDA offices under local anesthesia.
Dr. Ashish Arshanapalli joined the UDA team in 2020, bringing remarkable expertise in Mohs surgery. This involves removing a skin cancer layer by layer, with the surgeon microscopically examining each section as it is removed. Mohs surgery allows complete removal of the cancer while sparing the maximum amount of healthy skin and provides the highest cure rate for removal of skin cancer (97-99%).
About Dr. Hoang
Jeannine Hoang graduated summa cum laude from The University of Texas at Austin and earned her MD at Baylor College of Medicine. She completed an internship in internal medicine at Presbyterian Hospital of Dallas and a residency in dermatology at the University of Louisville in Kentucky. She opened her first office in Mansfield, then soon opened additional locations across DFW to meet growing demand.
Dr. Hoang oversees all UDA locations and has assembled a talented group of providers who are passionate about helping patients achieve optimal skin health through proactive, preventative medicine. In addition to Drs. Hoang and Arshanapalli, the practice includes a team of skilled Certified Physicians Assistants who are similarly dedicated to providing patient-focused care that delivers superior results.
If you're ready for a rejuvenating spa day, have immediate skin health care needs, or are looking for a long-term skin care provider, please visit unitedderm.com to learn more about the practice or request a consultation.
Our Providers
Mansfield:
Dr. Jeannine Hoang
Dr. Ashish Arshanapalli
Brian Cook, PA-C
Tiffany VanGundy PA-C
Jason Tharpe, PA-C
Fielder-Arlington:
Uyen "Mimi" Phan, PA-C
Matlock-Arlington:
Lisa Ostrowski PA-C
Flower Mound:
Thê Tran, PA-C
Burleson:
Thê Tran, PA-C
Dr. Jeannine Hoang
---
CONTACT
Mansfield
130 Regency Parkway
Mansfield, Texas 76063
(817) 539-0959
Fielder – Arlington
723 North Fielder Road, Suite C
Arlington, Texas 76012
(817) 539-0959
Matlock – Arlington
3132 Matlock Rd, Suite 307
Arlington, TX 76015
(817) 468-3131
Burleson
780 NE Alsbury Boulevard, Suite B
Burleson, Texas 76028
(817) 529-1753
Flower Mound
4335 Windsor Centre Trail, Suite 110
Flower Mound, Texas 75028
(469) 635-5990
---