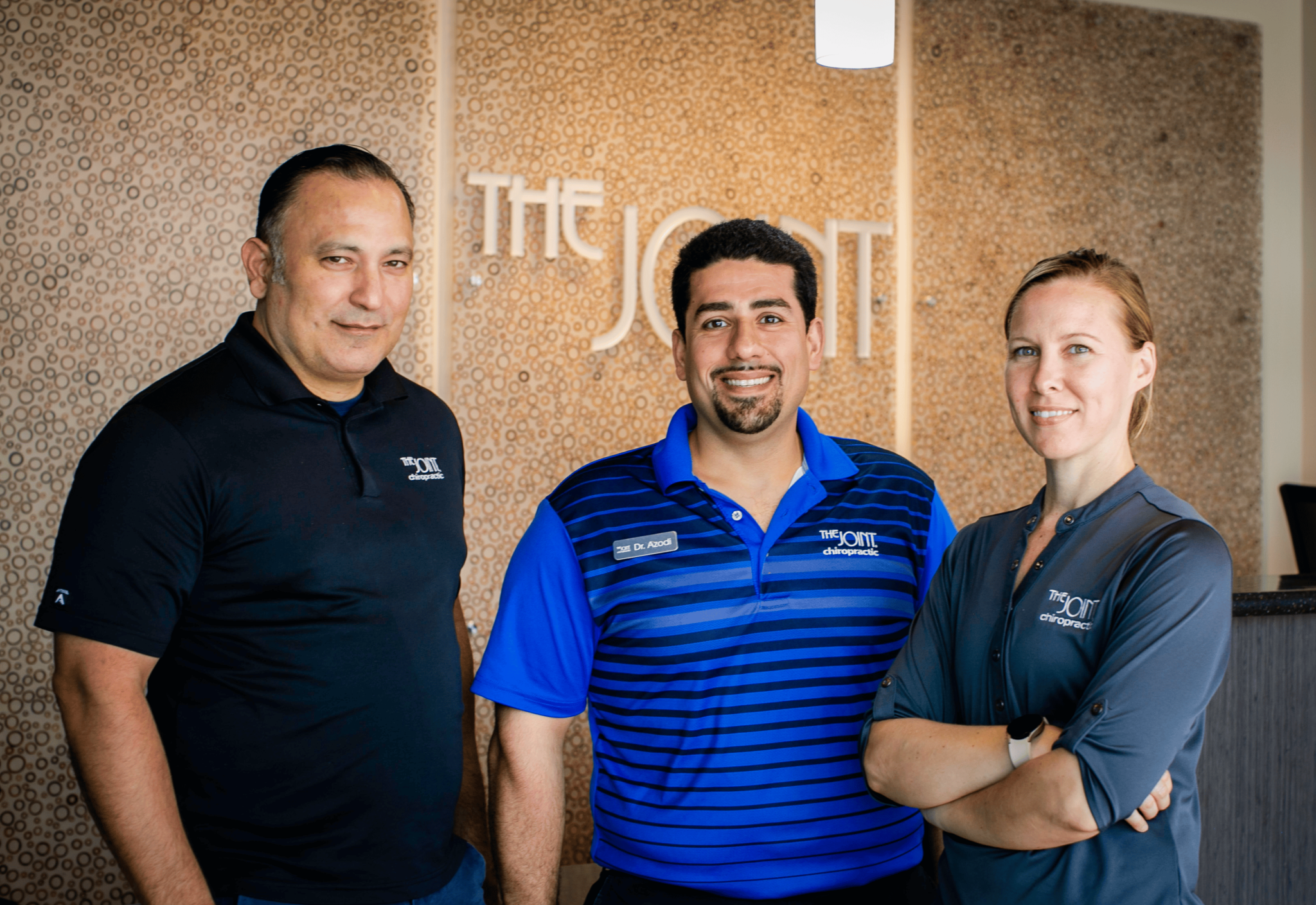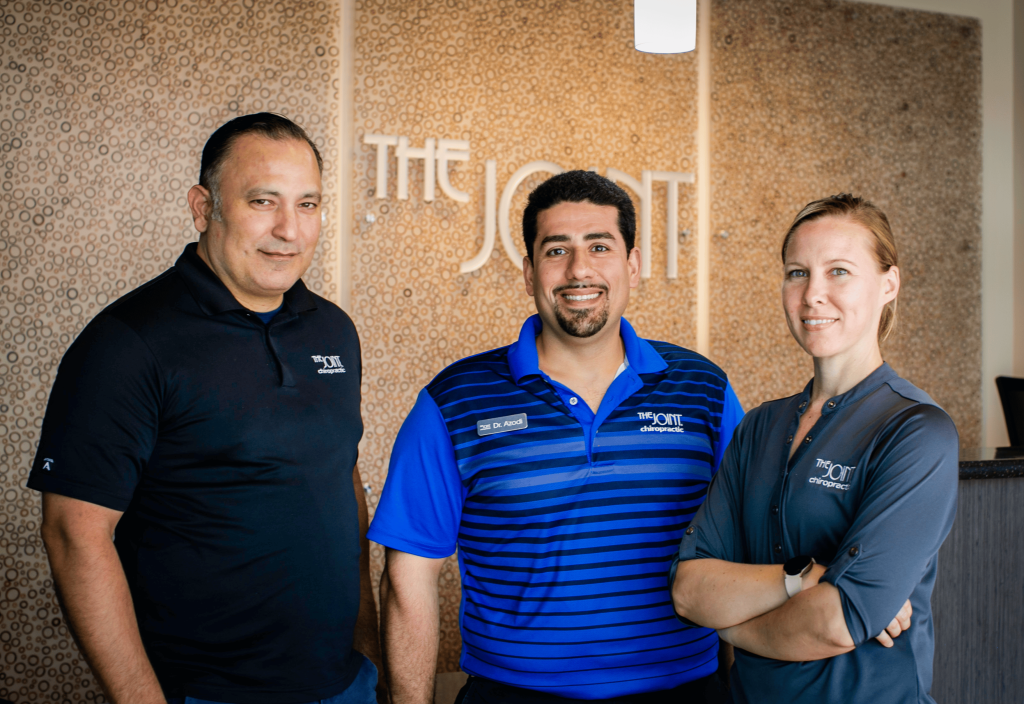 Photos by Kelley Sweet Photography
---
Millions of people have discovered a natural pathway to wellness from The Joint Chiropractic's team of experienced professionals. Not only have people found relief from lower back pain, sciatica, migraines, and other ailments, they've realized a drug-free approach to healthcare and injury prevention is readily available, convenient, and affordable.
Improved Quality of Life
Chiropractic care is focused on the communication between the brain and spine. The Joint's licensed chiropractors use their highly refined skills to perform therapeutic manual manipulation, known as adjustments. They help relieve subluxation, or misalignment of the spine, by taking pressure off nerves and restoring proper alignment. It's a safe, non-invasive alternative to using prescription and over-the-counter medications for pain relief.
"Adjustment modality allows patients to thrive, not just survive," Dr. Jason Basile, director of eight of The Joint's Greater Houston locations says. "It is the most important service we could ever offer or perform."
Proper alignment of the spine assists in the management of pain and swelling, leading to increased body function for an improved quality of life. It also aids in the prevention of many common ailments and injuries including:
Lower back pain

Upper back pain

Neck pain

Migraine and tension headaches

Shoulder pain and elbow pain

Knee, foot, and ankle pain

Sciatica

Chronic injuries
If you're curious about how chiropractic care could help you, Dr. Basile encourages you to visit The Joint Chiropractic in your area. Whether you've seen a chiropractor in the past or are seeking a local chiropractor for the first time, expect your visit to be different from healthcare experiences you've had before — quite possibly even life-changing.
"We develop long-term relationships with our patients and are truly invested in their health and well-being," Dr. Basile says. "Whatever symptoms you or your family may be having, The Joint offers beneficial treatments without the use of pharmaceuticals, and guidance for preventing injuries and improving overall health and well-being."
Personalized Approach and Care
Easy check-in, short wait times, and quality treatment are hallmarks of The Joint's patient-centric focus. Reasonably priced care plans are tailored to each individual's specific needs.
"We strip away many of the costly extras other chiropractors frequently add, like massage and traction, allowing patients to be in and out in five minutes for an initial core adjustment," Dr. Basile says. "No appointment is needed, and clients can stop by whenever it's convenient for them."
Evening and Weekend Convenience
Extended availability including evening and weekend hours provides access to professional care and pain relief without appointment hassles. Clients can stop by to or from work, during their lunch hour, or on the weekend. There are no insurance roadblocks, requirements, or copays. The Joint makes it simple and easy to work toward a healthier lifestyle for enjoyment of daily activities.
Meet the Local Doctors
Arian Azodi, DC
The Joint Katy
Dr. Azodi is a 2017 Texas Chiropractic College graduate and the clinic director at the Katy location. Raised in Toronto, Canada, he earned a Bachelor of Science in kinesiology and health sciences with honors at York University. He attained a fellowship with the International Academy of Medical Acupuncture. A black belt in Taekwondo, he injured his back in a national tournament, herniating several discs. "The amazing benefits I experienced from consistent chiropractic care helped relieve pain and strengthened my body," he says.
Ehsan Izadi, DC
The Joint Katy
Dr. Izadi graduated with a Doctor of Chiropractic from Texas Chiropractic College in 2021. He knew chiropractic was the route for him after sustaining a back injury while working out. Chiropractor treatments allowed him to return to activities he enjoyed. "The best thing about being a chiropractor is seeing how I'm helping my patients get back to their normal lifestyle to enjoy a pain-free life. The feeling I have is almost inexplicable when my patients appreciate me, and I see the difference my efforts make in their lives," he says. Dr. Ehsan enjoys time with his wife, Fariba, working out, cooking, and family time.
Michelle Gorman, DC
The Joint Morton Ranch
Hailing from the Midwest's Quad Cities, "Dr. Michelle" is clinic director of The Joint's Morton Ranch clinic. She was familiar with chiropractic and had several friends who were chiropractors. She earned her Doctor of Chiropractic from Texas Chiropractic College. "What I like best about being a chiropractor is seeing people feel better and move better after their treatments," she says. She enjoys powerlifting and holds the Texas state record in her weight and class.
Vicente Ramirez, DC
The Joint Cinco Ranch
Dr. Ramirez is clinic director of the Cinco Ranch clinic. Born in Houston, Texas, he graduated from Texas Chiropractic College in 2007, thereafter earning a Bachelor of Science in human biology. He completed 300 hours of postgraduate studies in acupuncture and is currently pursuing a Master of Business Administration from the University of Houston-Clear Lake. He's had great success treating patients of all ages, seeing dramatic improvements in their health throughout the years. "I have a deep passion for chiropractic and have witnessed first-hand its ability to heal the body naturally, without drugs or surgery," he says. Fluent in Spanish, Dr. Ramirez is eager to serve the Latino community.
A Patient Shares Her Gratitude
Erika G. sums up her treatment experience saying, "I am a chronic neck pain sufferer and came to The Joint looking for relief. Not only has my pain been minimized, but I can also tolerate more daily activities. Thank you for helping my pain. I feel amazing!"
Quality chiropractic care by licensed professionals

Conveniently located

Open nights and weekends

No appointments required

No insurance hassles, requirements, or copays

Affordable, personalized care plans
---
CONTACT
19740 Katy Freeway
Houston, Texas 77094
(281) 402-8283
TheJoint.com/Texas/Houston/Katy-28013
22720 Morton Ranch Road, Suite 120
Katy, Texas 77449
(832) 271-4234
TheJoint.com/Texas/Katy/Morton-Ranch-28102
6725 South Fry Road, Suite 500
Katy, Texas 77494
(281) 915-0363
TheJoint.com/Texas/Katy/Cinco-Ranch-28014
---