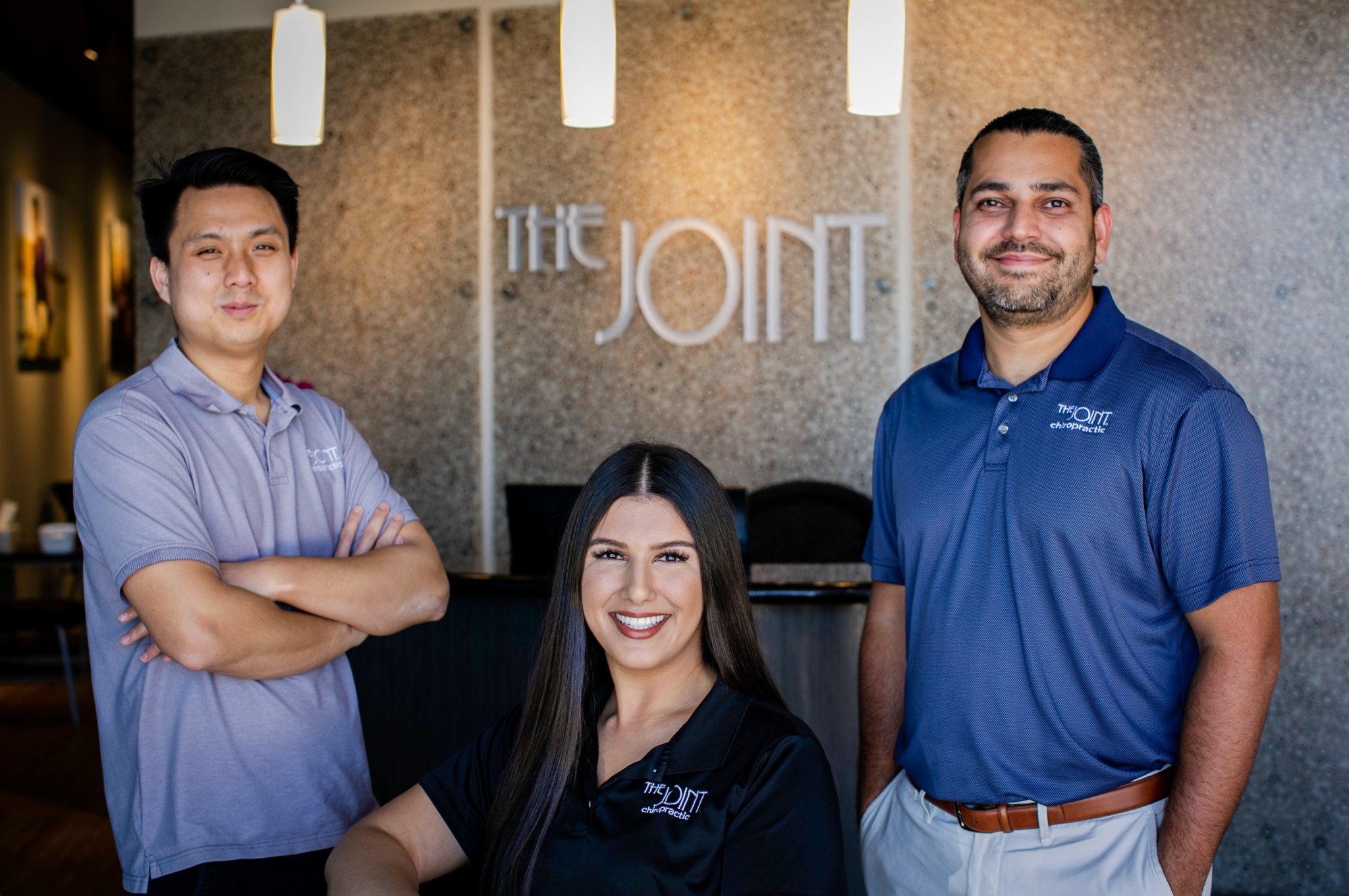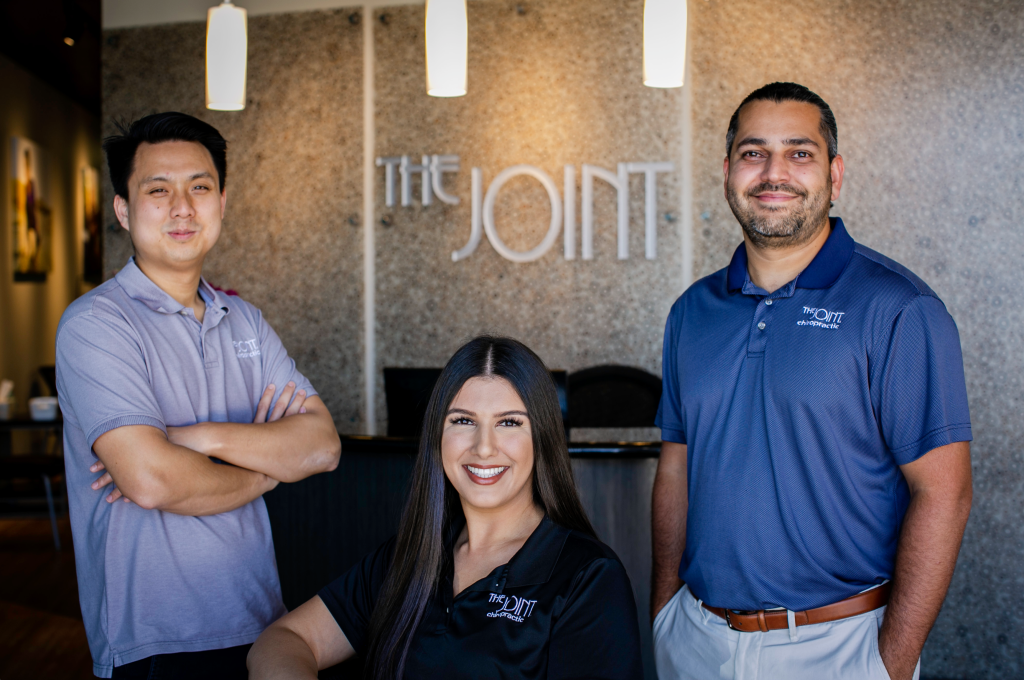 Photos by Kelly Sweet Photography
---
Millions of people have discovered a natural pathway to wellness from The Joint Chiropractic's team of experienced professionals. Not only have people found relief from lower back pain, sciatica, migraines, and other ailments, they've realized a drug-free approach to healthcare and injury prevention is readily available, convenient, and affordable.
Improved Quality of Life
Chiropractic care is focused on the interrelation and communication between the brain and the spine. The Joint's licensed chiropractors use their highly refined skills developed through intensive education and clinical training to perform therapeutic manual manipulation, also known as an adjustment. Adjustments help relieve subluxation, or misalignment of the spine by taking pressure off nerves and restoring proper alignment. It's a safe, non-invasive alternative to using prescription and over-the-counter medications for pain relief.
"Adjustment modality allows patients to thrive, not just survive," Dr. Jason Basile, director of eight of The Joint's Greater Houston locations says. "It is the most important service we could ever offer or perform."
Proper alignment of the spine assists in the management of pain and swelling, leading to increased body function for an improved quality of life. It also aids in the prevention of many common ailments and injuries including:
Lower back pain

Upper back pain

Neck pain

Migraine and tension headaches

Shoulder pain and elbow pain

Knee, foot, and ankle pain

Sciatica

Chronic injuries
If you're curious about how chiropractic care could help you, Dr. Basile encourages you to visit The Joint Chiropractic in your area. Whether you've seen a chiropractor in the past or are seeking a local chiropractor for the first time, expect your visit to be different from healthcare experiences you've had before — quite possibly even life-changing.
"We develop long-term relationships with our patients and are truly invested in their health and well-being," Dr. Basile says. "Whatever symptoms you or your family may be having, The Joint offers beneficial treatments without the use of pharmaceuticals, and guidance for preventing injuries and improving overall health and wellbeing."
Personalized Approach and Care
Easy check-in, short wait times, and quality treatment are hallmarks of The Joint's patient-centric focus. Reasonably priced care plans are tailored to each individual's specific needs. "We strip away many of the costly extras other chiropractors frequently add, like massage and traction, allowing patients to be in and out in five minutes for an initial core adjustment," Dr. Basile says. "No appointment is needed, and clients can stop by whenever it's convenient for them."
Evening and Weekend Convenience
Extended availability, including evening and weekend hours, provides an opportunity to access professional care and pain relief without appointment hassles. Clients can stop by to or from work, during their lunch hour, or on the weekend. There are no insurance roadblocks, requirements, or copays. The Joint makes it simple and easy to work toward a healthier lifestyle for enjoyment of daily activities.
Meet the Local Doctors
Anu Dhillon, DC
The Joint Cy-Fair
Dr. Dhillon is The Joint Cy-Fair's clinic director. A graduate of Palmer West College of Chiropractic, she's known for being deeply invested in the care of her patients both during and after treatments. Raised in San Jose, California, she attended Fresno State University where she was a caregiver for patients, driving them to their chiropractic appointments. "I was amazed at the difference chiropractic made on their musculoskeletal health, and how it enhances the body's natural ability to heal itself without medication," she says. Dr. Anu enjoys hiking, reading, baking, and traveling.
Shayan Gulzar, DC
The Joint Cypress
"Dr. Shayan" is the clinic director of The Joint's Cypress location. Raised in Shreveport, Louisiana, he graduated from Louisiana State University with a Bachelor of Science in cellular and molecular biology. After relocating to Houston, he went on to graduate from Texas Chiropractic College in 2018. He knew chiropractic care was his calling after suffering a car-accident injury. His pain and discomfort were only relieved after receiving routine and consistent chiro adjustments. "The most rewarding aspect of being a chiropractor is the ability to heal people using a natural and holistic approach," he says. Dr. Shayan loves working on cars and walking his four bulldogs.
Gary Chen, DC
The Joint Copperfield
Dr. Chen, clinic director at The Joint – Copperfield, is a 2019 graduate of Texas Chiropractic College. "The best thing about my job is the smile and satisfaction I see on patients' faces because they feel so much better. I can sense their gratitude and it really makes my day," he says. Born in Boston, he studied kinesiology and exercise science at The University of Houston. His chiro treatment following a car accident inspired him to pursue a career in the field. "I realized I could help so many people that don't know much about the profession." An avid tennis player and 2014 state finalist, he planned to compete in college but tore his rotator cuff. "Had I known about chiropractic, I would've been able get treatment for my shoulder and heal much quicker."
A Patient Shares Her Gratitude
Erika G. is one of The Joint's loyal patients. She sums up her treatment experience saying, "I am a chronic neck pain sufferer and came to The Joint looking for relief. What I found were remarkable doctors. Not only has my pain been minimized, but I can also tolerate more daily activities. The staff is always friendly and helpful. Thank you for helping my pain. I feel amazing!"
Quality chiropractic care by licensed professionals

Conveniently located

Open nights and weekends

No appointments required

No insurance hassles, requirements, or copays

Affordable, personalized care plans
---
CONTACT
12020 FM 1960 West, Suite 980
Houston, Texas 77065
(281) 299-3474
TheJoint.com/Texas/Houston/Cy-Fair-28009
25626 Northwest Freeway Suite 700
Cypress, Texas 77429
(281) 305-2591
TheJoint.com/Texas/Houston/Cypress/-28060
7037 Highway 6 North
Houston, Texas 77095
(832) 539-4448
TheJoint.com/Texas/Houston/Copperfield/-28007
---