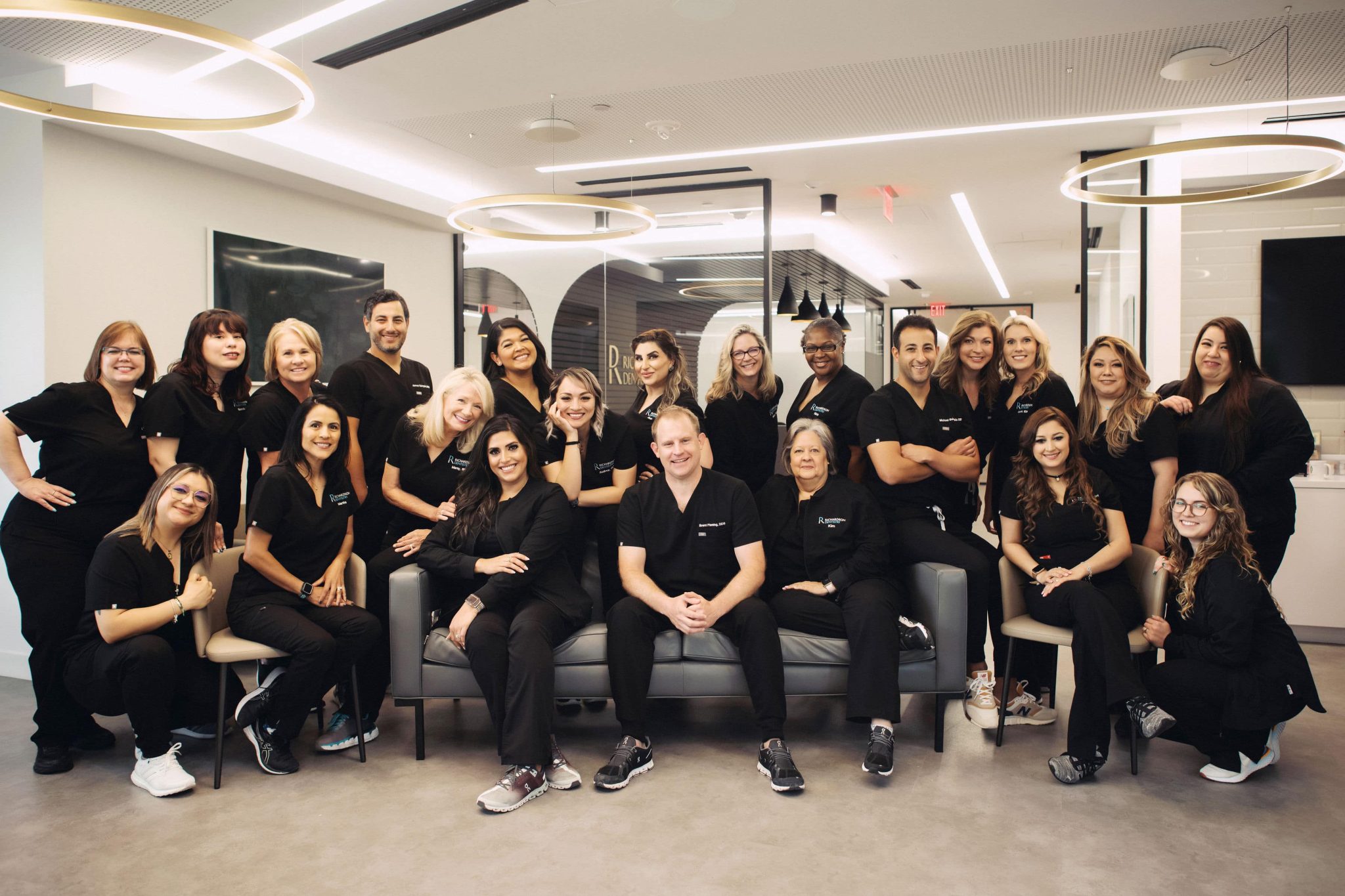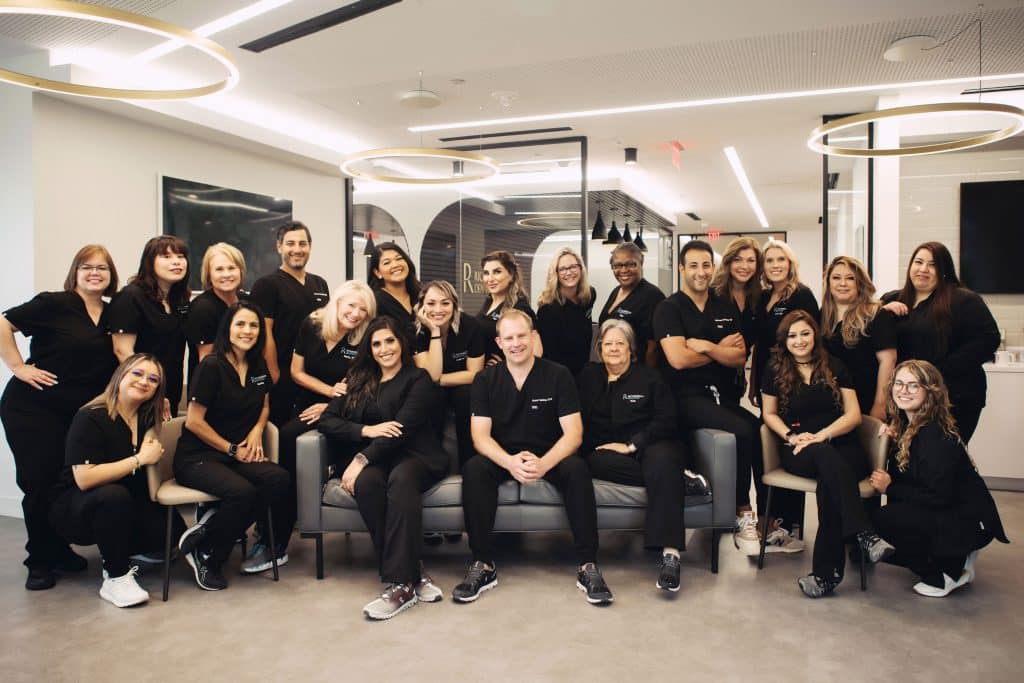 By Jenelle Langford
---
After taking over as second-generation owners of Richardson Dentistry in 2012, Drs. Brent Fleming and James S. Guirguis were joined by Dr. Michael Guirguis in 2017. Shortly after, the team decided in 2019 that it was time for an upgrade after being in the same location for over 40 years. This decision to bring an enhancement to both the workspace and way of doing business brought the opportunity for the practice to move into CityLine.
Once the contract was official to change location at the beginning of 2020, it wasn't long until the team began running into difficult challenges due to Covid. After navigating through such an odd year, in February of 2021, the Texas freeze hit the practice with even more challenges than expected. A flooded and frozen office resulted in the practice moving into a much smaller and crowded space for a short time.
Despite all the challenges the team has gone through in the last two years, they have stayed together through each change coming out stronger and better than before. All of this allowed the team to finally operate out of their new space in December 2021. "It was a little bit of an interesting couple of years and I don't want to repeat that anytime in the near future," Dr. Fleming shares.
Taking Dentistry to The Next Level
Since then, the team at Richardson Dentistry has shifted their focus to oral systemic wellness by bringing the medical and dental worlds together. Oral systemic wellness links the body and mouth to bring possible explanations to someone's overall well-being.
Dr. Fleming shares his curiosity by saying, "Dentistry was very separate from medicine in a lot of ways. What can we see in the mouth that is telling us stories about what's going on with someone's health? How can we make a difference in systemic things like cardiovascular disease and diabetes by simply getting the mouth healthy? We're doing things we've always done, but how does that interact with long-term illnesses?"
The decision to dive deeper into oral systemic wellness began circulating after the move into the CityLine office. Dr. Fleming shared that the team has been excited about this improvement in not just the physical capacity of Richardson Dentistry, but also in developing a higher skill set for their patients to experience the best dental care possible.
"We're just trying to see how things link from the body to the mouth. Instead of treating it as its own separate box, we're learning how it all interacts together, which is leading to more collaborations between us and physicians. We're actually in communication with people's healthcare providers more than we've ever been," Dr. Fleming says.
Each day, the Richardson Dentistry staff is dedicated to increasing their knowledge in all areas of partnership, technology, staff, and oral and systemic health.
"We've got a great, nurturing, and caring long-term staff. They're going to warmly greet you and make you feel like you're part of the family because most of them have known a lot of these patients for a long, long time," Dr. Fleming explains.
Not Your Typical Dentist Office
Upon walking through the doors of Richardson Dentistry, a patient will find a modern and European-styled setting, with sleek accents such as floating cabinets, an open concept, clean lines, and glass almost everywhere.
Dr. Fleming explains, "It's unlike any dental office I think most people have seen. We used an architect out of Germany so it's a very different look and feel from your traditional American dental office."
The decision to bring on an architect stemmed from the goal to be different than what most people have experienced in the past. Each room is private, allowing a patient to experience a safe space to share with the staff, whereas most dental spaces are only divided by a wall. The hope is to bring comfort to patients with an at-home feel, and the confidence of cleanliness and professionalism in a medical environment.
Platinum Membership
Richardson Dentistry offers three types of Platinum Membership plans, which gives those without dental insurance the opportunity to receive state-of-the-art dental care. These plans range from an adult, child, or periodontal, each including dental cleanings, routine oral exams, X-rays, 15% off dental services when paid the day of, and much more. Details on Platinum Membership can be found at RichardsonDentistry.com
It's All About You
Dr. Fleming shares, "Our mission is to help people live their best lives. That involves us [the team] being the best versions of ourselves every day and pushing ourselves to learn more and learn new technology, bring in new knowledge, and push our boundaries."
Services Offered
Prophylaxis (teeth cleaning)

Dental emergencies

Sleep apnea treatment without CPAP

Wisdom teeth removal

Gum grafting

Porcelain veneers

Professional teeth whitening

Dentures

Gum contouring

Invisalign orthodontic solutions
---
CONTACT
1150 State Street, Suite 200
Richardson, Texas 75082
(972) 690-8617
RichardsonDentistry.com
---