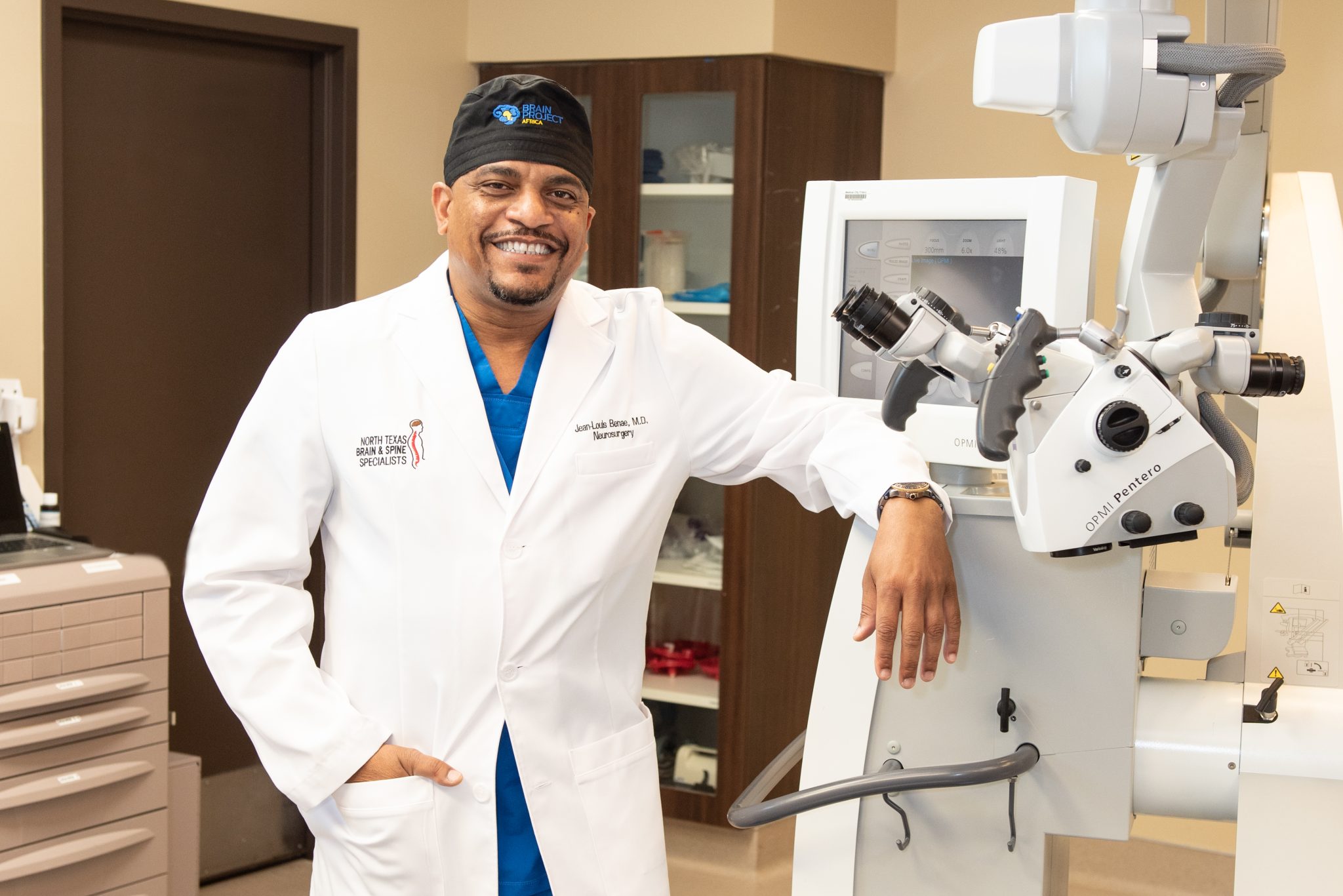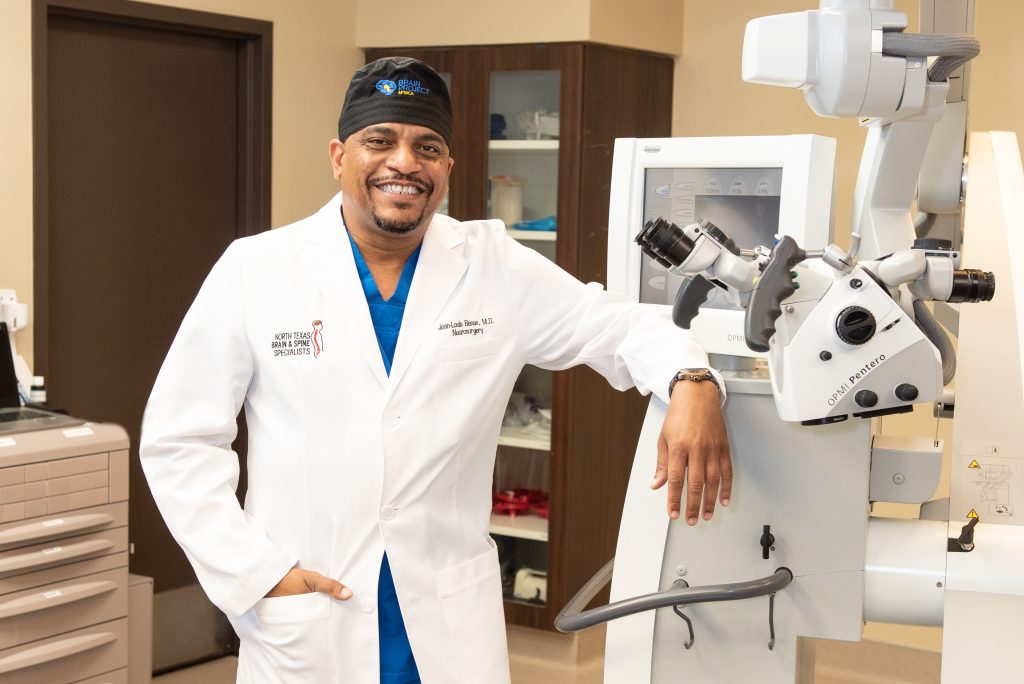 Photo by Amber Boykin Photography
---
Dr. Jean Louis Benae is a double board-certified neurosurgeon with more than 10 years of neurosurgical experience. His intense, extensive training in the management of spine and brain disorders and injuries, commitment to excellence, and professional experience place him at the forefront of neurological medicine.
The demand for Dr. Benae's services is not surprising, given his background, credentials, and unparalleled expertise. Born in Cameroon and raised in Paris, France, he moved to California at age 20 to attend the University of California, Los Angeles (UCLA), where he earned a degree in physiological sciences, graduating with honors. He completed a Doctor of Medicine degree from the David Geffen UCLA School of Medicine, a neurotrauma research fellowship with the UCLA Brain Injury Research Center, then continued neurosurgery specialty training at the Medical College of Wisconsin Affiliated Hospitals in Milwaukee.
Board certified by both the American Board of Neurological Surgery and the American Academy of Neurological and Orthopaedic Surgeons, he is a member of various distinguished national and international neurosurgical societies such as the Congress of Neurological Surgeons, American Association of Neurological Surgeons, North American Spine Society, and AO Spine.
Conservative, Nonsurgical Treatment
Most patients who see Dr. Benae may never have surgery. North Texas Brain & Spine Specialists focus on providing the least invasive intervention first. Among these options are physical light therapy and light intervention pain management procedures. In fact, before performing minimally invasive treatments, Dr. Benae strives to exhaust all nonsurgical, noninvasive options.
"The last thing I ever intend is to perform surgery on someone who doesn't need surgery," he says. "My intention is to locate the origin of a person's problem, and if surgery can be avoided, we can steer clear of it."
Minimally Invasive Treatment
Throughout his career, Dr. Benae has gained invaluable experience in the diagnosis and treatment of complex conditions. When surgery is the best path forward, patients benefit from his training and remarkable versatility with complex spine and minimally invasive spine surgery.
"Our approach is constant," says Dr. Benae. "We're committed to delivering safe, effective treatments for a wide variety of conditions, including the spine, peripheral nervous system, and brain. When surgery is the preferred option, patients deserve to be oriented towards treatment modalities that optimize surgical outcomes proven with minimally invasive surgery, or robotics, or spinal navigation." Rest assured, the doctors and staff at North Texas Brain & Spine Specialists have the skill and experience to perform an effective surgical procedure that should prove to be the best course of action.
"Any surgery is invasive," Dr. Benae explains, "but our minimally invasive approach will lessen the impact and maximize the benefit so the patient can quickly recover and return to full capacity."
Listening to patients is another foundational approach at North Texas Brain & Spine Specialists. Dr. Benae has learned from his work that his patients initially need someone who will actively listen and really hear their stories.
"Many patients have often been suffering for years when they come to see me, so they need my time and my compassion. It's important that I slow down and listen carefully to what they say. Pain is scary and debilitating and can come from different sources. I partner with my patients to investigate and find the source of that pain, then develop a plan of action that will address the root of the problem versus only mask a person's symptoms."
Keeping the Practice Current
North Texas Brain & Spine Specialists constantly evaluates and adds the best and newest technology for diagnosis and treatment. Dr. Benae implements and optimizes up-to-date, cutting-edge technology, so his patients can experience the least scarring and trauma, and the best recovery. His techniques involve a combination of small incisions designed to minimize trauma to the surrounding tissues, so patients heal faster and there is less tissue destruction surrounding the abnormality. Comparatively, in a standard open spine surgery, everything is violated which can lead to more trauma and postoperative pain along with a longer recovery period.
Using the most current Konica Minolta digital X-ray technology, Dr. Benae provides the highest quality X-rays available, which are easily transferable to your primary care physician and other specialists. And a new AlterG Anti-Gravity Treadmill helps patients reduce gravity's impact from 20 to 100% of their body weight during rehabilitation. This means patients with multiple neurological conditions can regain mobility and strength faster with less pain and discomfort.
Giving Back
Philanthropy is an active arm of the practice through an association with the Brain Project Africa Foundation, a 501(C)(3) non-profit entity co-founded in 2018 by Dr. Benae to empower Africa's healthcare ecosystem. The Brain Project enables Dr. Benae's staff and fellow colleagues to travel to Africa and perform free surgical and medical procedures for those who are less fortunate. Services include complex brain and spine surgery, orthopedic surgery, dental surgery, general surgery, and many more. The Brain Project also donates large amounts of medical equipment and supplies that were given to the non-profit by many North Texas hospitals.
Dr. Benae's work with this charitable organization is impactful, affecting multiple sectors of the African healthcare ecosystem. It's also sustainable, as the Brain Project physicians mentor young leaders in the medical field who will be able to address a myriad of issues that in turn, will impact their communities. The team recently completed a medical outreach mission to Ghana, West Africa in July 2022.
Finally, Dr. Benae stays active in his local North Texas community through participation in health fairs and free educational seminars.
For more information, visit DrBenae.com or BrainProject.co to contribute.
If you or a loved one could benefit from seeing North Texas Brain & Spine Specialists, schedule an appointment today at one of their convenient locations, which includes a newly opened office in Argyle.
---
CONTACT
8000 Eldorado Parkway, Building E, Suite A
McKinney, Texas 75070
722 Crawford Road
Argyle, Texas 76226