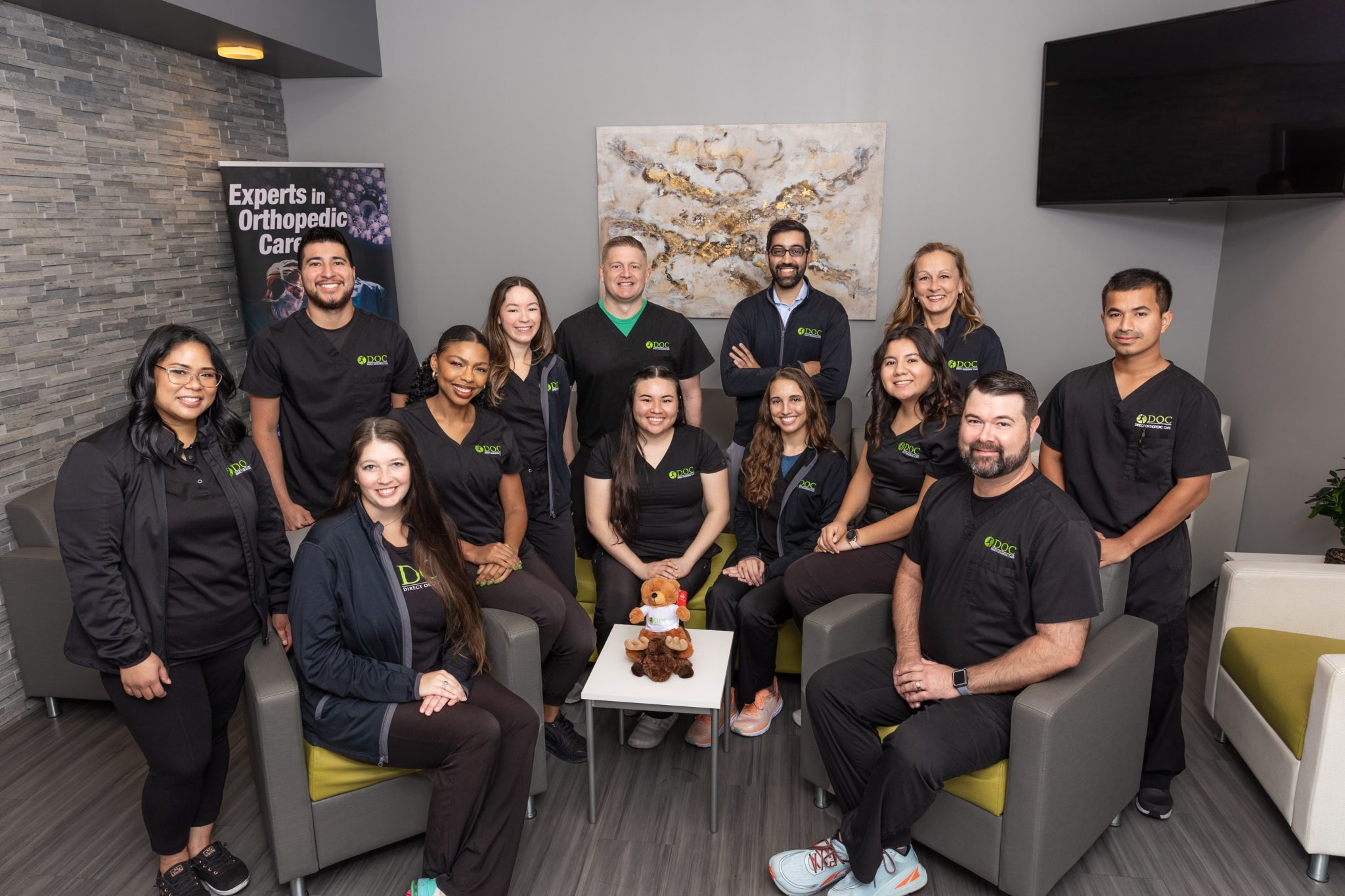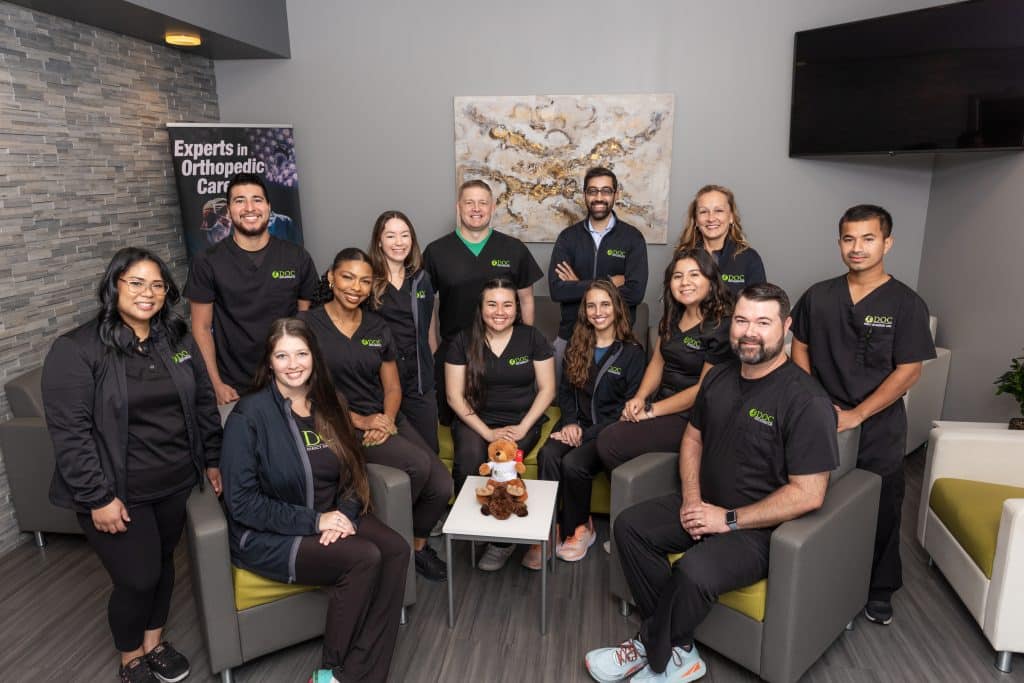 By Annette Brooks | Photo by Kenny Richard Photography
---
Where do you go if you or a family member suffers a fracture or a knee ligament tear? What about a shoulder, back, hip, wrist, foot, or elbow injury, or another orthopedic problem? Most of us head to the hospital emergency room (ER). Yet after the expensive initial assessment, patients are then sent to an orthopedic specialist outside the hospital for further diagnosis and treatment.
Direct Orthopedic Care (DOC) clinics are comprehensive orthopedic specialty practices that not only offer every known option for orthopedic care but also are a convenient, cost-efficient alternative to the hospital ER.
A Better Way to Access Orthopedic Care
DOC Southlake, located on West Southlake Boulevard, provides seven-day-a-week access to a team of Board-certified orthopedic surgeons, pain management physicians, and specialty-trained physician assistants. They diagnose and treat orthopedic problems ranging from sports medicine to work-related injuries, breaks and compound fractures, back injuries, chronic pain, and a variety of ailments, including sprains, ligament tears, tendonitis, and arthritis. And with established relationships in place with nearby surgery centers, they can perform emergency orthopedic surgery immediately when required.
DOC has assembled top orthopedic surgeons and pain management physicians trained at some of the finest medical programs in the country, including Harvard, Johns Hopkins, The Cleveland Clinic, MD Anderson, and more. Their orthopedic specialist physician assistants have treated more than 22,000 cases and have years of experience on average. Their physical therapists have an average of six years of experience and have treated more than 3,000 guests each.
"Our goal is to enable our guests to see the right people in the right place at the right time," says Direct Orthopedic Care Founder and CEO Dr. David Hassinger, "and to offer seven-day-a-week access to cost-effective, high-quality orthopedic experience that can help fix one aspect of a broken healthcare system."
Orthopedic Care the Way It Should Be
Expect shorter visit times at DOC, as well as much lower fees than at the hospital ER. Typical visit times are about an hour compared to multiple hours in the ER. Concerning cost comparisons, DOC is typically about 80% less than an ER visit. Walk-ins are accepted, however scheduling an appointment in advance can help reduce your overall visit time.
Patients Praise DOC
Below are comments excerpted from a few of the rave 5-star reviews DOC Southlake has received from happy guests.
"I cannot say enough positive things about Direct Orthopedic Care in Southlake. Everyone was kind and helpful from the people on the phone to the person taking X-rays, the docs, and the assistants. They were quick to get me in without a referral. I could go on, but hopefully, you get the picture. If you need orthopedic care for you or anyone in your family, DOC in Southlake is the place to go! If I could give more than five stars I would!"
– Denease R.
"We went to the first visit at DOC the day after my girl tore her ACL. We did the MRI the same day. Two days later we saw Dr. Flowers. He explained everything and answered all our questions. It went smooth as silk. We started physical therapy one week after she had her surgery. Dr. Flowers and the physical therapy team are amazing. They have made my precious girl feel comfortable, cared for, and like she is a person, not a number. I'm thankful for their kindness, knowledge, and professionalism. I highly recommend DOC to anyone who needs orthopedic care. Thank you all for making this process smooth and easy and thank you for taking care of my girl. This has been one of the easiest processes at a medical facility I've ever had. You guys at DOC are the very best."
– Tina O.
Don't Wait for an Orthopedic Specialist Appointment. Avoid the ER, Go to Direct Orthopedic Care Instead.
Why be at the mercy of an orthopedic practice that works when it is convenient for them? When you need orthopedic care, you need a specialist. Eliminate unnecessary stops, exposure risk, and additional ER expenses. For more information visit DirectOrthoCare.com
In addition to their Southlake location, DOC also has DFW clinics in Frisco, West Plano, McKinney, Las Colinas, Mansfield, Murphy, and Denton. New locations are planned in North Richland Hills, and Park Cities areas.
In-network
Direct Orthopedic Care is in-network with most all major private medical insurance, workers compensation insurance as well as Medicare and Tricare.
Concierge Orthopedic Experience
Open 7 days a week, no appointment needed

Shorter visit time and lower cost compared to ERs

Board-certified, fellowship-trained orthopedic specialists available

On-site digital X-ray and ultrasound

On-site physical therapy

Pain Management physicians

Emergency surgery available if necessary

Casting and DME (braces, splints, walking boots, and other durable medical equipment)

Pediatric guests 10 and under receive an adorable DOC teddy bear
More Peace of Mind
Direct Orthopedic Care focuses solely on orthopedics and has stringent protocols in place to help protect their guests from disease and infection. With standard ERs handling everything, including patients presenting with COVID-19 symptoms, now more than ever, being seen at a DOC office just makes good, solid sense.
---
CONTACT
2419 West Southlake Boulevard, Suite 100
Southlake, Texas 76092
(469) 535-6842
DirectOrthoCare.com
---