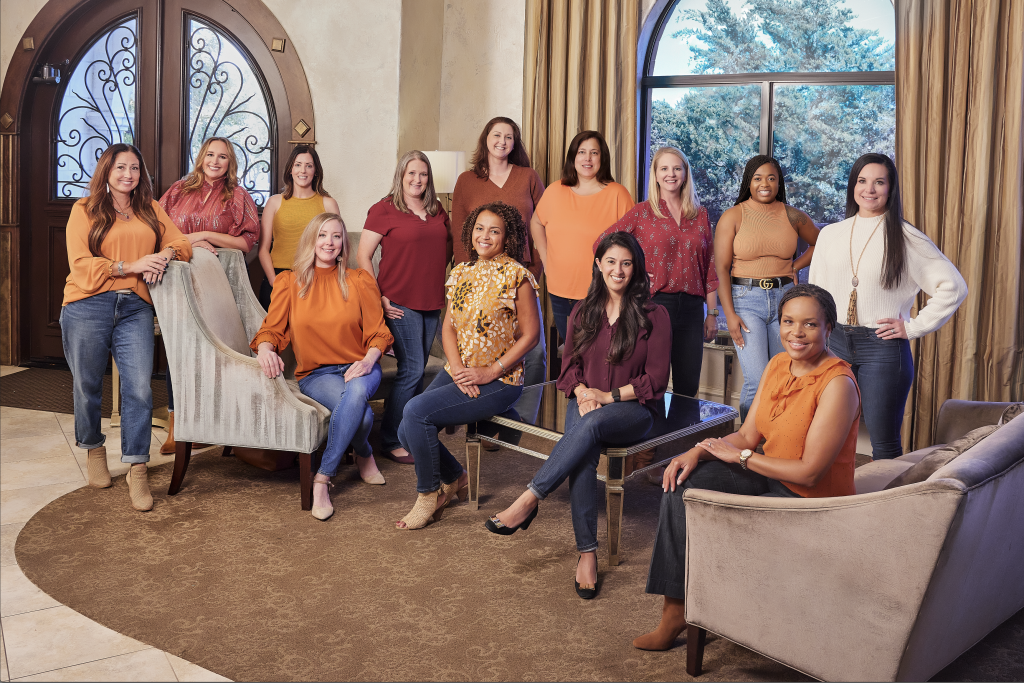 By Meredith Knight | Photos by Scott Peek Photography
---
For over 20 years, the team at Adriatica Women's Health OB-GYN has posed this question to women of Greater McKinney, "Why not let us take care of you for a change?" Throughout that time, they've offered experienced, award-winning care for women by women with compassion and love. Whether you're a teenager experiencing your first period, a mom-to-be, a peri-menopausal or menopausal woman, or beyond, they want to be your trusted healthcare partner throughout your life.
Here's what one patient had to say about the care she receives there.
"I've been coming to Adriatica Women's Health for almost 10 years now, and I absolutely love them. Many doctors' offices will rush you in and out, never stopping to listen to you. That has never been the case here. Every staff member I've encountered (quite a few after almost 10 years) will truly take the time out to listen to you and your concerns and offer their valuable advice. In short, I'm so thankful for this practice and the wonderful people who work there. I will continue coming here for as long as I live in the area, and I recommend them to anyone searching for a women's health clinic."
– Jessica G.
As happy patients like Jessica have found their way to Adriatica Women's Health, the patient base has grown and providers, services, and office hours have been added to meet the need. They've even recently opened a Prosper location.
Welcoming New Providers
The Adriatica team has carefully hand selected highly trained, dedicated women's health professionals who share their commitment to patients' best health and outcomes and are now happy to welcome three more outstanding providers to the Adriatica team. Welcome Dr. Michon McCloud, Dr. Labeena Wajahat, and Certified Nurse-Midwife Josie Roberts.
Together with the rest of the Adriatica team, they're committed to keeping you healthy through life's changes with comprehensive services, from preventive care to advanced surgical treatment and minimally invasive procedures for every stage of a woman's life including:
Adriatica Women's Health is happy to provide their patients with:
Well-woman exams

Pregnancy care and delivery

The latest birth control options

Urinary incontinence evaluation and treatment

High-risk pregnancy care

Diagnosis and treatment of abnormal Pap smears

Menopause management

Osteoporosis prevention and treatment

Alternatives to hysterectomy for abnormal periods

3D/4D Obstetrical Ultrasounds

3-D mammography

Telemedicine and in-person visits available

MonaLisa Touch for vaginal rejuvenation

Science-based dietary supplements
Another happy patient wrote:
"This office is absolutely amazing. From the girls at the front desk, to billing, to the MAs, the ultrasound techs, and of course the physicians and midwives, everyone is truly amazing. I've been going here for the past two years and when I found out I was pregnant, the staff provided me so many resources and is always a phone call away if I have a question about anything. By far the best office I've ever been to. They've made my pregnancy so easy and comfortable. I'd highly recommend seeing anyone in this office!"
– Ashley C.
Screening Mammograms
Added to their extensive list of services and now available in the McKinney office is 3-D mammography. Because early detection is key to beating breast cancer, regular screening mammograms should be part of your health plan, especially if you're 40 or older. These 3-D screening mammograms are more comfortable, more detailed, and more effective than ever before providing a more than 40% increase in detection of invasive breast cancer, as well as a more than 40% reduction in false positives. That means you're better able to get the answers you need without missed detections or unwarranted scares.
October is Breast Cancer Awareness Month. In recognition, the providers at Adriatica Women's Health are offering a Saturday clinic for screening mammograms at their McKinney office 6609 Virginia Parkway on October 29, 2022.
Certified Nurse-Midwives
At AWH, their reputation for top-quality obstetric care is due in part to the dedication, knowledge, and skill of their highly trained and board certified nurse-midwives. These women augment and extend the care they provide. Nurse-midwives have been shown in studies to benefit the safety and outcomes for both baby and mother, as they do for AWH patients. They perform deliveries and assist in c-sections, bringing an additional layer of care so you can have a healthy pregnancy, a successful delivery, and a beautiful, happy baby.
New Prosper Office
For patients in the Prosper area, seeing your women's health team just got easier with an Adriatica Women's Health location right in your backyard at 2200 East Prosper Trail Suite 10. There, you'll find the same excellence in women's healthcare from compassion and understanding providers with impeccable service and top-quality treatment outcomes. Mark your calendars for a ribbon-cutting ceremony on October 13, 2022 from 4 PM to 6 PM.
Paying it Forward
Firm believers in supporting the community, Adriatica Women's Health supports McKinney Education Foundation by sponsoring a $1,000 scholarship to graduating high school seniors (in the McKinney Independent School District) who are interested in a career in health or medicine. In addition to making a donation for every baby they deliver, Adriatica doctors have served in various roles, and continue to serve as members of the foundation and its board of trustees. Those are just a few of the ways they make their communities better.
Find out more and schedule an appointment with your new women's health team at AdriaticaWomensHealth.com.
---
CONTACT
6609 Virginia Parkway
McKinney, Texas 75071
2200 East Prosper Trail, Suite 10
Prosper, Texas 75078
(972) 542-8884
AdriaticaWomensHealth.com
---