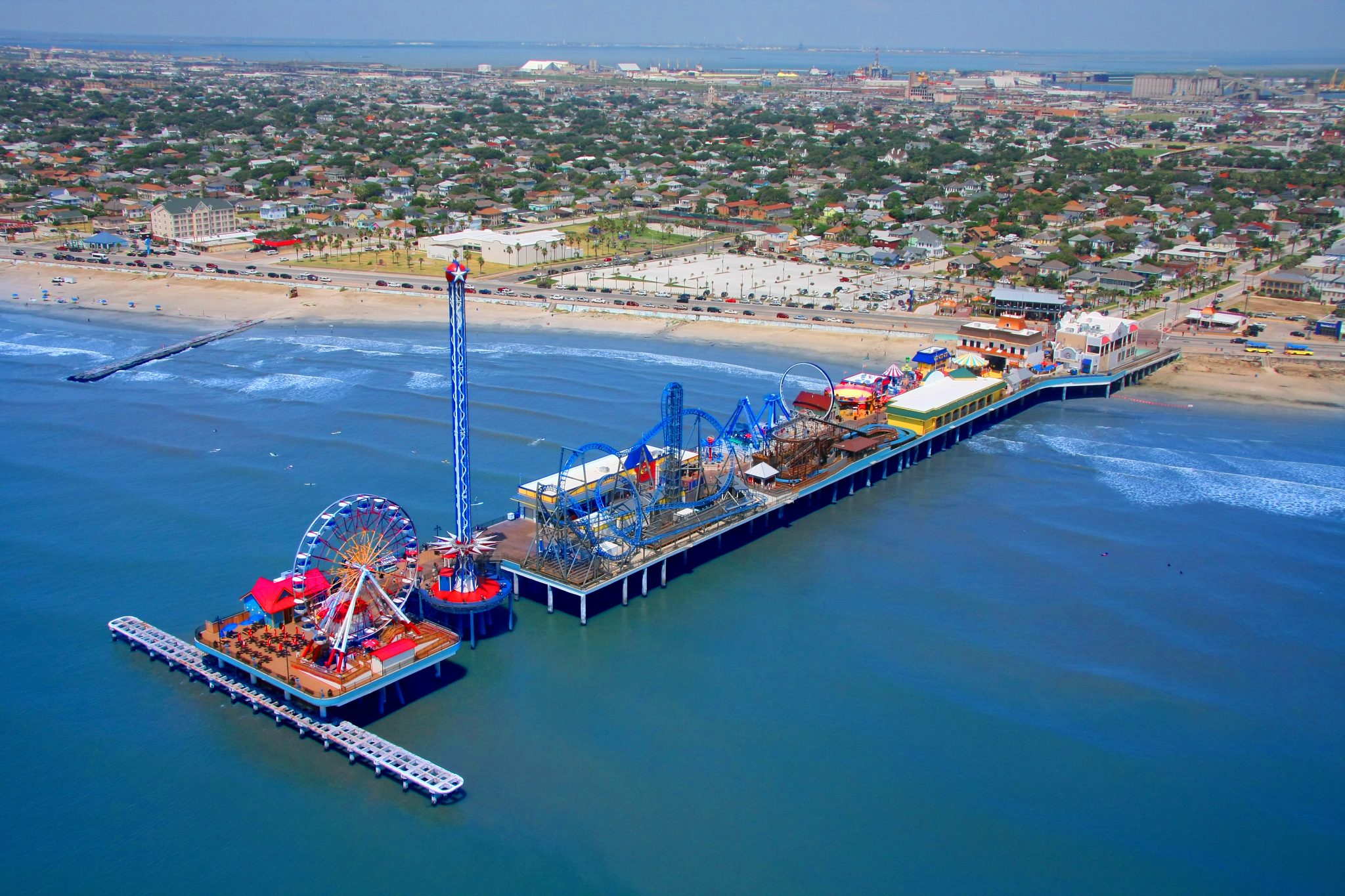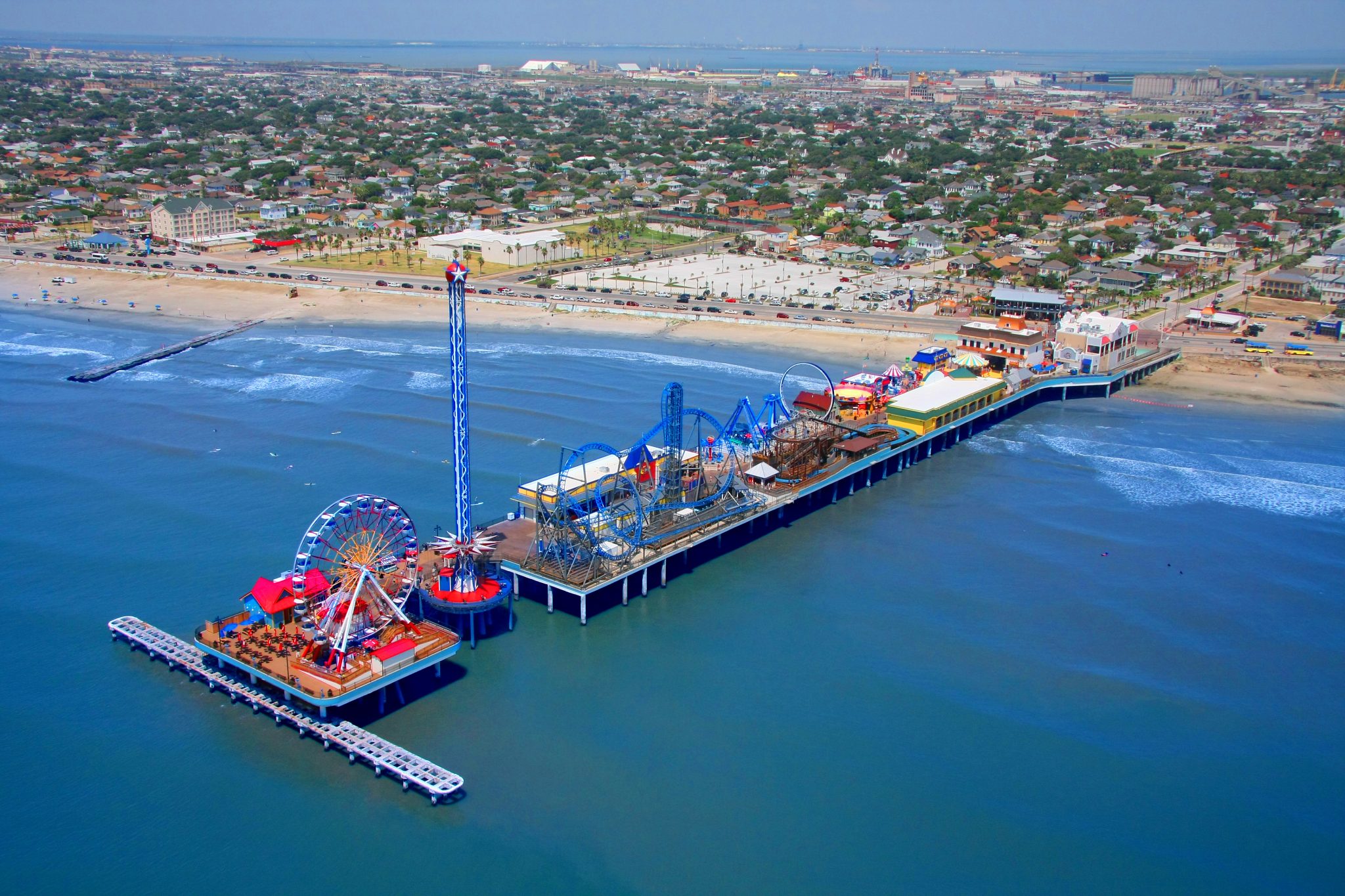 By Christina Garcia
---
Besides offering irresistible fried treats, Texas theme parks are adding new rides to get you back in the gates this summer. Thrill-seekers should love the adrenaline they'll get on big swaying roller coasters and controlled free falls. The rest of us will hear those screams of glee and still choose to gaze at the horizon from a Ferris wheel. If you're unsure where to start or want to branch out, we put together a diverse list of parks to try.
THRILL CHASERS
Galveston Island Historic Pleasure Pier
"The Coney Island of the South," Galveston Island's Historic Pleasure Pier collects sixteen rides and all the essentials: two coasters rushing over the Gulf, a log flume drenching your summer suntan, a pendulum to approach weightlessness, and the spinning, dizzying Texas Tea teacups. Take a selfie on the LED-lit Ferris wheel after dark, then try the fresh seafood or delicious, classic boardwalk food at this oceanside playground with roots that stretch back to 1906.
Six Flags Over Texas in Arlington and Fiesta Texas, San Antonio
Six Flags takes the prize for thrill-seeking roller coasters in Texas (and maybe the nation) so both Fiesta Texas and the original Arlington park made the cut. Legendary rides include Fiesta Texas' Iron Rattler, a steel-reinforced version of the old wooden coaster that drops riders 171 feet and travels at 70 mph. In Arlington, ride backward on Mr. Freeze, or try drops from 325 feet on Superman Tower of Power. To cool off, bump along in the classic Aserradero log flume for a big splash at the end or try the new Aquaman (set to open this summer), a launched coaster hurling at 63 mph to a drenched finale.
SPECIAL NEEDS
Morgan's Wonderland, San Antonio
Morgan's Wonderland in San Antonio is a one-of-a-kind park inspired by the owner's daughter, whose cognitive and physical disabilities meant she needed inclusive, accessible parks if she was going to enjoy outdoor play and rides like everyone else. Across 25 acres, Morgan's Wonderland is 100% wheelchair accessible, with most rides made for chairs to roll right onto, including the carousel, Ferris wheel, five tropically themed splash pads at Inspiration Island, and more. People with special needs get in free and can even trade in their chair for a waterproof wheelchair for use at Inspiration Island.
OUTSIDE THE BOXCAR
Houston Renaissance Festival
Hear us out. From one rollercoaster weenie to another, Houston Ren Fest is a capital T theme park. This fair is the largest Renaissance event in the country and what it lacks in rollercoasters it makes up in ax throwing, archery, falconry shows, acrobats, fire dancers, vaudeville, sketch comedy, armored combat, and live music. There are also themed costume parties for fairies, pirates, Celts, barbarians and more. This park is open October through November only.
Trinity Forest Adventure Park, Dallas
Our second pick from Dallas is a little unusual because it's a ziplining course. You'll need gloves, and you'll wear a body harness. An active forest adventure, this park features a three-hour ride across wires with obstacles between each level to test your balance and dexterity. The challenge keeps visitors of all ages actively engaged in playtime through the treetops on over 20 lines.
Dig World, Houston
Dig World is a small park where you'll safely operate "REAL. HEAVY. CONSTRUCTION. EQUIPMENT." A two-hour reservation gets you access to mini-excavators, skid steers, and UTV vehicles. And it's not just for kids who love Bob the Builder. The park has already had to bring in more machines to accommodate the all-ages patrons lining up to get a chance in the saddle.
SMALL BUT MIGHTY
Houston Aquarium
This small park gets big points for being attached to an aquarium. Watch the sea come alive around you as you witness electric eels, piranhas, sharks, and stingrays up close, then check out the mini and full-sized Ferris wheels and the mini and adult-sized free-fall rides.
ZDT, Seguin
This off-the-beaten-path family-owned park in Seguin has a small handful of thrill rides, a few water rides, a climbing rock wall, go-karts, and an arcade. Tickets are cheap, lines are short, and the corn dogs are hot and golden. If you don't have much time to spend on dozens of rides, this park is a good slice of fun.
COMING SOON
COTALand, Austin
Coming soon from Austin's Formula One venue, Circuit of the Americas, COTALAND promises a little heat island of fun with at least five promised roller coasters. As a kind of amuse-bouche, the park has described two thrill rides. The Skyscraper first shoots up hundreds of feet before releasing riders into a momentary free fall and flinging them back up over the crowd. The Palindrome coaster should top out at 51 mph with two inversions before riders do the whole thing backward. Those things alone will make this park unique in Austin.