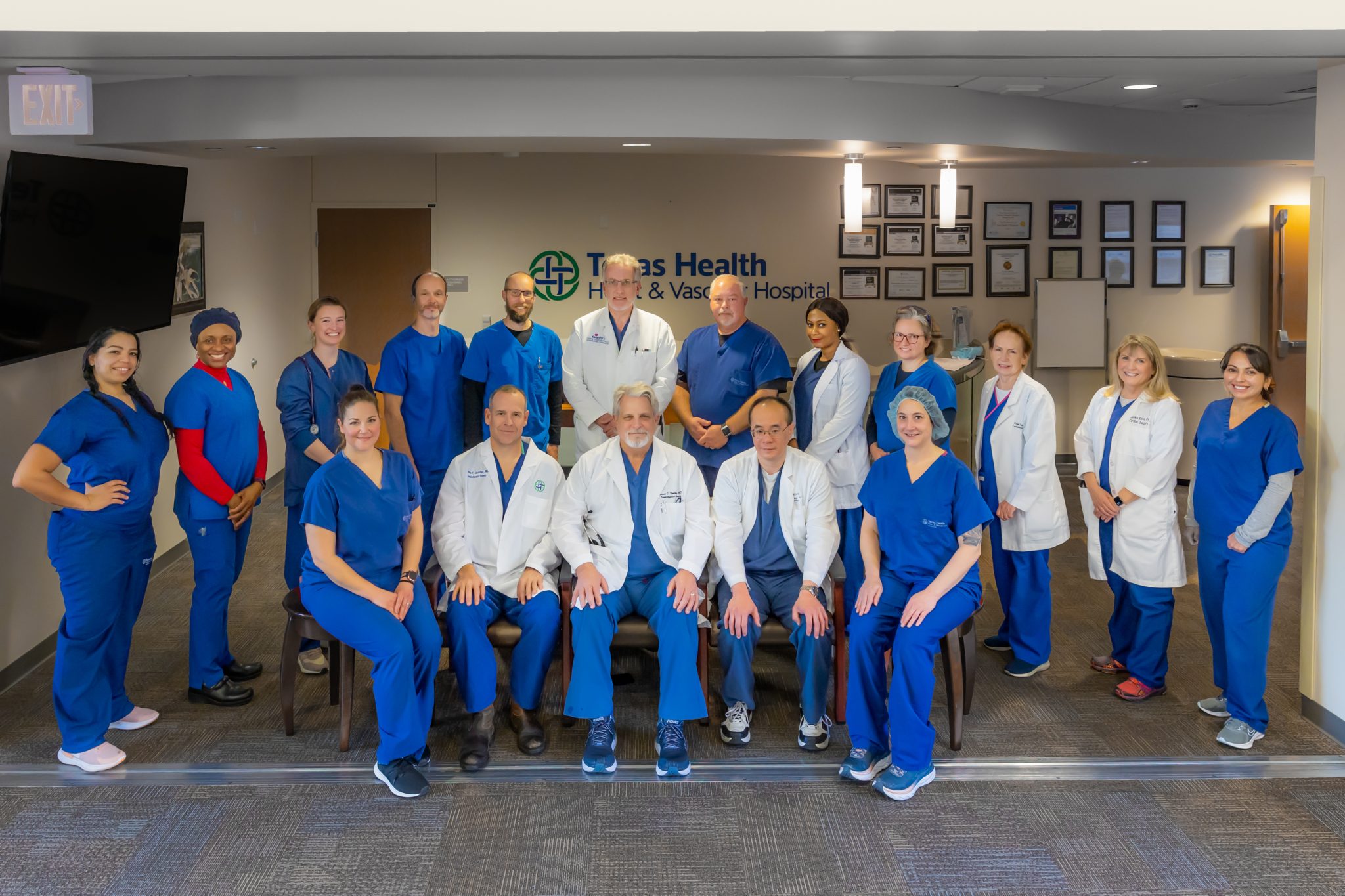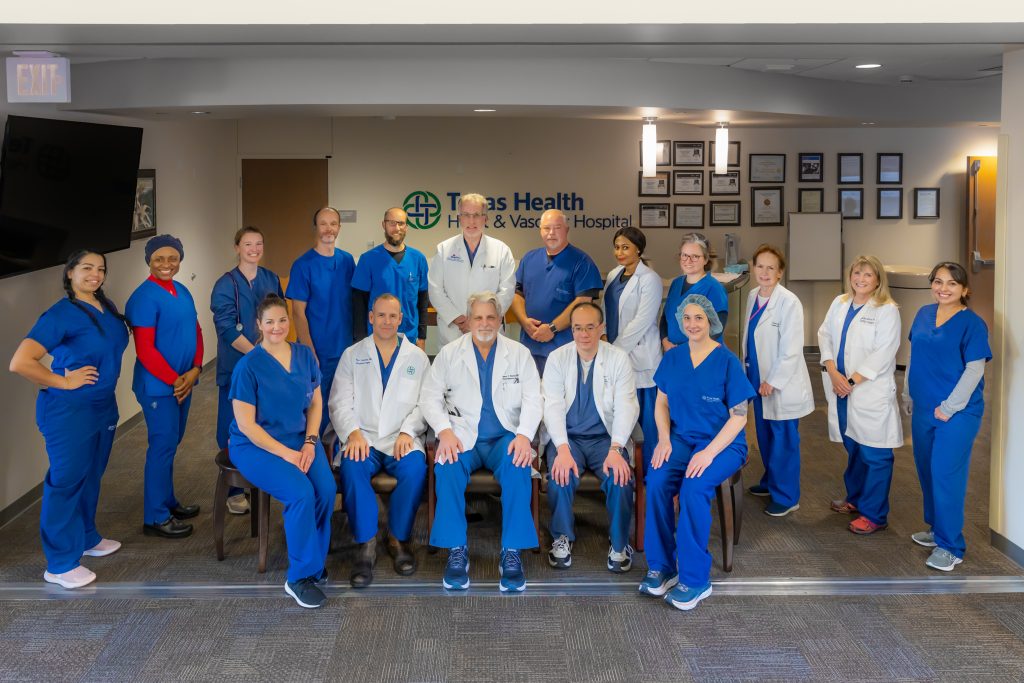 BY ANNETTE BROOKS | PHOTO BY KENNY RICHARD PHOTOGRAPHY
When you or a loved one needs heart and vascular care, the last thing you want to do is drive miles to receive specialized, quality care and innovative services. Fortunately for residents of Greater Arlington and surrounding communities, Texas Health Heart & Vascular Hospital Arlington is located conveniently close to home.
The Only Hospital in Tarrant County Exclusively Dedicated to Caring for Hearts
Texas Health Heart & Vascular Hospital provides a full suite of advanced services combined with patient-centered care. The physician-led hospital's commitment to excellence is highlighted by a prestigious five-star CMS rating for its patient experience, patient safety, effectiveness and timeliness of care, and low mortality and readmission rates.
Caring for the hearts of the community since 2011, patients trust Texas Health Heart & Vascular Hospital, choosing it for diagnostic services and imaging, minimally invasive procedures, and heart surgery. If you or a loved one is experiencing a heart attack, it's good to know the hospital consistently reports a rapid door to balloon time and has received the Gold Plus award from the American Heart Association for STEMI-receiving hospitals for five consecutive years. This means heart attack patients are transferred to one of the hospital's four catheterization labs to restore vital blood flow to the heart. The hospital is also certified by the Joint Commission as a primary heart attack center.
Highly Skilled Specialists, Quality Services
Comprehensive services for heart, lung, and chest conditions include interventional cardiology, thoracic surgery, heart valve repair and replacement, aortic valve replacement surgery, coronary artery bypass, endovascular procedures, diagnostic electrophysiology studies, ablation procedures, and more. Advanced procedures and techniques are utilized, including TAVR (transcatheter aortic valve replacement), a minimally invasive option for aortic valve replacement for those patients who are not eligible for open-heart surgery. More than 200 open-heart surgeries and TAVR procedures, and 2,500 cath-lab procedures are performed at the heart hospital annually.
"Our collaborative team of physicians includes board-certified interventional cardiologists, cardiovascular and cardiothoracic surgeons, and electrophysiologists," says Texas Health Heart & Vascular Hospital's Chief Medical Officer James F. Norcross, MD, a fellowship-trained, board-certified cardiothoracic surgeon. He adds, "I believe we have very talented surgeons and staff at the hospital. The team is committed to quality, safety and compassionate care for all our heart patients here in Tarrant County."
Dedicated Team of Specialized Nurses
"Hearts are what we do, and we strive to meet all patient needs," says Chief Nursing Officer and Chief Operating Officer Sherri Emerson, MBA/MSN, RN, FACHE. "Our nurses are specialized in cardiac care and are ACLS (advanced cardiac life support) certified. Together with our four full-time nurse practitioners, they are dedicated to meeting their patient's needs while providing emotional support, and answering questions. Our goal is to provide a comfortable atmosphere to our surgical patients. Patient education, which is vital to optimal recovery and good outcomes, is also a priority. The pathology and physiology of their condition are explained in understandable terms, and they receive helpful information and guidance on exercise, diet and nutrition, and lifestyle changes. Cardiac rehabilitation is provided on location through Texas Health Arlington Memorial Hospital. For heart patients who live outside Arlington, the heart hospital refers them to quality local heart rehab programs for their convenience.
A Heart Patient Praises Texas Health Heart & Vascular Hospital Arlington
Joe is no stranger to heart disease and life-saving procedures. In 2010 he had a triple bypass and subsequently underwent cardiac ablation twice to address atrial fibrillation. On Valentine's Day in 2020, Joe passed out at home and discovered he required a heart-valve replacement and a pacemaker.
"Everyone at Texas Health Heart & Vascular Hospital is a professional, from the physicians to the nurses, and my experience was great from start to finish. They were communicative and compassionate and explained what would occur during the procedure and what to expect during recovery and rehabilitation. I felt very well-cared for. Honestly, they treated me like royalty."
Now Joe is back to volunteering a few times a week at the cardiac rehab center located in Texas Health Arlington Memorial Hospital and continues to embrace his positive, sunny outlook on life. "I would recommend Texas Heart & Vascular Hospital Arlington to anyone," he says. "Not only will you receive an outstanding quality of care, but they also treat you like family."
Find Out If Your Heart is Acting Its Age
Learn about your heart risk by taking a five-minute online assessment. Visit TexasHealth.org/THHV. Scroll down until you see the Take Assessment box, click on it, and follow the directions. You'll answer a few simple questions, and a copy of your report will be emailed to you.
You have a choice when it comes to where you receive heart and vascular care. It's good to know that Texas Health Heart & Vascular Hospital Arlington conveniently provides comprehensive heart and vascular services right in your community.
Texas Health Heart & Vascular Hospital Arlington is a joint venture, physician-owned hospital that is owned by both physicians and Texas Health Resources.
Texas Health Heart & Vascular Hospital Features:
47-bed specialty heart hospital
Five-star CMS rating
American Heart Association Gold Plus Award for STEMI receiving hospitals since 2015 for seven consecutive years
Certified by the Joint Commission as a primary heart attack center
Four catheterization labs, two with electrophysiology
Four operative suites designed for heart surgery and thoracic and peripheral vascular surgical procedures
Heart surgery program
Transcatheter Aortic
Valve Replacement (TAVR)
Surgical ablation
Interventional cardiology
Port placements
Pulmonary resection
Interventional vascular
Minimally Invasive
Video-assisted Thoracoscopic
Surgery (VATS)
Vascular surgery
Electrophysiology
And much more
Contact
811 Wright Street
Arlington, Texas 76012
(817) 960-3500
TexasHealth.org/THHV