Recipes and photos by Melissa Tate
Classic Texas Tastes Hit the Table This Month by Way of a Sizzling Steak, Punched-up Potatoes, and a Portable Take on our State's (In)famous Cake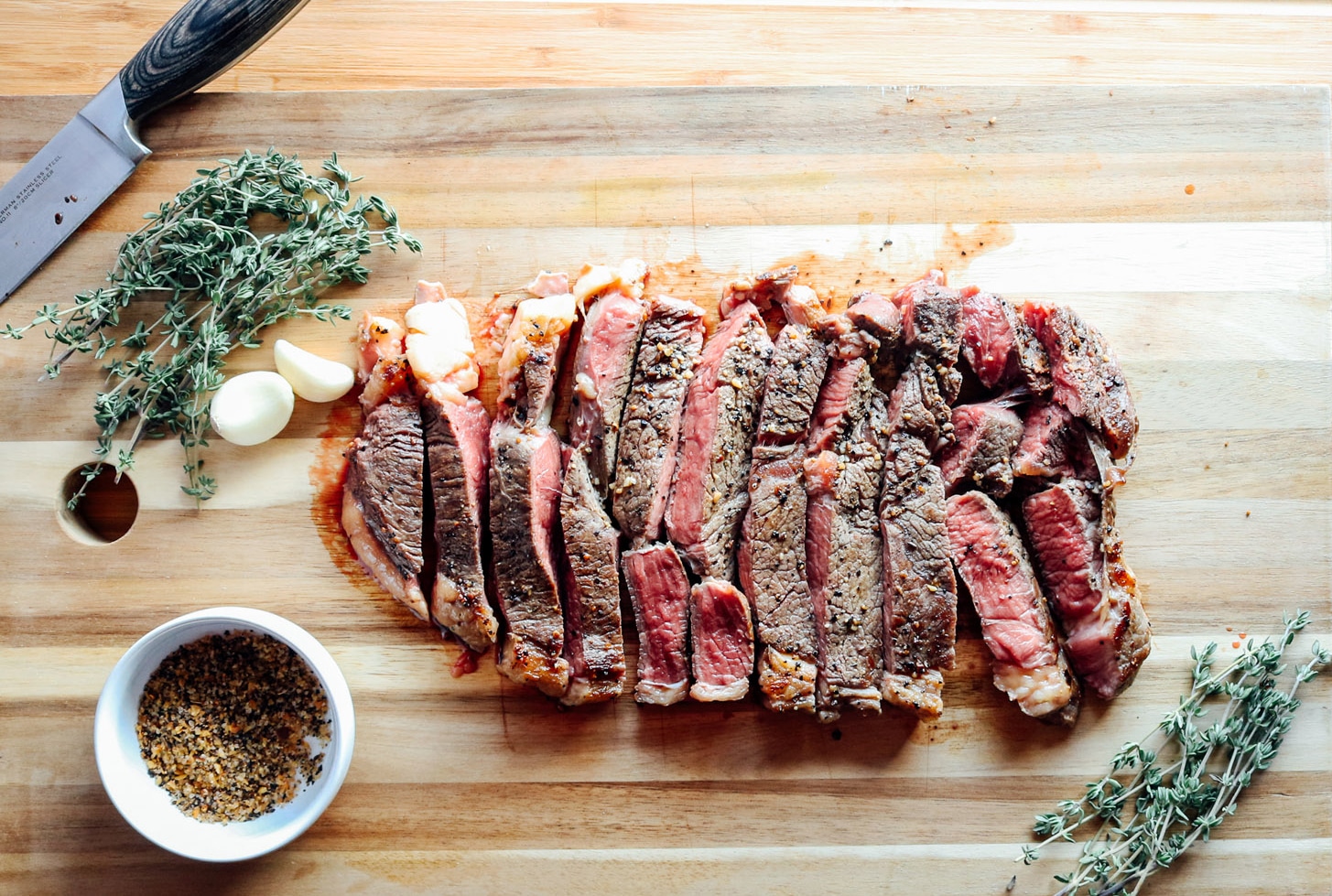 Cast Iron Skillet Steak
Makes: 1 steak | Time: 60 min

ingredients: 1 beef steak, about 1" thick | salt | pepper | steak seasoning (optional)
instructions: Completely thaw steak if frozen. Sprinkle both sides of steak with salt and pepper or steak seasoning, let stand at room temperature for 45 minutes. Preheat large iron skillet over high heat until extremely hot, 4 to 5 minutes. Sprinkle 1-2 teaspoons of salt in skillet then pat steak dry with paper towels to remove any moisture. Place steak in skillet. Flip every 30 seconds for 2 to 4 minutes until cooked to desired degree of doneness. Let rest 4 minutes before serving.

HOW DONE! If going by internal temperature, medium rare is 135 degrees, medium is 140 degrees, and medium well is 145 degrees. If going by color, rare is seared with red interior, medium rare is seared with pinkish interior, medium has a pink center surrounded by brown meat, medium well has a faint pink center, and well done is solid brown throughout.
---

Twice Baked Potatoes
Makes: 4 servings | Time: 90 min
Ingredients: sea salt | 4 large russet potatoes | 5 Tbsp. unsalted butter, room temperature | ½ cup sour cream | 1¼ cups grated cheddar cheese | 6 slices bacon, cooked, cooled, and coarsely chopped | ½ cup finely chopped fresh chives
instructions: Preheat oven to 375˚F. Rinse, dry, and lightly coat potatoes with salt. Place on a baking sheet and bake until tender to touch, about 1 hour. Meanwhile, in a bowl, combine the butter, sour cream, and cheddar cheese. Set aside. Once the potatoes are done, remove from oven and let cool a bit. When the potatoes have cooled a bit but are still warm to the touch, cut off the top one-fourth of each. Scoop the warm potato flesh into the cheese mixture bowl and discard the top skins. Set empty potato skin bottoms aside. Mash the potato/cheese mixture until all ingredients are incorporated. Add the bacon and chives, and stir until mixed well. Spoon this mixture back into the empty potato skins, pilling it well over the tops, and place on baking sheet. Bake at 350˚F 20 minutes then broil until golden brown.

MAKE IT PRETTY! Use a spoon with a thin edge to remove the potato flesh from skin and an ice cream scooper to add the mixture back to the empty potato skins.
---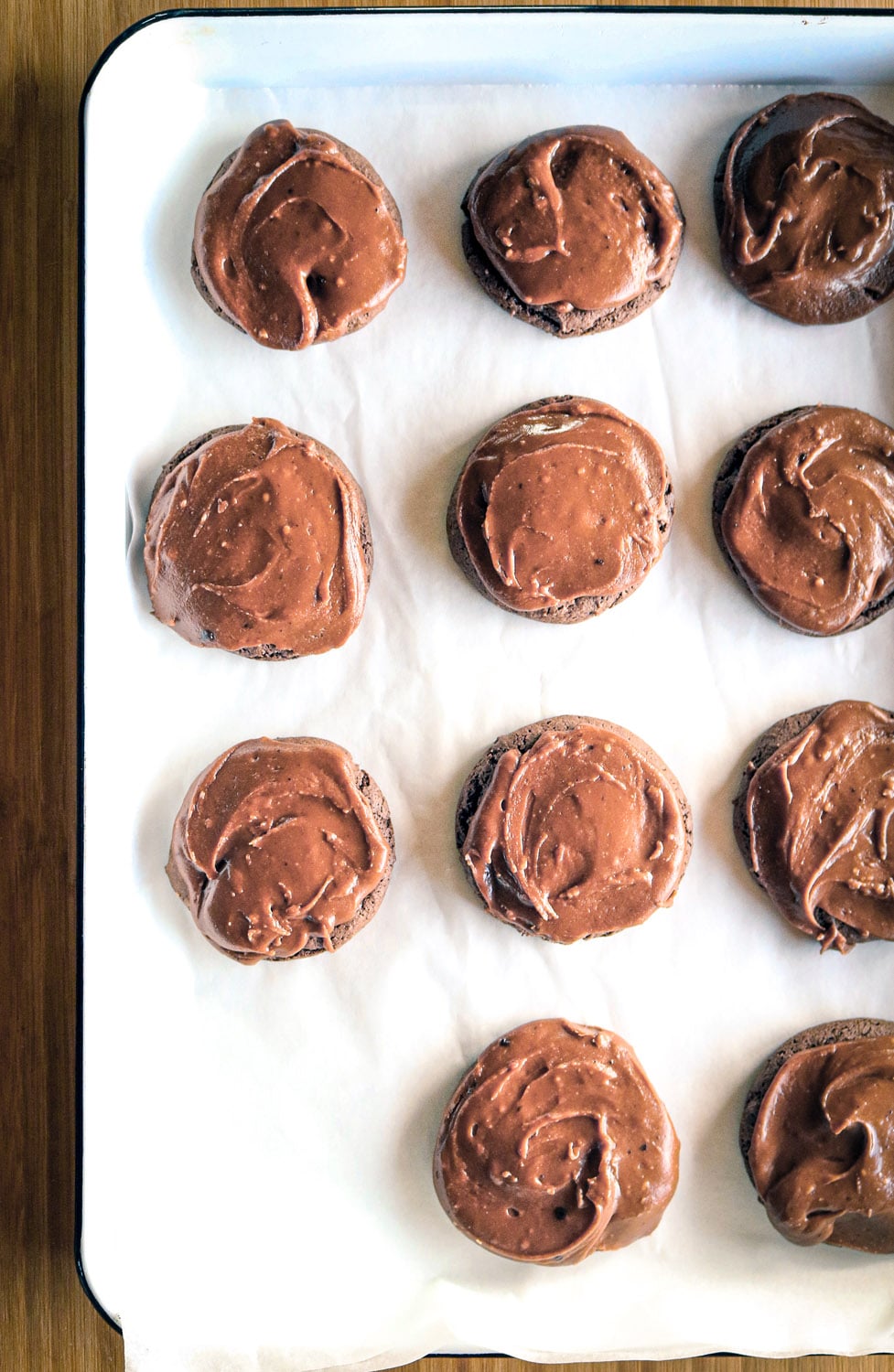 Texas Cookie Sheet Cake
Makes: 16 cookies | Time: About 20 min

For the cookies: 1 box milk chocolate cake mix | 2 eggs | 1/3 cup vegetable oil
For the icing: ½ cup butter | 2 Tbsp. cocoa powder | 3 Tbsp. milk | 2 cups powdered sugar
instructions: Preheat oven to 350˚F and line cookie sheet with parchment paper. In a large bowl, mix together the cake mix, eggs, and oil until smooth. Scoop out batter balls and place them onto the cookie sheet about 2 inches apart. Bake 10 minutes. Remove from oven and let cool. In a medium saucepan, combine butter, cocoa powder, and milk over medium heat. Whisk together until combined. Remove from heat and slowly stir in powdered sugar until smooth. Drop a spoonful of icing on each cookie. Allow the icing to harden before enjoying.
---
about our chef
Melissa is a freelance food writer with a passion for hospitality and home cooked meals. Along with writing, she helps her husband run their working ranch and event venue in Rockwall, Texas. To follow her cooking and ranching adventures visit MelissaTateTX.com or find her on Instagram at @melissatatetx