What Are These Guys Up To Now?

WILSON LO, DDS, FAGD
ANDREW LAZARIS, DDS, FAGD

SHANE RICCI, DDS, FAGD
20 YEARS OF DENTISTRY
It has been a while since we caught up with the doctors at Texas Dental. Having recently passed 20 years of working together, we thought we would see what they were up to!
Dr. Lazaris, Dr. Lo, and Dr. Ricci focus on making Texas Dental the place they would want to go to if they were a patient. Many dental offices are open Monday through Friday, but you rarely find one open 7 days a week! Years ago, the doctors understood that people needed access to dental care when it was convenient for them, and with busy schedules that was not always possible. Being open every day, weekends included, allows anyone the opportunity to get the dental care they need.
EXCEPTIONAL EXPERIENCE
Most dental offices say they are "patient focused," but what does that mean? At Texas Dental, it means your experience, satisfaction, and safety is always paramount. From the moment you walk in, you are greeted warmly with concierge-like service. Simple luxuries including blankets, pillows, coffee, bottled water, and noise-cancelling headphones are offered, ensuring you are pampered during every visit. Even entertainment is provided; televisions in the ceiling above each dental chair and your choice of Netflix shows allows you to relax while getting your work done!
Year after year, the dentists have strived to consistently deliver extraordinary care to each patient every time. Hundreds of positive reviews are a testament to the practice's outstanding attention to detail. Texas Dental has grown their practice from satisfied patients' referrals, making them a preferred practice in Plano.
SUPERIOR TECHNOLOGY
Technology is a common word around the Texas Dental office. "Our top-of-the-line technologically-advanced equipment is not usually found in most other dental offices," Dr. Ricci says. For example, a few months ago they added a state-of-the-art surgical microscope that is utilized while performing meticulous work during root canals and other procedures. That means root canals can be faster and more comfortable!
Their CT radiograph unit captures three-dimensional images of teeth, soft tissues, nerves, and bone allowing the doctors to see hidden issues, and prepare for more in-depth procedures such as implants. An E4D is another state-of-the-art system that scans teeth while a laser-guided milling unit fabricates crowns and restorations. This enables patients to go home with a completed crown in one day!
Other technology includes an Isolite system used to keep the mouth dry and illuminated and the patient much more comfortable. A Diagnodent allows the doctors to see cavities that may be forming deep inside the tooth!
A UNIQUE LEVEL OF PERSONAL CARE
The Texas Dental team enjoys getting to know patients and their families on a personal level. Everyone in the office exudes a warm and friendly vibe, treating each patient like a lifelong friend. "We focus on building relationships to a level that every person notices and appreciates," says Dr. Lo. With a large office and staff that pays attention to every detail, Texas Dental is able to take care of patients thoroughly. "We have the capability to see an entire family at one time without rushing or sacrificing patient care," Dr. Lazaris adds. "Our patients want to return as a result of the supreme quality, care, and commitment we provide."
One of the things setting the office apart in terms of patient care is their vast array of services and specialists. After all, where can you find almost every aspect of dentistry under one roof? Along with routine dentistry like cleanings, fillings and dentures, Texas Dental has a Periodontist for gums and implants, Orthodontist for braces and Invisalign, Endodontist for root canals, and a doctor who extracts wisdom teeth – all on staff!
All three owners have completed residencies beyond dental school, are members of numerous esteemed dental organizations, and have accumulated more than 10 times the required number of continuing education hours each year. Being proficient in all areas of dentistry is just another part of their great customer service and convenient accessibility.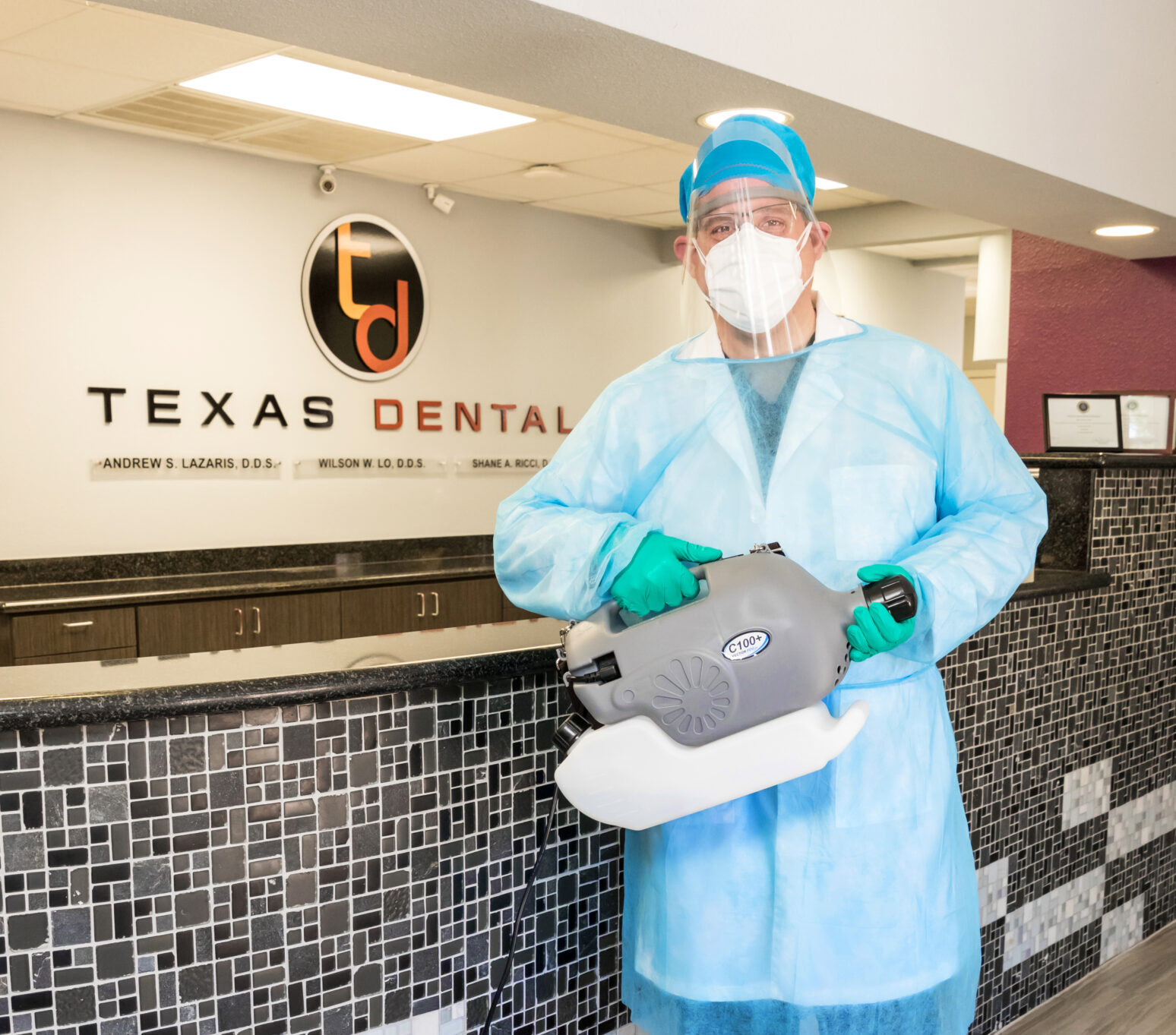 EXTENSIVE SAFETY MEASURES
"We've always been very attuned to infection control," Dr. Lo explains. "In our field, we take these matters seriously and always have to be concerned about contagious viruses and diseases." In light of the COVID-19 pandemic, Texas Dental is not only adhering to the CDC's recommendations, but going above and beyond the CDC and state mandates.
"To begin, we screen every person and take their temperature – staff included – every time they arrive," explains Dr. Lo. "If any patient, staff, doctor, or even vendor has a symptom or elevated temperature, we reschedule them to a later date."
Texas Dental allows you to wait in your car instead of inside the office. You are personally escorted to your treatment room which helps alleviate the spread of germs as well as close contact with others. Personal protection equipment (PPE) includes wearing N95 masks, surgical gowns, and face shields. Texas Dental has also increased disinfecting measures including HEPA filters, ultraviolet light wands, and Vector disinfecting foggers to deep clean the entire office multiple times a day! "We are beyond committed to keeping every patient, as well as our staff, safe!" Dr. Ricci explains.
EXCEEDING EXPECTATIONS
Texas Dental continues to raise the bar for their patients in exceptional dental care, patient satisfaction, efficiency, and technology. Dr. Lazaris, Dr. Lo, and Dr. Ricci look forward to greeting new patients, and welcoming their current ones back. They want to ensure everyone that comes to Texas Dental leaves with a happy and healthy smile. For more information, please visit their website at texasdentalpa.com.
OPEN SEVEN DAY A WEEK
Same Day Emergency Care
Sedation Dentistry
Orthodontics
Implants
Wisdom Teeth Extractions
General and Cosmetic Dentistry
Official Dentist of the Frisco Roughriders!
---
CONTACT

5132 Village Creek Drive
Plano, Texas 75093
(972) 381-1888
TexasDentalPA.com