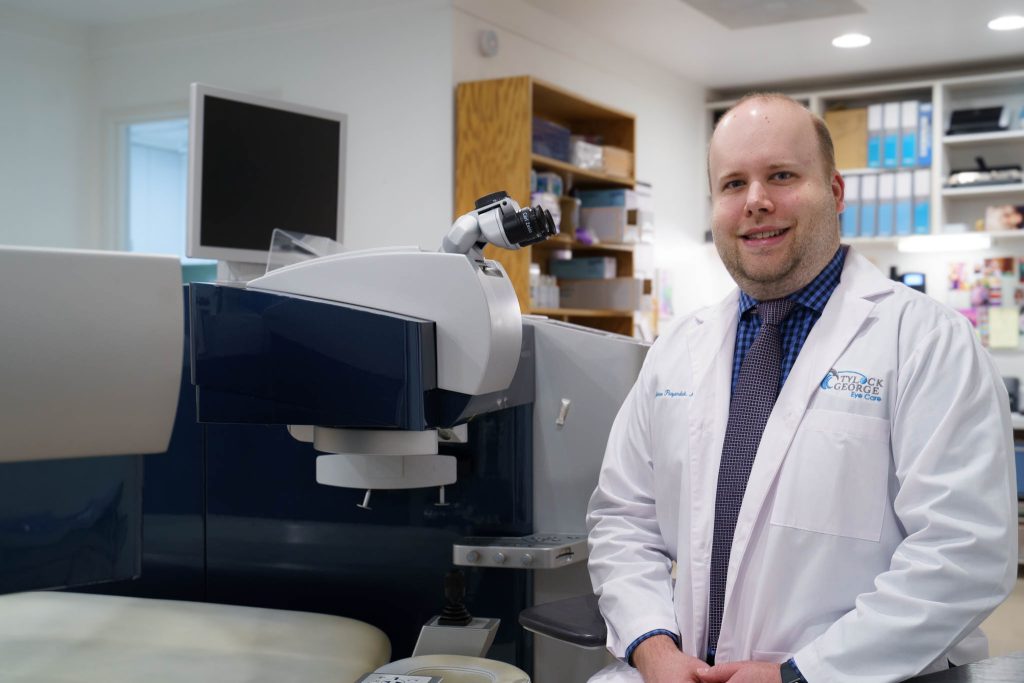 By
Steve Gamel
---
Dr. Andrew Pazandak spent so much time growing up around his father's ophthalmology practice that it seemed like a foregone conclusion that he would eventually follow in those same footsteps. And true to form, he did go to medical school — though he admits that ophthalmology wasn't the discipline he had in mind. In fact, he was willing to try anything other than that.
"I wanted to chart my own course but darn it if I ended up learning very quickly in med school that ophthalmology was exactly what I was looking for," Dr. Pazandak said. "I knew it was a rewarding field. It was meant to be."
Dr. Pazandak can't imagine his medical journey having played out any differently, especially as he continues to add his extensive training, expertise, and compassionate approach to the professional team at Tylock-George Eye Care in Irving. Tylock-George continues to be recognized as a refractive surgery and LASIK leader throughout the United States. LASIK, a procedure that corrects vision problems by improving the eye's ability to focus, has evolved considerably since its origins in the 1980s, and Tylock-George Eye Care has remained at the forefront of the field for over 30 years. Dr. Pazandak has performed hundreds of cornea and refractive surgeries — all with a team approach that puts patients first and helps them see better tomorrow.
Dr. Pazandak loves educating patients and easing their concerns. He also loves sharing the benefits of his profession through teaching others in the eye care field — both in formal classrooms and as a special guest presenter.
"Ophthalmology is known for effective, short surgeries that can help people see better. That's important to me," Dr. Pazandak said. "Most people think of cataracts as something you get when you're older. But what is most rewarding is helping younger patients in their 40s and 50s who need to work and provide for their families. When you do the surgery for them, and they can see better, it's inspiring to see their tears of joy. It's life-changing and keeps their life moving in the direction they want it to."
Dr. Pazandak earned his medical degree at the University of Texas School of Medicine in San Antonio in 2014. His experience includes an internship at the Ochsner Clinic Foundation in New Orleans, an ophthalmology residency at Louisiana State University, and a glaucoma fellowship at the University of Texas Southwestern Medical Center. Before joining the Tylock-George team, he worked as a cataract surgeon and glaucoma specialist in St. Louis, Missouri.
Among his many accolades and affiliations, Dr. Pazandak was recognized as chief resident and a member of the Alpha Omega Alpha National Medical Honor Society at the University of Texas School of Medicine.
"For most people, the more they know, the less nervous they are," Dr. Pazandak said. "We walk with our patients through every step in the process and ensure they get the best care."
---
CONTACT
3100 North MacArthur Boulevard
Irving, Texas 75062
(972) 258-6400
Tylock.com