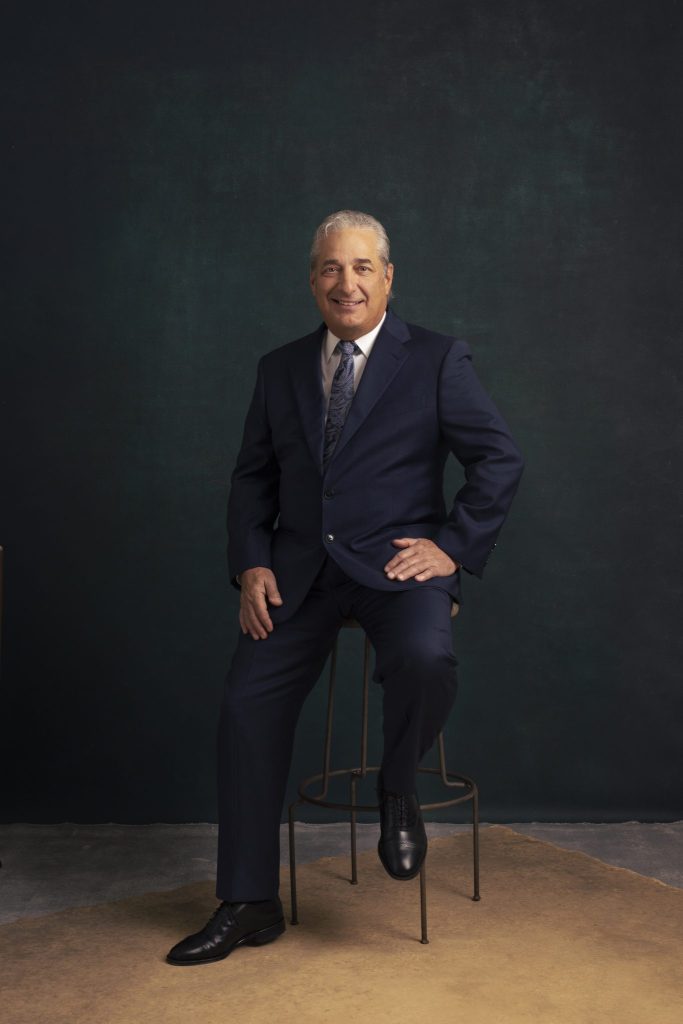 By
Sherri Dale Roberts
---
In 1501, a 26-year-old sculptor began chiselling a rough marble slab that had been hewn out of a quarry in Tuscany. Previous artists had deemed the massive stone flawed, and it subsequently lay abandoned for decades before the young artist laid eyes on it. For three years, he worked in secret, watching the form he envisioned slowly emerge as he carved outlines, chipped away stone, and smoothed out imperfections.
Today, his masterpiece – the 17-foot statue of David – stands in a Florence, Italy, art gallery and is considered unrivalled in the beauty of its contours, proportions, and excellence. Viewers marvel at the anatomical details Michelangelo etched into the figure. Pulsing veins and tensed muscles imbue lifelike energy into the statue of the young shepherd boy, who appears poised to confront the enemy of his people, the formidable giant Goliath, as described in the biblical book of 1 Samuel.
For award-winning Houston plastic surgeon Dr. Christopher Patronella, the calling of those in his field is not unlike that of a sculptor, requiring a vision of the desired result and the expertise to translate that to the face and body. He noted, "The scientific aspect of plastic surgery is related to the surgical techniques you use to carry out procedures. And that is the foundation you need to know. But after that, it becomes a vision. Without a visual interpretation – the ability to shape the body in accordance with the image you have in mind – it's very difficult to make a surgical technique work to achieve the goal."
Dr. Patronella's True Form Plastic Surgery Approach
When Dr. Patronella performs surgery, attentive focus is placed on blending adjacent regions to create a harmonious overall appearance. "I want it to appear authentic, seamless, and elegant," he said.
In the early years of his career, the feedback of patients mirrored his own sense that standard plastic surgery textbook methods often yielded artificial-looking results because they failed to restore the natural physical nuances which contribute to the body's
overall beauty.
"Traditionally, the approach to tummy tuck surgery was, 'Take out as much loose skin as you can, pull it tight, and sew it up,'" said Dr. Patronella. This yielded a flat-as-a-board look devoid of the contour variations present on a naturally attractive abdomen. After studying photos to analyze the common features of attractive bodies, he began incorporating steps to replicate these in his patients' surgeries. True Form Plastic Surgery breast, body contouring, and facial rejuvenation procedures represent the culmination of Dr. Patronella's efforts and the combination of techniques he's refined through 25 years of experience.
The Greatest Reward
While the results of this approach are superb, even jaw-dropping in some cases, the most remarkable transformation typically takes place beyond the surface. "People look at the before and after photos. That's part of the story, but not the whole story," said Dr. Patronella. "The deeper component is the restoration of emotional and psychological health following restoration of a person's body. It's that aspect which has always most impressed me when I see patients postoperatively — the sense I get that it's improved their life as a whole, not just their body.
"Experience has taught me that when people have a positive self-image, they're more engaged in the spectrum of daily activities related to work, parenting, and relationships. Patients tell me they find more joy in putting on a swimsuit and going to the pool. They feel more confident about how they look in and out of clothes. And their relationships are often improved — particularly their intimate relationships — because they feel proud, whole, and less inhibited."
Though he's grateful for the accolades he's received — a hefty portfolio of awards, speaking invitations, and published
works — the honor he most esteems is bestowed by his patients.
"I feel both fortunate to do something I love and humbled by the trust and responsibility patients place in me," he said. "I consider it a privilege, and I work diligently and to the best of my ability to be a dependable guardian of that trust."
His mother's frequent reminder of Christ's words, "Treat others as you would have them treat you," continues to be the guiding principle at the heart of Dr. Patronella's practice. It permeates every aspect of his patient's surgical experience. "We constantly evaluate our processes to ensure patients are well-informed and cared for in a compassionate manner, with safety, responsiveness, and continuity," he said.
From his "incomparable, dedicated" staff who've been by his side an average of 15 years, to his surgical team, which he calls "the best with which he's ever worked," he credits their stellar performance as the source of his greatest pride at work. "I am always confident that consistent, compassionate care can be delivered to our patients without exception. Every day that I enter our surgery center, I am comforted to know that I can rely on my highly-skilled, dependable operating room team to provide the assistance which allows me to focus exclusively on the surgical procedure," he said.
Giving Back
"I look back at my career and recognize that it was made possible by the knowledge, skill, and experience that was imparted to me by my mentors. It follows naturally that it is my responsibility to do the same for those who will be providing care for the next generation," said Dr. Patronella. As a clinical professor of plastic surgery for the University of Texas Medical Branch in Galveston, Dr. Patronella is strongly committed to educating the next generation of plastic surgeons by mentoring residents from university training programs in Houston and Galveston.
Some of Dr. Patronella's greatest teachers never walked the halls of med school, but the lessons they instilled were among the most influential. In simpler times, his Grandfather Patronella, the son of Sicilian immigrants, allowed the poorest patrons of his East Houston grocery store to purchase basic necessities with "credit" he noted in a black book. His generosity and work ethic left an indelible impression on his young grandson. "No man is an island," said Dr. Patronella. My family has always been there. There is no greater influence or comfort than family."
---
CONTACT
12727 Kimberley Lane, Suite 300
Houston, Texas 77024
(713) 575-1996
PatronellaMD.com