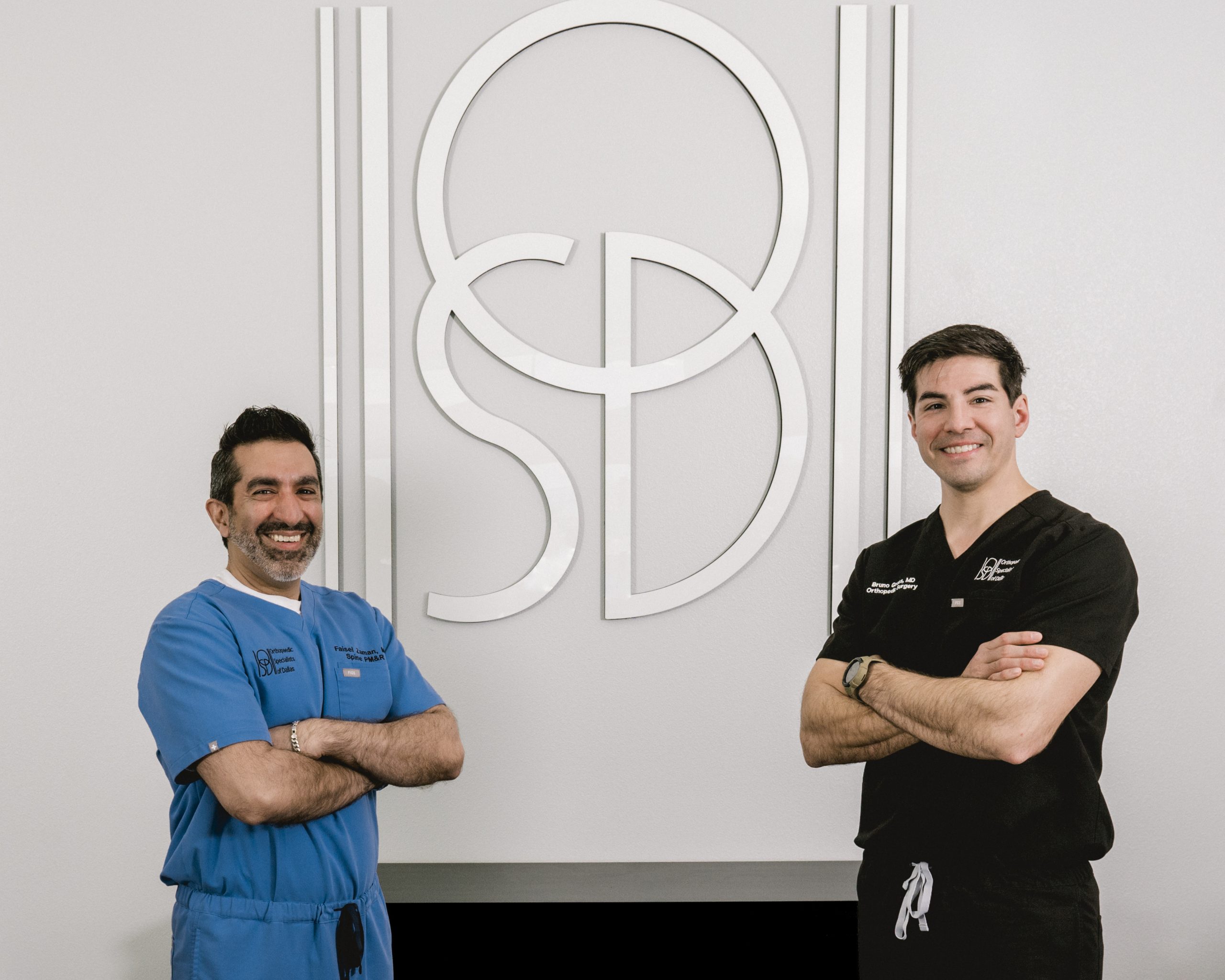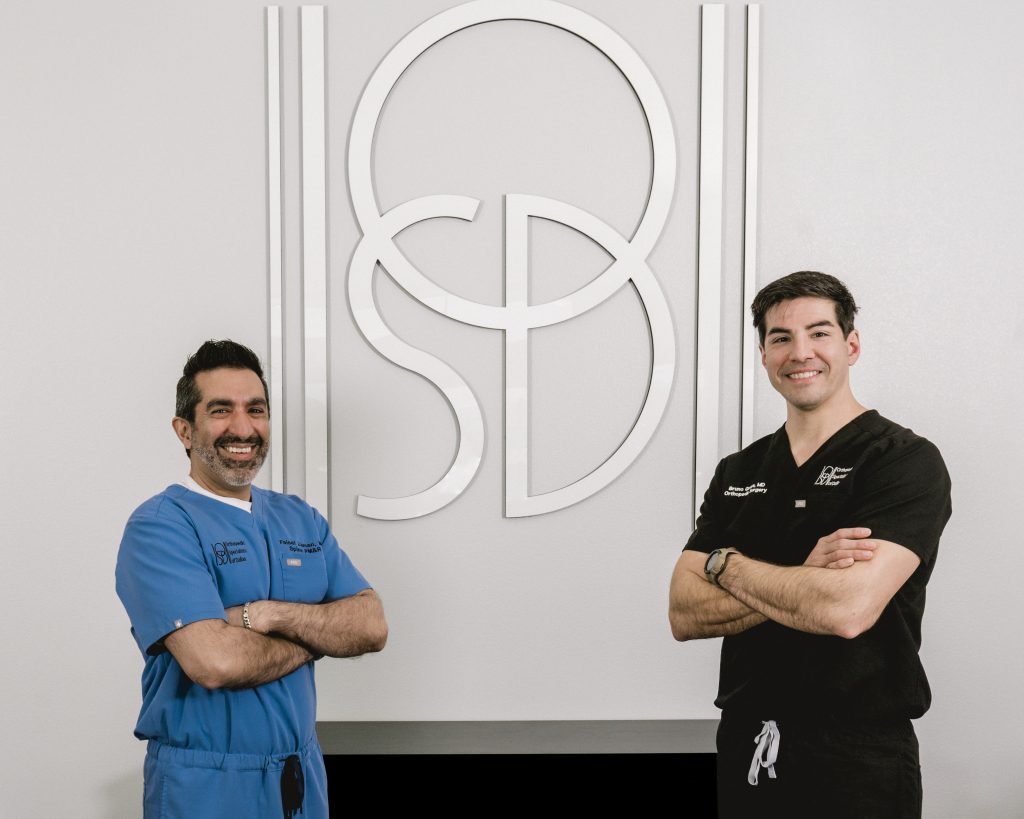 By
Melissa Gautier
| Photo by
Dallas McNeal Photography
---
Musculoskeletal injuries can happen unexpectedly or be due to accumulated wear and tear. When pain interrupts your daily activities, interferes with your sleep, or keeps you out of the game, the experts at Orthopaedic Specialists of Dallas (OSD) recommend calling their team of specialists.
Orthopaedic care is not a one-size-fits-all approach. Individuals searching for excellent care and innovative surgical options put their trust in the experienced OSD physicians. The carefully chosen medical team is highly regarded for their expertise and knowledge. Servicing Rockwall, Wylie, Forney, and Terrell, they maintain a high standard of orthopaedic care utilizing cutting-edge techniques and the latest technological advances.
The focus at OSD is providing the most appropriate care for the patient. They offer conservative treatment ranging from stem cell, platelet-rich plasma (PRP), bracing, and therapy. OSD is committed to integrity, open communication, and accurate, efficient patient care within the community.
Regenerative Therapy
PRP is an in-office procedure facilitating restoration of an affected area, typically the joints. A patient's blood is drawn and separated from its plasma and platelets. The richly concentrated platelets are injected directly into the joint. The use of PRP promotes faster healing, resulting in effective outcomes.
Stem cell therapy is also used for joint regeneration, utilizing the body's natural healing mechanism to renew and repair diseased or damaged tissues. It's promising results treating various orthopaedic, cardiovascular, neuromuscular, and autoimmune conditions.
Arthroscopy
After other modalities have been implemented and surgery is necessary, arthroscopy offers patients a minimally invasive option with quicker healing and recovery. Through a small incision, an orthopaedic surgeon inserts a narrow tube with a tiny fiber-optic video camera into the joint. The camera's transferred images allow surgeons to repair joint damage using small tools.
Orthopaedic Surgeons
OSD has been in our community for 15 years.
OSD's medical providers are board certified and continually seek to enhance their skill set and patient outcomes.
Dr. Umar Burney graduated from Saint George's University School of Medicine, Grenada and completed his internship and orthopaedic surgical residency at Louisiana State University. He completed a sports medicine and joint replacement
fellowship at The University of Texas Houston Medical School. He is dual board certified in general orthopaedics and sports medicine surgery.
Dr. John Zavala's expertise is sports medicine, shoulder reconstruction, ankle/foot injuries and shoulder and knee replacements. He earned his medical degree from The University of Texas Southwestern Medical School, completing his internship and orthopaedic surgery residency at Georgetown University Hospital in Washington, D.C. He was awarded a sports medicine and shoulder reconstruction fellowship at Steadman Hawkins Clinic of the Carolinas. A mini-fellowship was completed in ankle and foot injuries at the American Sports Medicine Institute in Alabama.
Dr. Kushal Patel focuses his talents on orthopaedic sports medicine and shoulder surgery. He graduated with honors from Texas A&M College of Medicine and completed a residency in orthopaedic surgery at Scott and White Memorial Hospital in Temple. Additional specialization in orthopaedic sports medicine and shoulder surgery was obtained at the University of Colorado.
Dr. Dan Volpini specializes in sports medicine and arthroscopy. He earned his medical degree at The University of Texas Health Science Center in San Antonio under a full scholarship. He completed his orthopaedic surgery residency in San Antonio. A sports medicine and arthroscopy fellowship was completed at Mississippi Sports Medicine and Orthopaedic Center in Jackson.
Dr. Nilpesh M. Patel specializes in hand, wrist, and elbow surgery. He received his medical degree from the University of North Carolina and completed a five-year residency in orthopaedic surgery at Emory University. He received additional specialized training at the University of Washington in Seattle, completing his prestigious fellowship in hand and microvascular surgery.
Dr. Bruno Gross concentrates on anterior hip revision, and robotic total knee and partial knee replacement. His medical degree was earned at Texas A&M College of Medicine. He completed his residency training in orthopedic surgery at The University of Texas Southwestern in Dallas. He trained in pediatric trauma for one year in Auckland, New Zealand, followed by fellowship training specialization in joint replacement at the Cleveland Clinic, Florida.
Dr. Cary Tanamachi is a general orthopedic surgeon. He has been providing orthopedic care in this area for decades.
Podiatric Surgeons
Dr. Matthew Britt is board certified in both foot surgery and reconstructive rearfoot and ankle surgery.
Dr. Brandon Mecham is a board certified foot and ankle surgeon specializing in foot and ankle disorders.
Interventional Spine and Neck Therapy
Dr. Faisel Zaman is a fellowship-trained interventional spine physiatrist, sometimes called a physical medicine and rehabilitation physician. He provides a full spectrum of care, treating the body as a whole while focusing on medical conditions causing pain and limited function.
Even though some accidents and injuries are unavoidable, OSD recommends being kind to your body. You can help to mitigate pain and injuries by avoiding extreme workouts and pushing your body to the limit. OSD's variety of orthopaedic services and specialists are always welcoming new patients. They look forward to partnering with patients to find the root cause of their pain and approaching treatment with a patient-centric perspective. For more in-depth information on orthopaedic specialties, surgeons, and services, please visit their website or call OSD for an evaluation appointment.
Sports medicine

General orthopaedics

Joint arthroscopy

Joint replacement

Robotic-assisted surgery

Pediatric orthopaedics

Podiatry

Regenerative medicine

Physical therapy

Trauma and fracture management
---
CONTACT
1301 Summer Lee Drive
Rockwall, Texas 75032
200 North Virginia Street
Terrell, Texas 75160
325 FM 548
Forney, Texas 75126
731 Woodbridge Parkway, Suite 100
Wylie, Texas 75098
(972) 771-8111
DallasOrtho.net