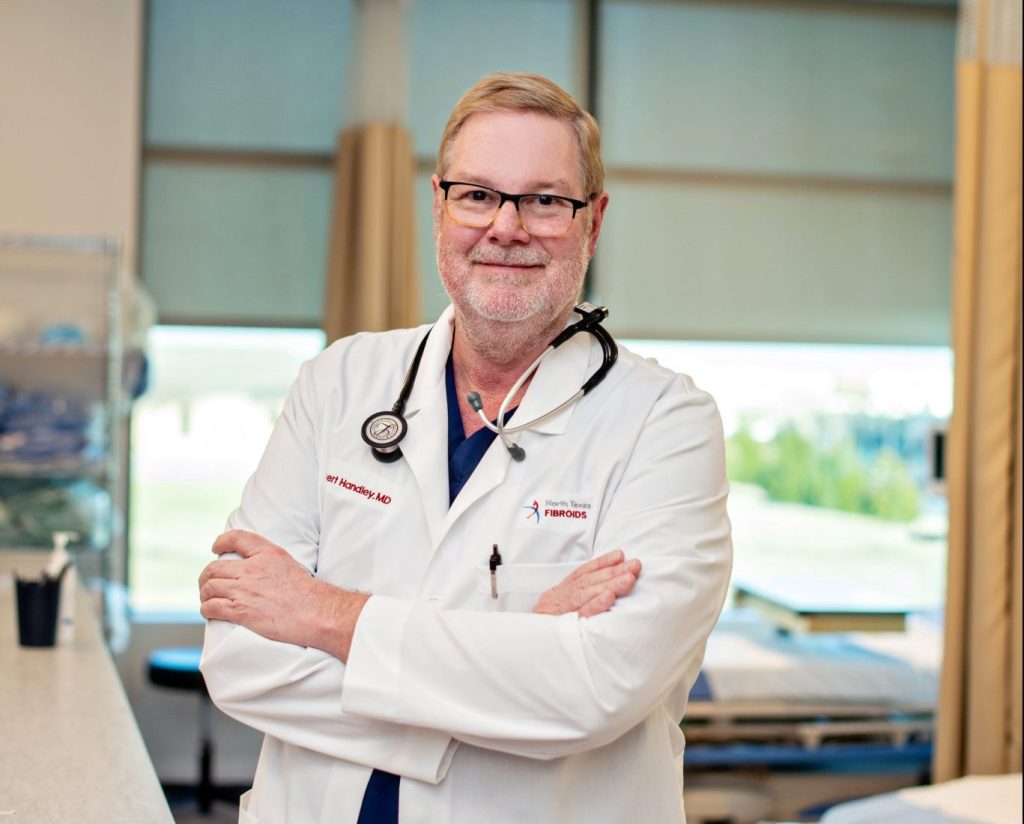 Photo by
Your Candid Memories
---
North Texas Vein & Vascular is conveniently located in Flower Mound and easily accessible from surrounding communities. Dr. Robert A. Handley, Jr. and his team provide personalized care and cutting-edge, minimally invasive treatments for a wide range of venous and arterial vascular disorders. Believing you should look as good as you feel, his onsite medical spa, The Skin Fix Med Spa, offers a host of leading-edge aesthetic and wellness services.
The state-of-the-art office is equipped with advanced imaging, diagnostic, and treatment technologies, and includes multiple procedure rooms, and a four-bed recovery room. Dr. Handley performs thorough diagnostics before developing individual treatment plans. "We find that providing outpatient procedures here in the office makes for a better experience for our patients and their families. Our philosophy is that the well-being of our patients is always our first priority."
Uterine Fibroid Embolization – Patients from around the Metroplex, Texas, and the country see Dr. Handley for treatment of symptoms from uterine fibroids with uterine fibroid embolization. This minimally invasive vascular procedure eliminates the symptoms from uterine fibroids by shutting off their blood supply.
Varicose and Spider Vein Treatments – Multiple treatment options enable Dr. Handley to develop highly customized treatment plans. Services include Endovenous Radiofrequency Ablation (RFA), Endovenous Laser Ablation (EVLA), Ambulatory Phlebectomy (vein removal), Ultrasound-Guided Foam Sclerotherapy and Spider Vein Sclerotherapy. Visit NTXVV.com for more details.
Peripheral Artery Disease (PAD) Treatments – When arteries in the legs become narrowed or blocked patients can experience symptoms of leg cramping when walking or at rest, wounds that won't heal, cold feet, discoloration, and even pain in the thighs or buttocks. Treatment options include angioplasty, atherectomy (removing plaque in blood vessels), and stenting.
Genicular Artery Embolization – This minimally invasive vascular procedure provides pain relief from osteoarthritis of the knee and can be an alternative to knee replacement.
The Skin Fix Med Spa – Imagine looking and feeling more vibrant and youthful. Age-defying aesthetic injectable services include Botox and dermal fillers. Noninvasive services such as laser hair removal, laser spider vein removal, IPL (intense pulsed light), and RF (radio frequency) skin tightening and resurfacing. Wellness services also include bioidentical hormone replacement therapy to help you feel your best self and vaginal rejuvenation for enhanced sexual well-being.
Meet Robert A. Handley, Jr., MD
Dr. Handley completed his medical degree at the University of Texas Medical Branch Galveston, a general surgery internship at the University of South Alabama, his diagnostic radiology residency and vascular and interventional radiology fellowship at UT Southwestern Medical School in Dallas. He is board certified in diagnostic radiology, vascular and interventional radiology, and venous and lymphatic medicine.
Schedule an appointment with Dr. Handley or The Skin Fix Med Spa today. In addition to the Flower Mound office, he has medical consultation locations in Dallas and Cedar Hill.
Varicose and spider vein treatments

Peripheral arterial treatments

Uterine fibroid embolization

Genicular artery embolization

The Skin Fix Med Spa

Bioidentical hormone replacement therapy

Accepting most medical health plans

Visit NTXVV.com and NorthTexasFibroids.com for a complete list of services
---
CONTACT
870 International Parkway
Suite 200
Flower Mound, Texas 75022
(972) 410-5757
NTXVV.com
NorthTexasFibroids.com