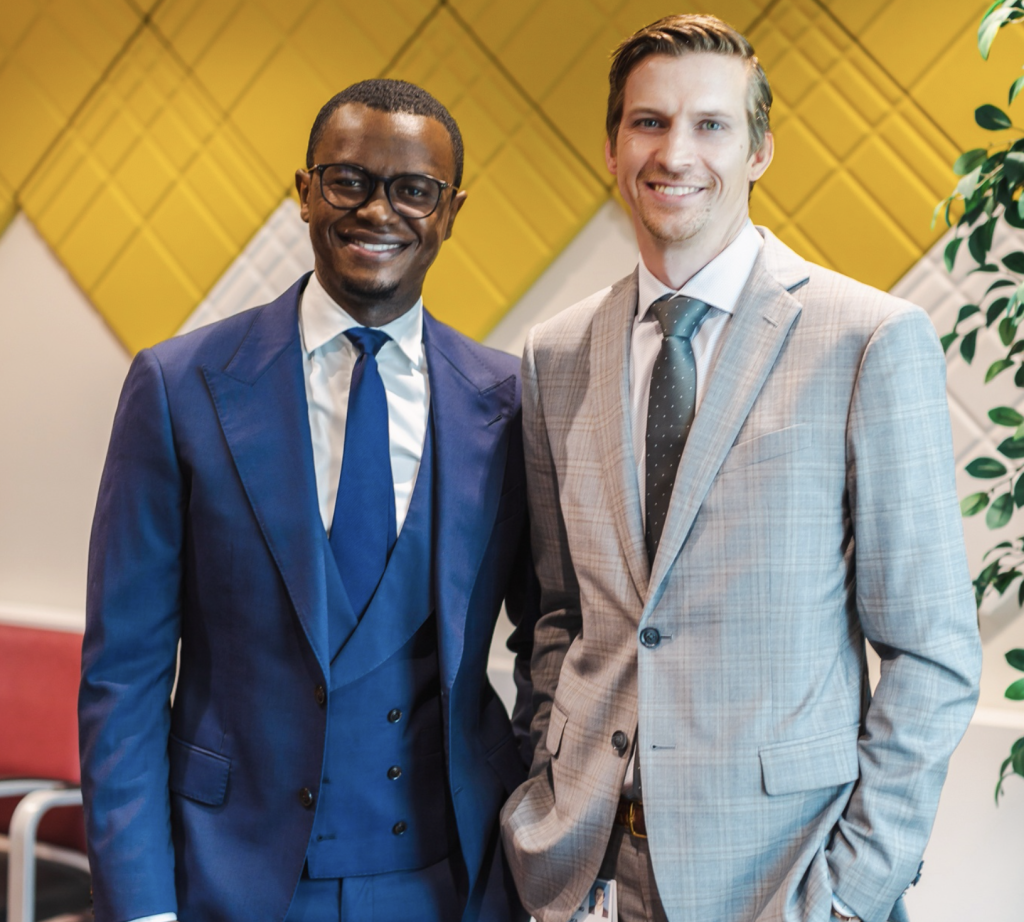 By
Meredith Knight
---
When Josefina Ortiz began experiencing pain in her shoulder, she thought she could soldier through it. She tried physical therapy, but the pain got worse. Soon she couldn't raise or move her arm, couldn't drive, couldn't dress herself, and couldn't sleep at night. Her PT recommended Methodist Orthopaedic Surgical Associates and Josefina scheduled shoulder surgery. Two months post-surgery, she was independent again, feeling great, sleeping nights, and able to play with her precious granddaughter again.
Josefina is just one of thousands of patients who've gotten their quality of life back thanks to "The Bone Docs", John Harris and Edward Mairura. While they share the goal of getting patients of all ages back to living the life they love as quickly and safely as possible, the two men took different paths to their orthopaedic surgery career.
Edward Mairura had his first experience with orthopaedics while accompanying his uncle to Mayo Clinic for treatment for osteosarcoma of the pelvis. "I met his treating orthopaedic surgeon, Dr. Michael Yaszemski, and was intrigued by his level of compassion for my family, knowledge, bedside manner, and communication skills," Dr. Mairura said "Dr. Yaszemski offered me the opportunity to work in his lab performing research. I knew I wanted to one day help people the way Dr. Yaszemski had helped my uncle."
John Harris knew he wanted to practice medicine, to "help change people's lives with new and exciting medical technology". But it actually was an interest in woodworking, during his med school years, that sparked his interest in orthopaedics. "I fell in love with orthopaedics from the first case I saw that involved drills, screwdrivers, and tools just like the ones I used in my garage. It was fascinating, and I was hooked," he said.
Dr. Mairura performs general orthopaedic surgery with a special interest in trauma, total knee replacements, anterior hip replacements, arthroscopic treatment of the knee, carpal tunnel, and trigger fingers. "I love listening to my patients' needs and providing them with the best evidence-based options that maximize non-surgical treatment, considering surgery only after exploring all other options."
While he is fellowship trained in sports and arthroscopy, Dr. Harris enjoys performing shoulder and knee replacements, fractures "from top to bottom" and especially knee and shoulder arthroscopy, and treating injuries such as ACL and meniscus tears, rotator cuff injuries and shoulder dislocations.
"We aim to show Christ's love in all we do, and hopefully, help point patients back to God, to show His love and mercy in the tough times and give Him all the glory for the good outcomes," Dr. Harris said.
Methodist Orthopaedic Surgical Associates is owned and operated by MedHealth/Methodist Medical Group and is staffed by independently practicing physicians who are employees of MedHealth/Methodist Medical Group. The physicians and staff who provide services at these sites are not employees or agents of Methodist Health System or any of its affiliated hospitals.
Methodist Orthopaedic Surgical Associates offer excellence in orthopaedic medicine in the areas of:
Adult Joint Reconstruction

Sports Medicine and Athletic Injuries

Shoulder and Knee Arthroscopic Surgery

Trauma

Foot and Ankle Surgery

Surgery of the Shoulder and Upper Extremity

Fracture and Soft Tissue Injury Treatment

and more
---
CONTACT
2975 East Broad
Suite 200
Mansfield, Texas 76063
(817) 453-3500
MethodistBoneDocs.com