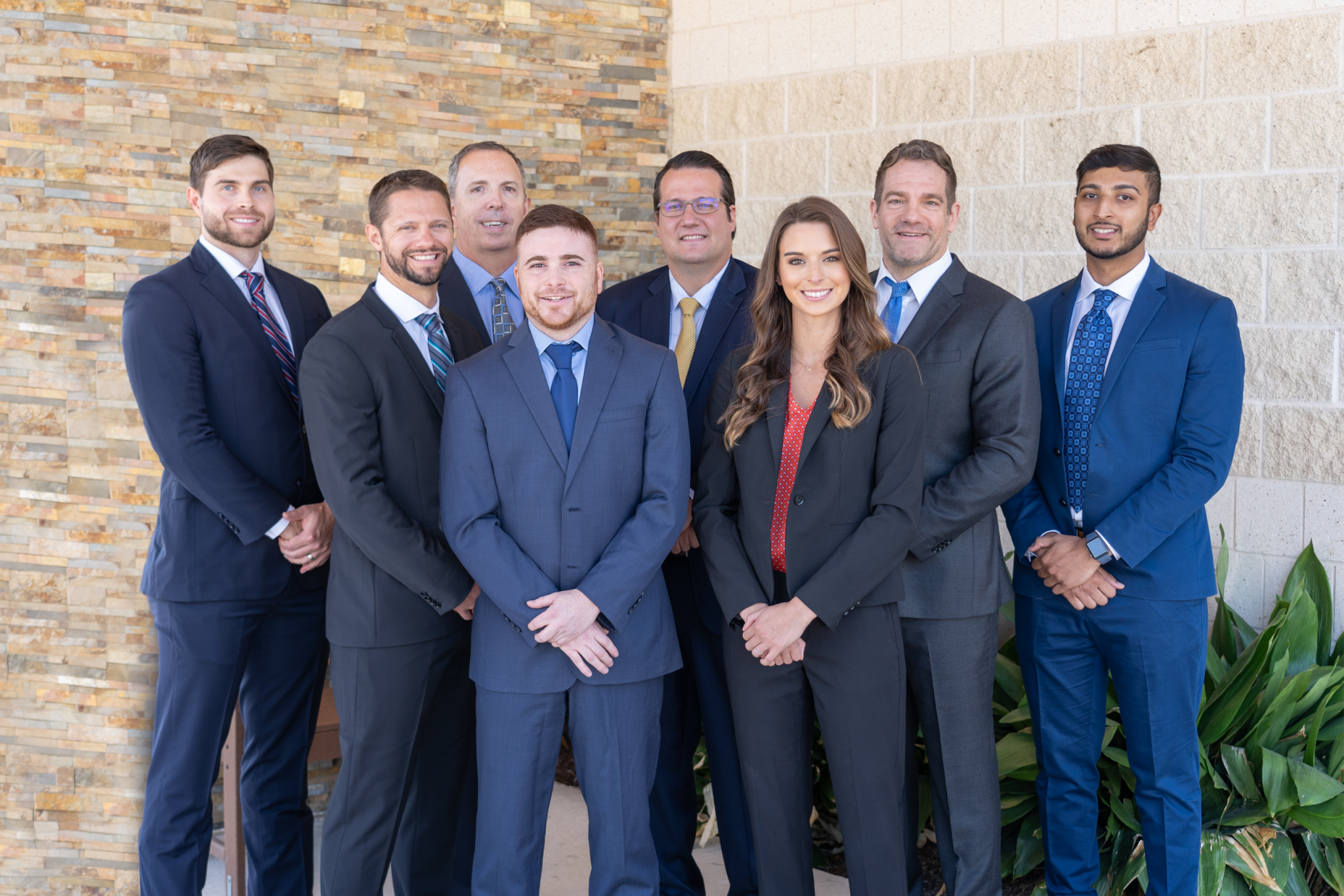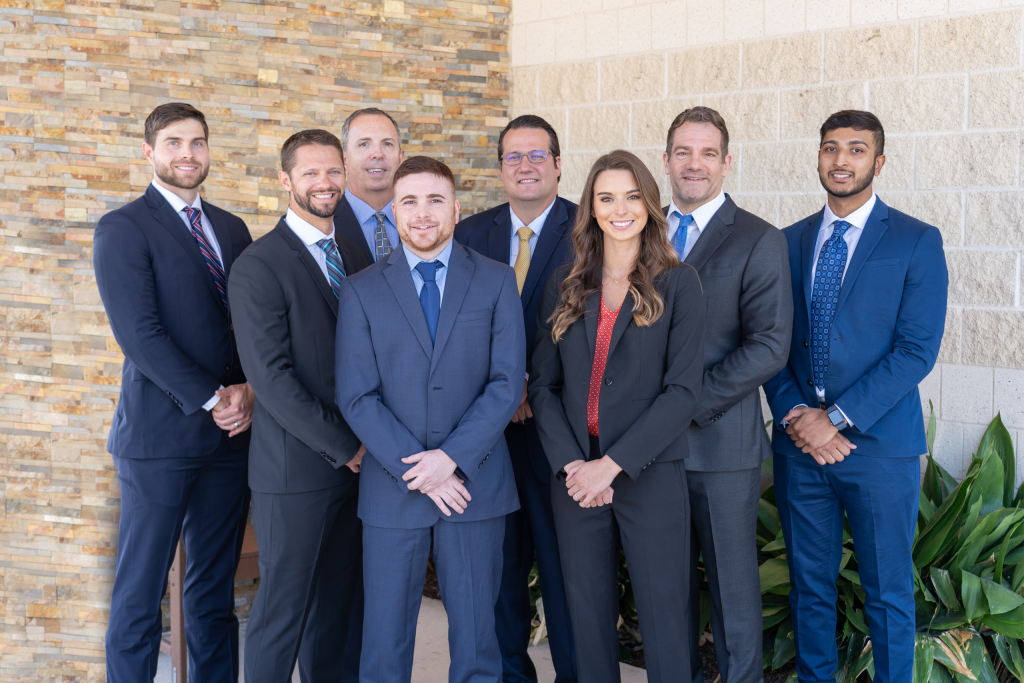 ---
Dr. Daniel Aldrich, Dr. Joel Zarling, and Dr. Joshua Acree at Lake Pointe Orthopaedics & Sports Medicine have been serving the orthopedic needs of the community for over 25 years. They utilize the latest surgical and non-surgical means to achieve the best possible outcomes for patients.
Three new physicians have joined them, bringing additional training and specialties to the practice. With the combined skills of this stellar group, the Lake Pointe practice can treat patients' orthopedic needs from the tips of the fingers to the tips of the toes.
Dr. Daniel Weido is a podiatric foot and ankle surgeon who was raised in the suburbs of Houston, Texas. He received his bachelor's degree from Abilene Christian University in 2014. He then went on to complete his medical education at Des Moines University College of Podiatric Medicine & Surgery. After completing his medical education, Dr. Weido completed a three-year surgical residency in foot and ankle surgery at Tucson Medical Center in Arizona, where he was trained extensively in reconstructive foot and ankle surgery, sports medicine, and limb salvage. Dr. Weido's primary clinical interests include reconstructive foot and ankle surgery, fracture care, sports medicine, limb salvage, and general care of the foot and ankle.
Dr. Jonathan D. Boyle is a native of the Dallas-Fort Worth metropolitan area, born and raised in Coppell. He attended the University of Notre Dame, earning his Bachelor of Science degree with honors in biology and theology. Dr. Boyle obtained his medical degree at UT Southwestern Medical Center of Dallas. He then completed his orthopedic surgery residency in Fort Worth at John Peter Smith Hospital. Dr. Boyle subsequently attended the prestigious Indiana Hand to Shoulder Center, where he completed a fellowship in hand and microvascular surgery. He is board certified in orthopedic surgery through the American Board of Orthopedic Surgery.
Dr. Boyle has special interest in disorders of the upper extremity, including reconstructive surgery of the hand, wrist, and elbow. His clinical expertise includes traumatic injuries of the upper extremity, including fractures and tendon/nerve lacerations, arthritis, sports-related injuries, and peripheral nerve issues.
Dr. Kurt Johnson, a native Texan, earned his undergraduate degree magna cum laude from Texas A&M University. He then completed his MD and orthopedic residency at Baylor College of Medicine. There he trained in the largest medical center in the world, evaluating and managing patients with some of the most complex and progressed musculoskeletal diseases. Additionally, he became especially skilled at fracture fixation while working at the exceptionally busy county hospital, a Level 1 Trauma Center.
Dr. Johnson is proficient in virtually all types of procedures to achieve the best possible outcome for his patients. These procedures include the muscle sparing anterior hip replacement surgery as well as minimally invasive posterior hip replacement, robot-assisted joint replacement, arthroscopic knee surgery, partial knee replacement, and revision joint replacement.
From their offices in Rockwall, Greenville, and Kaufman, these physicians can work with almost any insurance or health plan at almost any area facility. A new office in Richardson is also on the horizon.
If rehabilitation is part of a patient's treatment, Premier Physical Therapy, at the same location as Lake Pointe Orthopaedics & Sports Medicine's Rockwall office, creates a seamless delivery of therapy for patients. The skilled physical therapists can follow the treatment plans' requirements while easing the patient's journey to whole health. Adam Bruce, Doctor of Physical Therapy, has taken the helm at Premier, leading the team in the newest techniques for physical therapy in orthopedics.
What sets the Lake Pointe practice apart is a focus on spending time with patients. All the combined training and expertise of the physicians, Physician Assistants, Erica Mumford, and Sibu Kuriakase, and staff go into making a positive experience for the patient from start to finish. This work toward positive outcomes also extends to the practice's employees.
"We're only succeeding if our patients and staff are succeeding," says Dr. Aldrich.
The mission at Lake Pointe Orthopaedics is to provide high-quality, efficient, and compassionate care to patients, while fostering a supportive and professional environment in the offices. The physicians and staff strive to treat every patient and employee with respect and gratitude, and work together to achieve goals. This group works collaboratively with patients to achieve health goals and improve quality of life.
A new treatment practiced by Lake Pointe has proved to be a helpful tool for treating a variety of conditions like arthritis and tendinopathies. This orthobiologic treatment known as platelet-rich plasma (PRP) or bone marrow contents treatment uses patients' own cells and growth factors to accelerate healing. Blood is taken from the patient and concentrated, then injected into the site of pain or injury.
Issues with the musculoskeletal system can present with a range of symptoms, but most often, it is pain that prompts the search for a medical solution. Lake Pointe Orthopaedics & Sports Medicine's range of services is designed to address that pain no matter what the injury.
Not every injury requires surgery. A range of non-surgical options can help increase mobility and reduce pain. The physicians and staff at Lake Pointe Orthopaedics & Sports Medicine will work to develop an individualized plan for each patient, considering specific needs and preferences.
Athletes at every level suffer aches and pains throughout their bodies due to the repetitive stress on muscles, tendons, ligaments, and bones. With the expert assistance of the team at Lake Pointe Orthopaedics & Sports Medicine, sporting goals and peak performance can again be achieved.
The Lake Pointe website includes extensive information on each of the specialties these highly trained doctors treat. Learning about knee, shoulder and elbow, hip, foot and ankle, hand and wrist, fractures, strains, and sprains issues and injuries allows patients to understand better and fully participate in creating a treatment plan to restore painless movement and strength.
Compassionate, skilled, and highly trained physicians who will educate and involve patients in their personalized care stand ready to help at Lake Pointe Orthopaedics & Sports Medicine.
---
CONTACT
3136 Horizon Road
Suite 100
Rockwall, Texas 75032
(972) 475-8914
LPOrtho.com