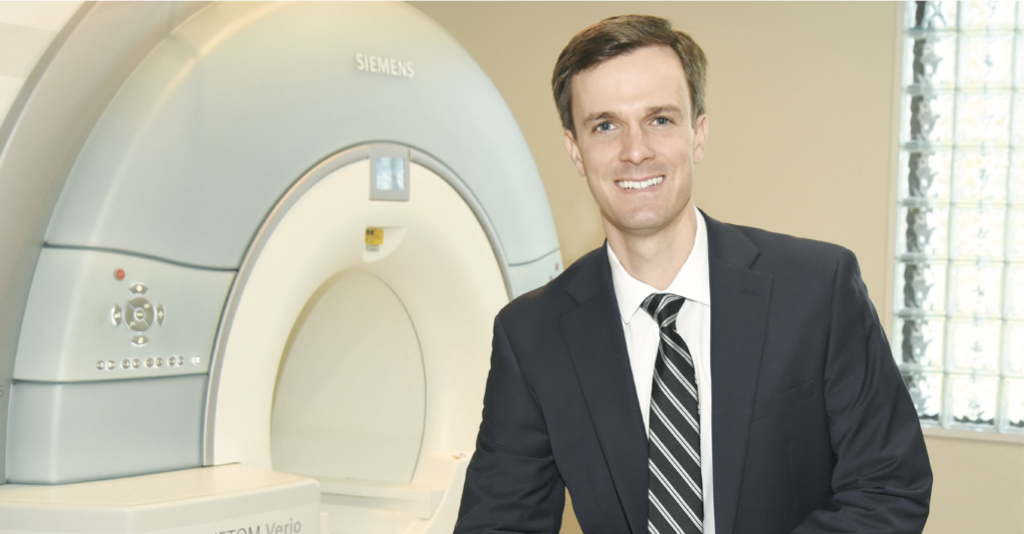 By
Clare Heakin Lynch
| Photo by
David Thompson
---
Hunt Regional Open Imaging (HROI) serves patients from Rockwall and surrounding areas with a vast range of state-of-the-art outpatient diagnostic imaging and radiology services. Radiology at HROI plays a key role in diagnosing, treating, and monitoring the broadest range of conditions including injuries, cancers, neurological disorders, and pulmonary and cardiovascular diseases.
"Our everyday goal is to keep our patients at ease during their tests while providing superior diagnostic information and expert medical care," shared Thomas Saadeh, MD. "Under the guidance and expertise of on-site board certified and fellowship-trained radiologists and registered technologists, the entire staff at HROI is focused on providing a personal touch throughout each imaging procedure so patients can feel as confident about our services as we are."
An Image of Health and Wellness
In order to bring each person the kind of care they deserve, HROI invests in the industry's latest, most innovative, and best equipment designed with an emphasis on patient comfort. "Our facility offers imaging technologies including digital X-rays, low-dose computed tomography (CT), 3T magnetic resonance imaging (MRI), ultrasound imaging (general, obstetrical, and vascular), and other advanced specialized services including image-guided procedures," said Dr. Saadeh. "Often, the first step to getting better is having high-quality imaging and this is our expertise."
As Dr. Saadeh explained, interventional radiology involves minimally invasive, image-guided procedures that are not only diagnostic in nature, but therapeutic as well. "These procedures typically have less risk, less pain, and less recovery time in comparison to 'open' surgery. Examples of procedures I perform are biopsies, fine needle aspiration, lumbar puncture and CT myelogram, steroid injections, paracentesis, and thoracentesis."
Today, as people continue to take a more active role in their healthcare, more patients are interested in proactive screenings that can detect potentially serious medical problems at early stages. Advances in medical imaging, through the use of ultra-low dose computed tomography (CT) technology, have dramatically enhanced the capability for early detection of disease. HROI, therefore, is pleased to provide a broad range of non-invasive screening exams, including prostate MRIs and lung cancer screenings, to detect cancer before it becomes symptomatic, and Cardiac CT for calcium scoring, to detect heart disease before it becomes serious. "Each year, more people die of lung cancer than of colon, breast, and prostate cancers combined and nearly half of all cases are in the most advanced stage at diagnosis. These are challenging diseases," admitted Dr. Saadeh. "But the research and the successes we've seen points to the potential to make a significant difference in improving health and potentially saving lives."
Meet Dr. Saadeh
Thomas Saadeh, MD was born in Dallas and received his undergraduate degree from Baylor University, graduating summa cum laude. He received his medical degree with honors from Baylor College of Medicine and completed his internship at Houston Methodist. Dr. Saadeh completed his residency at Baylor College of Medicine and served on staff at Texas Children's Hospital. He completed a fellowship in abdominal imaging at Harvard Medical School Massachusetts General Hospital in Boston where he trained in advanced imaging and minimally invasive, image-guided procedures. He is board certified by the American Board of Radiology. When not on the job, he is a husband and father who cherishes spending time with his family and working outdoors.
Why Choose Hunt Regional?
Hunt Regional Open Imaging of Rockwall enjoys a strong relationship with the healthcare community with many physicians and healthcare providers choosing HROI for their patients, for themselves, and for their families. "We work in a collaborative environment, not only inside our facility but with referring physicians in our area," Dr. Saadeh shared. "This united approach allows for more accurate and relevant diagnoses for our patients. I enjoy discussions with referring physicians to determine the best imaging plan, the differential diagnoses, and giving second opinions on outside imaging."
HROI is a patient-centric facility that takes tremendous pride in being adaptive in their imaging, treatments, and care, and offers same-day testing, walk-in availability, and rapid results. "We have greatly improved our ability to accommodate our patients in the past year through decreased wait times and availability during lunch hours and Saturday mornings," Dr. Saadeh added. "We also offer easy access to images through online viewing capabilities so our patients' referring physicians can view radiology reports anywhere from a computer or mobile device."
Hunt Regional Open Imaging is more than a place for imaging, it is the region's imaging choice for a healthier future.
Preventative Health Screening Tests Available:
Prostate MRI

Calcium Score CT

Lung cancer screening CT

Carotid Ultrasound
Special Exams
Hunt Regional Open Imaging of Rockwall is fully accredited by the American College of Radiology. They offer the Rockwall community image-guided procedures including biopsies, aspirations, steroid injections, paracentesis, thoracentesis, and myelograms, as well as these cutting-edge imaging technologies: Calcium scoring is a non-invasive computed tomography (CT) scan that detects the buildup of calcium in the coronary arteries, offering important information regarding 10-year risk of developing heart disease, heart attacks, strokes, and death from cardiovascular disease.
3T Prostate MRI is a non–invasive test that uses advanced, multiparametric software to provide excellent detection of prostate cancer.

Ultrasound Liver Elastography allows a simple and useful assessment of tissue stiffness to determine the presence and reversibility of liver disease.

Low-dose lung cancer screening CT is a non-invasive procedure, which evaluates the chest for any signs of lung cancer, even in individuals with no signs or symptoms of the disease.

Pediatric specialty-specific exams with low-dose CT, digital x-ray, and ultrasounds obtained with the help of an experience, highly trained staff.

Painless breast ultrasound to examine the fibroglandular breast tissue without compression or radiation exposure.

MRI Enterography is the preferred imaging investigation of small and large bowel disease particularly in the setting of inflammatory bowel disease.
---
CONTACT
909 Rockwall Parkway
Rockwall, Texas 75032
(469) 698-0045
HuntRegional.org
Mon-Fri: 7-7 | Sat: 8-5