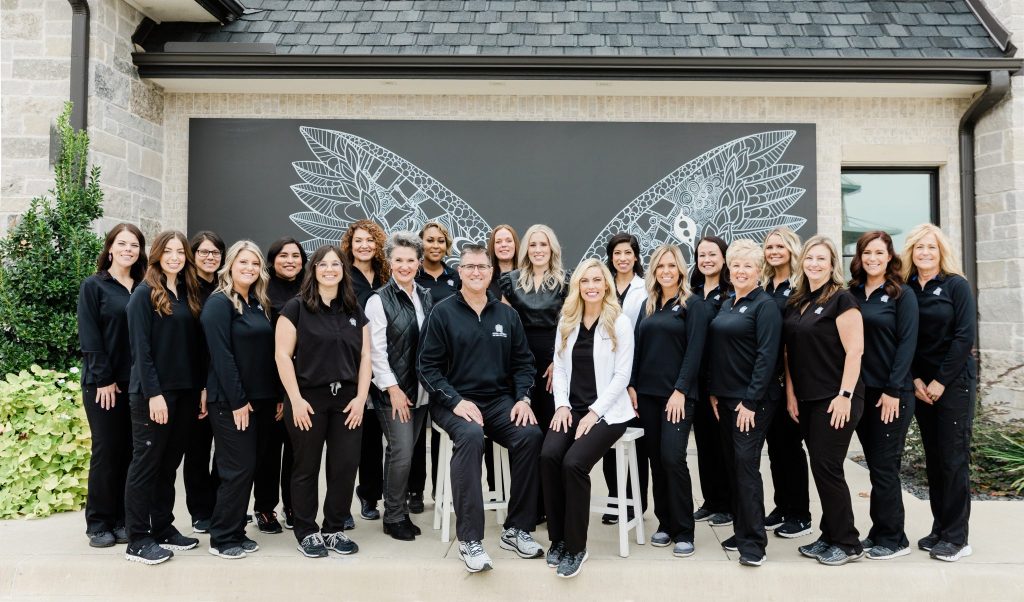 ---
It is no surprise that Fisher & Zitterich Dentistry is unique among dental practices. It's simple really… they practice dentistry differently! So it's also no surprise that their reputation throughout the area is exceptional, because of their quality and care, and because they always put their patients first. They love what they do, how they do it, and most importantly, why they do it!
What Fisher & Zitterich Dentistry does so well is offer the highest standards in dental care, with the very latest technology and techniques. FZ Dentistry is privately-owned and operated, unlike many dental corporations in town. So they serve only their patients, not corporate managers or accountants. Their emphasis is on customer care and customer service, so that each patient has the best experience possible.
How has FZ Dentistry grown to be one of the top practices, not just in our area, but in the country? Dr. Michael Fisher and Dr. Marisa Zitterich have always placed a high priority on personal and professional growth. They love growing in their skills and abilities, and those of their growing team, to serve and care for their patients even better. For example, when the State Board requires dentists to take an average of 12 hours of Continuing Education courses per year to stay current with their licensure, Dr. Fisher and Dr. Zitterich take 50, 60 or more. And they even teach other dentists as well!
Why the team at FZ Dentistry does what they do is the most important thing of all. They know they are there to serve their patients and make their lives better and healthier through the very best dentistry available anywhere. It really is just that simple…
From the moment you walk in the door, you will see and feel the difference. You enter a spotless and beautiful space to be greeted instantly by a smiling face, and not someone behind a glass sliding door… The entire team and the doctors are friendly and professional from start to finish. FZ Dentistry has a passion for creating beautiful smiles through full-mouth makeovers, whether that be with veneers or implants. They also help with everyday general dentistry with their growing team of four doctors, five hygienists, incredible assistants, and an amazing administrative team to help everyone in the family.
Dr. Michael Fisher, raised in nearby Greenville, is a graduate of Texas A&M University and Baylor College of Dentistry, and a long-time member of Lake Pointe Church, where he co-taught a Life Group for 15 years and currently serves in his third rotation on the Elder Board. He enjoys supporting ministries and dental mission work both locally, and as far away as South Africa, Haiti and Mexico. Married for 35 years to his high school sweetheart Carla, they have two children – Landon and Monica, a daughter-in-law Cayley, and two grandchildren, Charlotte, and James. Dr. F's interests include travel, photography, hunting, restoring a 1959 Austin-Healey with his dad, cycling, riding Harley-Davidsons, and most of all, spending time with his family.
Dr. Marisa Zitterich, originally from Forney, graduated from UT School of Dentistry in Houston. She received her bachelor's degree from Baylor University where she graduated Magna Cum Laude, majoring in Biology and minoring in Chemistry. Married to her high school sweetheart Kyle for almost 9 years, they have one son Kruz that turns one in April! She has a passion for service and has performed missionary dentistry here in Texas, and farther away in Mexico, Nicaragua and Costa Rica. Dr. Z. enjoys outdoor activities like CrossFit and spending time with family and friends on the lake.
Dr. Laura Rabe, originally from Dallas, received her BS from the University of Texas in Austin, and attended UTHSC Houston where she received her Doctor of Dental Surgery (DDS) degree and a Master of Science in Dentistry (MSD), specializing in Periodontics. She is an expert in soft tissue grafting, bone grafting, dental implant placement, laser procedures and the treatment of periodontal diseases. Living in the area with her husband, Kevin, they have one daughter Reese and another daughter on the way! In her free time, she enjoys cooking, running, and traveling.
Dr. Salma Haneef was born and raised in Texas. She completed her BS in Neuroscience at the University of Texas at Dallas, graduating with Magna Cum Laude honors. She obtained her Doctorate in Dental Surgery from Texas A&M/Baylor College of Dentistry. While in dental school, she was given an award for her community outreach with organizations such as Operation East Texas Dental Outreach and Give Kids a Smile. In addition to being an active member of the dental community, she enjoys spending her free time playing tennis, doing aerial yoga, and traveling.
Along with Pam, their Practice Administrator, Cayley, Patti, Angie, Shelby, Melanie, Theresa, Sheri, Ashley, Chelsey, McKenna, Danielle, Stevi, Karlee, Bridgette, Sierra, Brooke, Linda and Carla, the FZ Team emphasizes all aspects of dentistry, including cleanings and check-ups, cosmetic dentistry and smile makeovers, implant and reconstructive dentistry, root canal treatment and treatment for sleep apnea and snoring. Knowing affordability is important, all traditional dental insurances are accepted, and in-house membership and financing plans are available.
---
CONTACT
1306 Summer Lee Drive
Rockwall, Texas 75032
(972) 771-4000
FZDentistry.com