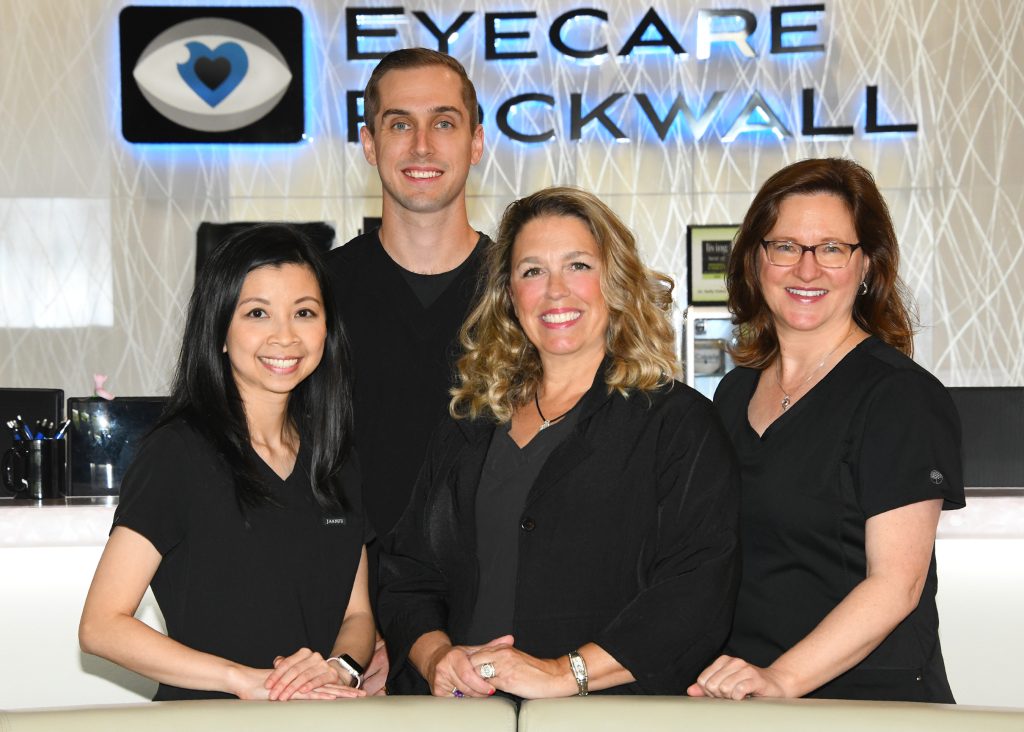 By
Meredith Knight
| Photos by
Lake Pointe Photography
---
It happened again this year. Once again, Eyecare Rockwall was chosen Best Optometrist in Rockwall/Rowlett by Living Magazine readers. That makes 10 years in a row. We'd like to introduce you to the dynamic team of providers who make that possible.
Laura Wiese, OD
For Dr. Wiese, 25 years as an optometrist has flown by as she's provided a multitude of adults and children with optimal care for sight and medical eye healthcare. A graduate of the University of Houston College of Optometry, Dr. Wiese is a Diplomate of the American Board of Optometry and exceptionally experienced in the field of optometry. "Clear vision begins with healthy eyes," she said. "I can often recommend the necessary supplements to support ocular health in my patients." She finds it particularly rewarding to work with patients suffering with dry-eye symptoms to create a treatment plan among available options. She also enjoys utilizing different lens options, like anti-fatigue lenses or Neurolens, not only to help people see more clearly by reducing eye fatigue from eye misalignments but to see more comfortably. "We want to reduce as many headaches as possible from eye fatigue," she said. Dr. Wiese grew up in the piney woods of East Texas and now lives in Rockwall with her husband, Randy, and their two cats.
Thuy Lieu, OD
Raised in Arlington, Dr. Lieu completed her undergraduate studies at Texas Christian University before obtaining her Doctor of Optometry degree from University of Houston College of Optometry. She spent the next 10 years practicing optometry across DFW before joining Eyecare Rockwall. Dr. Lieu enjoys seeing patients of all ages but her real joy is caring for pediatric patients with whom she has a natural, fun rapport. She also focuses on myopia management/treatment options to help slow down near-sighted progression in children. Dr. Lieu has spent over a decade honing her skill in fitting various kinds of contact lenses including soft, rigid-gas permeable, hybrid, and scleral lenses. "I love being able to help my patients see their best and make sure their ocular health is maintained for years to come," she said. "I try my best to always treat my patients like I'd like my own children and family members to be treated and cared for." Dr. Lieu and her husband stay very busy raising their two young children.
Ross Moulder, OD
Dr. Moulder earned his Bachelor of Science degree in biology from Texas A&M University in College Station and his Doctor of Optometry degree from the University of Houston College of Optometry. Even prior to his five years in private practice, he gained valuable experiences in unique externship settings, including the distinguished externship at Lackland Air Force Base in San Antonio, where he worked with state-of-the-art equipment and administered eyecare to recruits and veterans alike. He also worked at Cedar Springs Eye Clinic, an inner-city satellite clinic of the University of Houston College of Optometry in Dallas, where he managed patients with eye conditions including diabetic retinopathy, glaucoma, cataracts, and macular degeneration. "I think our Eyecare Rockwall doctors are unique in that we make our patients' vision-related challenges our own 'problems' to help solve," he said. "I enjoy getting to know my patients. I'm generally fun-loving and hope that's perceived as empathy in my bedside manner with patients." Outside of patient care, Dr. Moulder enjoys various cultural interests and traveling with his wife, also an optometrist.
Holly Fisher Britt, OD
Though no longer accepting new patients, Dr. Britt founded her private practice 30 years ago, seeing it through to her current location of Eyecare Rockwall. She continues to serve her patients and holds her entire staff to highest care standards by optimizing technology and even hand-picking her associate optometrists and team. Dr. Britt continues to mentor other private practice optometrists and students interested in the profession of optometry from high school to post-residency. Dr. Britt believes the eyes tell the story for one's total body health and sometimes it's the optometrist who's the first healthcare provider to take note of a patient's overall systemic health issues.
Enter Eyecare Rockwall's sleek, modern office and you'll be greeted with a smile, taken back for pretesting assisted by the latest and greatest eye care technology for a complete, comprehensive eye exam. Your exam may include capturing photos of the back of your eye to be compared to previous years' photos and/or dilation. Eyecare Rockwall is dedicated to everything from routine eye exams to medical management for patients on high-risk medications, glaucoma management, diabetic eyecare, preop and postop visits for cataract surgery, laser eye surgery management, and more.
This dynamic team at Eyecare Rockwall offers same-day appointments for emergency care and provides a one-stop shop for acute and routine eyecare for patients of all ages. They treat not only vision issues, but medical eye conditions, infections, foreign-body injuries, and more. All our optometrists are licensed therapeutic and certified optometric glaucoma specialists and all hold certifications for MiSight myopia control for children and the Neurolens technology. They also specialize in hard-to-fit contacts, medically necessary scleral lenses, Ortho-K, and myopia control therapy contacts, so kids won't have to be as nearsighted as their parents. With an onsite finishing lab, they can often make your glasses in an hour. Not only do they stock the latest in frame styles and offer all spectacle lens technologies at affordable prices, but they're the only practice in the area offering the new Neurolens technology.
Eyecare Rockwall intends to make the "Best Of" list again and would be honored to receive your vote. Find out more about this outstanding team and all they have to offer at RockwallEyecare.com.
Eyecare Rockwall provides a full menu of services to their Rockwall neighbors including:
Eye health exams for all ages

Diabetic eye care

Contacts/scleral lens services

LASIK/eye-surgery management

Dry eye management

Neurolens/computer vision

MiSight/Ortho-K myopia control
---
CONTACT
810 Rockwall Parkway
Suite 2020
Rockwall, Texas 75032
(972) 472-2020
RockwallEyecare.com