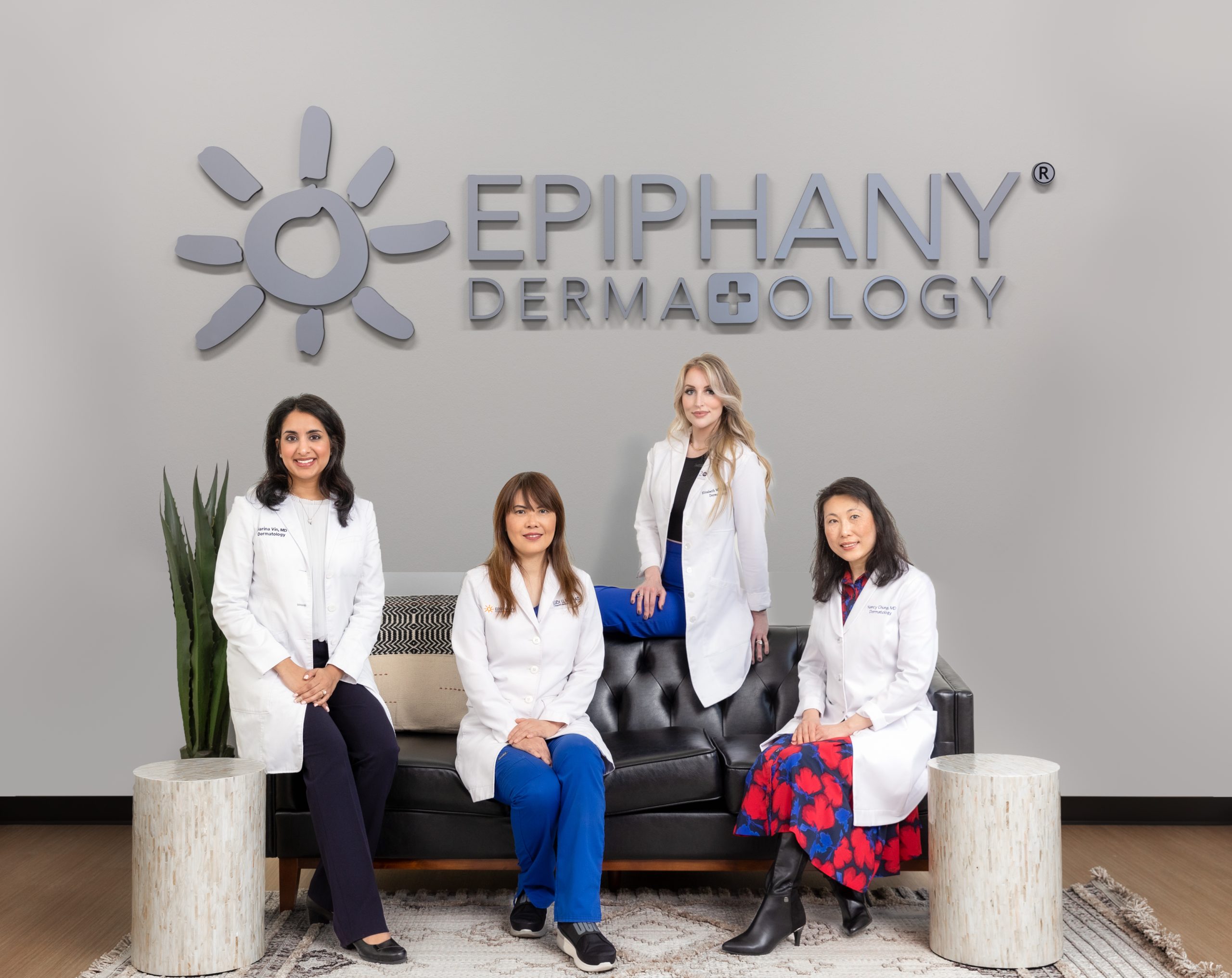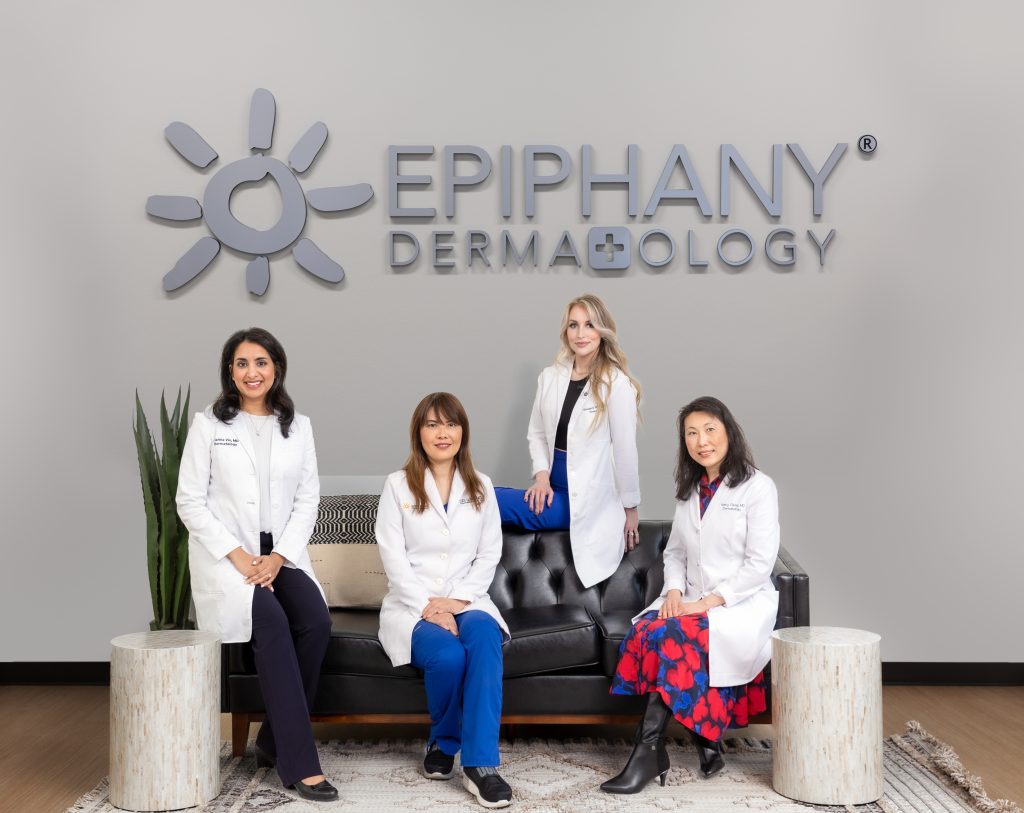 By
Annette Brooks
| Photos by
Kenny Richard Photography
---
An epiphany is like an "Aha!" moment — a sudden realization or insight that changes your perspective. If you think a visit to the dermatologist can't evoke this kind of feeling, it's time to become a patient at Epiphany Dermatology Coppell.
Whether your appointment is for expert medical dermatologic care, skin cancer screening, or age-defying cosmetic treatments, you'll leave feeling well-cared for and inspired to achieve healthy, beautiful skin regardless of your age. You'll also know you've found your dermatology provider for life with a team of board-certified dermatologists dedicated to offering the highest level of personalized care. And your epiphany? It will be, "Wow, this is what great dermatology is like!"
Rooted in the Community, Growing with Greater Coppell
Offering state-of-the-art dermatologic care would be considered enough by a different dermatology clinic, but Epiphany Dermatology Coppell also focuses on being part of the fabric of the community. The practice started in Coppell years ago and remains committed to serving its residents now and for generations to come as the area's trusted hometown dermatology provider. Patients benefit from the continuity of care and receive friendly, attentive, know-you-by-name service during each visit.
"Forming meaningful connections with the community and developing long-term relationships with our patients is gratifying. We see people of all ages, from infancy through the senior years, and enjoy helping generations of patients in the same family for all their dermatologic needs," says board certified dermatologist Dr. Harina Vin.
Best serving a community like Greater Coppell also means growing with it. The Coppell team is proud to announce the practice has moved from its long-time location on Denton Tap Road to a new office in the heart of Old Town Coppell.
"We're excited to welcome patients to our new location, and it's one of the ways we can give back to the community that has supported us all these years," Dr. Vin says. " The space is fresh and modern, and we've added patient rooms. We're excited to continue to provide excellent medical, surgical, and cosmetic care in a new space in the heart of Coppell."
The practice has also invested in new systems to streamline the patient experience. You can schedule appointments, make payments, review lab results, and get refills with Epiphany's convenient, easy-to-use online tools and patient portal. Epiphany believes everyone should have prompt access to the best skin care possible.
Full-service Dermatology Practice
Epiphany Dermatology Coppell offers practically anything you need in a single location. Medical dermatologic services include mole removal, treatment for acne, nail diseases, autoimmune skin disorders, wound care, warts, hair loss, and so much more. Their skin cancer care includes biopsies, cryosurgery, laser light therapy, and topical chemotherapy skin cancer treatment, with a nearby sister practice offering additional surgical and reconstructive services.
Cosmetic services include nearly 50 options, from radio frequency skin tightening to dermal fillers, hair restoration, chemical peels and facials, body contouring, laser skin rejuvenation, and the list goes on. Visit their website www.epiphanydermatology.com for a complete list of services.
Meet the "Top Docs"
Each dermatologist is certified by the American Board of Dermatology and is a Fellow of the American Academy of Dermatology. They're also part of Epiphany's collaborative physician network, where providers share clinical best practices and continue their lifelong medical education. Visit the website to read their complete bios.
Harina Vin, MD, FAAD – Dr. Vin is an expert in general and medical dermatology and specializes in the prevention, detection, treatment, and surgical removal of skin cancer. After earning a BA from Rice University in Houston and her medical degree from Baylor College of Medicine Medical School in Houston, Dr. Vin went on to complete her dermatology residency at the University of Texas Medical School, Houston.
Lucy Li, MD, FAAD – Dr. Li has over 20 years of clinical and surgical experience and expertise in surgeries, fillers, laser treatments, scar revision, earlobe repair, and blepharoplasty (eyelid surgery). She earned a BA (magna cum laude) from Harvard University in Cambridge, Massachusetts, followed by an MBA/MD from Tufts University School of Medicine in Boston. She completed an internal medicine residency at Washington University School of Medicine in St. Louis and her dermatology residency at Boston University School of Medicine.
Nancy Chung, MD, FAAD – Dr. Chung specializes in the prevention, detection, and treatment of skin cancer, and other disorders of the skin, hair, and nails. She earned a BS at Yale University in New Haven, Connecticut, and her medical degree from the University of Pennsylvania School of Medicine Medical School in Philadelphia. She completed an internal medicine internship at Yale New Haven Hospital, her dermatology residency at the Virginia Commonwealth University Medical Center/Medical College of Virginia, and a Research Fellowship at the National Cancer Institute/National Institutes of Health in Bethesda, Maryland.
Elizabeth Widmer, PA-C, DSDPA rounds out the medical team. A certified physician assistant, she has a special interest in general and cosmetic dermatology. She earned both a BS in biology and completed the physician assistant program, earning an MS in medicine from Trevecca Nazarene University in Nashville, Tennessee. She is an active member of the American Academy of Physician Assistants and the Society of Dermatology Physician Assistants.
Put Your Skin in Good Hands
Call Epiphany Dermatology Coppell today to schedule an appointment. Discover the difference personalized, top-quality dermatologic care can make.
One happy patient sums up his experience, saying, "Epiphany Dermatology gets a well-earned five stars from me, and I'm not easily impressed. The office was very clean and comfortably furnished. They worked with my insurance. The staff was very courteous and professional. The doctor took the time to hear my concerns and explained everything in layman's terms. Also, the time in and out was a big bonus. I highly recommend Epiphany Dermatology."
Extensive Range of Services in One Location
Complete general pediatric and adult medical dermatology

Cancer screenings, biopsies, excisions, and treatments

Surgical and nonsurgical skin cancer treatment

Narrowband UVB phototherapy

Comprehensive non- and minimally invasive cosmetic services

In-network with major medical insurance providers
Visit the website to review the vast list of services: www.epiphanydermatology.com
---
CONTACT
Now In A New Location!
413 West Bethel Road, Suite 100
Coppell, Texas 75019
(469) 312-7302
EpiphanyDermatology.com/Location/Coppell-TX