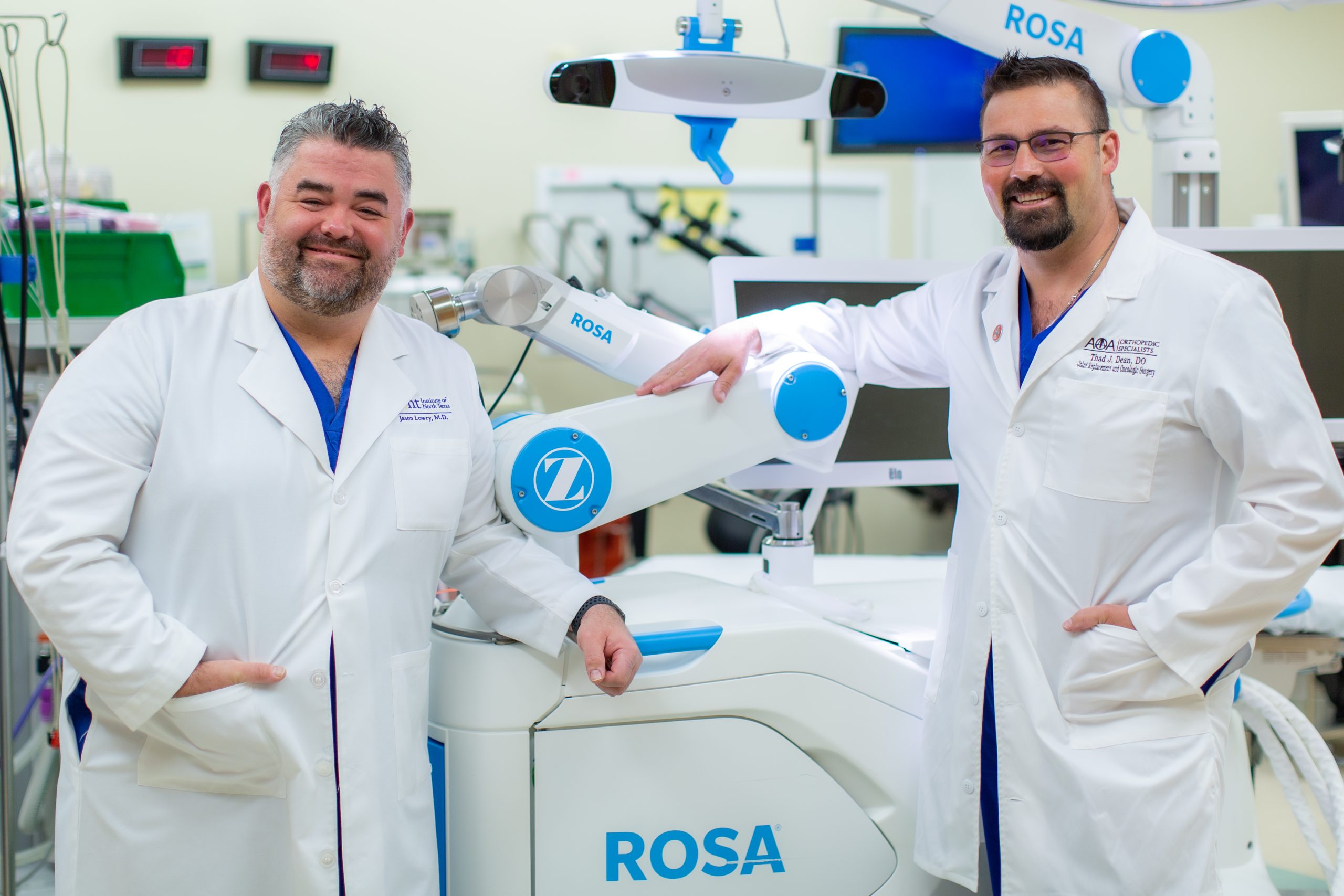 "We have a distinguished center of excellence that provides world-class, evidence-based care for our patients. Our team of physicians, nurses, and therapists are second to none. I'm extremely proud of the work we do at BOSHA [

Baylor Scott & White Orthopedic & Spine Hospital of Arlington].

"
– Jason Lowry, MD
By
Meredith Knight
---
Thad Dean
Growing up as a multisport athlete, Thad Dean always knew he wanted to work to help people overcome injuries. Initially, he thought that might look like a career as an athletic trainer for a college or professional sports team. Instead, he found his calling in joint replacement and orthopedic oncology. Known to patients for his compassionate bedside manner, Dr. Dean has put in the extra time and training to become experienced with minimally invasive robot-assisted surgery and limb salvage surgery.
Raised in the Midwest, Dr. Dean completed his medical school and residency training in Missouri, Ohio, and Florida and completed fellowship training at Emory in Atlanta before moving to Texas. "My first five years of practice were under an academic appointment with University of North Texas and John Peter Smith Hospital," he said.
"I was honored to join Arlington Orthopedic to build a private practice involving the communities where I live and work."
Specialties
He performs hip and knee surgery of multiple levels of complexity including knee and shoulder arthroscopy, robotic primary joint replacement, revision hip and knee replacement, and limb salvage surgery for musculoskeletal cancers and particularly enjoys applying robotic joint replacement techniques to assist making complex joint replacement more precise and reproducible.
Dr. Dean spends his free time watching and coaching his children's sports teams, traveling, snorkeling, diving, and mastering his skills on the smoker. He and his family attend St. Vincent DePaul Catholic Church.
Jason Lowry
Dr. Jason Lowry, a fellowship-trained, board-certified orthopedic surgeon, says his orthopedic surgery practice has a small-town approach in the big city. "I treat my patients like family," he says. "Getting folks back on their feet and enjoying life again is quite rewarding."
Dr. Lowry serves as Director of the Total Joint Program at Baylor Scott & White Orthopedic & Spine Hospital of Arlington ("BOSHA"), which consistently receives national accolades for excellence in joint replacement care.
"We have a distinguished center of excellence that provides world-class, evidence-based care for our patients. Our team of physicians, nurses, and therapists are second to none. I'm extremely proud of the work we do at BOSHA."
Specialties
Dr. Lowry is locally known for his anterior hip replacements and has a special interest in robotic joint replacements. "At BOSHA, we performed the first robotic total-knee replacement in the area. We're truly just scratching the surface on how robotics can improve joint replacement outcomes for our hip and knee patients. I'm thrilled we're able to offer this cutting-edge technology to our patients."
Dr. Lowry served eight years in the US Air Force, including Operation Iraqi/Enduring Freedom. He's been consistently recognized by his orthopedic peers as a Top Doc and Super Doc in North Texas. In his free time, he and his wife are involved in their children's activities at Pantego Christian Academy and youth sports leagues in Mansfield. They enjoy the outdoors, traveling, and fly fishing.
---
CONTACT
800 Orthopedic Way
Arlington, Texas 76015
2801 East Broad Street
Mansfield, Texas 76063
(817) 375-5200
ArlingtonOrtho.com