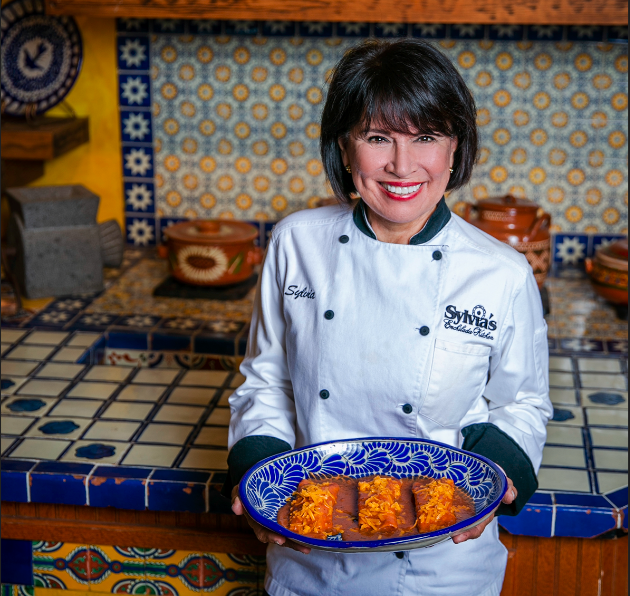 By Melissa Gautier | Photos By Kelley Sweet Photography
---
It may be her salsa, or her mouthwatering hand-prepared enchiladas that bring people from all over to restaurant owner Sylvia Casares' two Houston locations. But more than likely, it's her award-winning, robust chili gravy that steals the show at Sylvia's Enchilada Kitchen with rich, bold flavor that spices up any meal. Smothered over many of her made-to-order dishes, Sylvia's gravy is a bold expression of Texas itself, referred to indisputably as the best in town by thousands of loyal customers and numerous well-earned awards.
True South Texas Flavor
If you've been on the hunt for truly authentic Mexican food, here's the skinny:
Sylvia's Enchilada Kitchen is the ultimate destination for Houston's lunch and dinner crowd, pleasing Mexican food lovers with made-to-order enchiladas and distinctive, south-of-the-border cuisine. Since 1995, Sylvia has worked feverishly to build her enchilada empire. She currently maintains two Houston locations — one on Eldridge, and her flagship enchilada kitchen on Woodway. Her renowned menu of 20 different enchiladas, the famous chili gravy, and satisfying desserts made with cinnamon and Mexican chocolate has customers hooked after their first bite.
Texas is famous for its plethora of Tex-Mex restaurants dotting street corners in every town. Sylvia's Enchilada Kitchen differentiates itself from the crowd unpretentiously, choosing to use original, south-of-the-border spices and fresh ingredients to meticulously hand-prepare each menu item. "If you substitute for convenience, you sacrifice flavor," she says. "I'm a huge believer in that."
Humble Beginnings
Lessons in adversity, ingenuity, and dedication have allowed Sylvia to develop original menu items that recall her heritage — chock-full of flavor using only the finest, freshest ingredients to please the palate. She learned the art of creating her family's original meat-based gravy recipe from her mother and grandmother years ago in their tiny home in Brownsville, Texas. Their cooking style reflected their culture. "I learned their methods for creating sauces, grilling meats, and cooking with spices," she explains.
Graduating with a home economics degree from The University of Texas at Austin brought Sylvia, her husband, and young son to Houston, landing her first job as a food scientist for Uncle Ben's Rice. She spent the next 20 years in the food industry, a learning adventure eventually leading to her restaurant career and enchilada empire. She purchased her first restaurant in 1998, located in a small shopping center, marking the beginning of her culinary journey. "I knew nobody in Houston was making enchiladas the way I was." Driven by determination and commitment, Sylvia said, "My food has to be the best in Houston."
The Secret's in the Sauce
As she further developed her enchilada varieties, Sylvia realized it wasn't just what went inside the corn tortillas that made South Texas enchiladas so good, it was just as much about what went on top of them. She worked to improve her original recipes, aiming for the freshest, most flavorful, home-style sauces and gravy to accompany them. "Finally, food made in my kitchen fully represented me, my business, and how I wanted my restaurants to be known." She reached one milestone when a food writer designated her "The Enchilada Queen," a title which she still answers to today.
"Chili gravy is the litmus test for any good Tex-Mex restaurant," Sylvia explains, and is what her restaurants are best known for. "I created my chili gravy to fit the flavor profile of what I grew up knowing, made with a meat-based roux, ground chilies, and the Texas trinity — a perfect combination of cumin, fresh garlic, and black pepper," she says. "If flavors are to be rich and fresh, you can't be afraid of using a whole spice that needs grinding, a guajillo chili that needs simmering, or a sauce that requires ingredients to marinate overnight. It's one of the things I pride myself on as a Texan."
She chops her own chilies, tomatoes, and scrupulously makes her own tortillas dipped in sauce, seasoned, and marinated overnight to use the following day in her famous enchiladas and specialty meals. Her unique gravy has helped grow her restaurants' popularity in one of the most competitive cities for Tex-Mex food.
Sylvia's Latest Venture
"My sauces are prepared the same way they have been for generations and would be nothing without the hard work that goes into them," she says. That means from scratch without easy shortcuts, until now. After 20 years in the food industry followed by more than 26 years of cooking thousands of made-to-order enchiladas topped with chili gravy, Sylvia is letting the cat out of the bag on her latest project that's been simmering for a while.
With encouragement from her customers, plans are in the works to bottle her award-winning chili gravy. She plans to sell her famous chili gravy through her restaurants, online, and eventually through local retailers. Customers will be able to bring the true taste of Texas home to their tables. Labeled "Enchilada Queen's Chili Gravy", this multi-talented gravy's first home is on top of enchiladas, but can also be used as a seasoning base for carne guisada, taco meat, and Texas chili. It adds bold south Texas flavor to meats, eggs, sandwiches, and baked potatoes, as well.
Sylvia's Enchilada Kitchen restaurants are consistently recognized for excellence, including notable attention from local and regional magazines, newspapers, and Food Network's "Beat Bobby Flay." Most recently, Sylvia was a semifinalist for Best Chef, Texas for the 2022 James Beard Foundation Awards. With 20 different enchiladas and 14 sauces, her food has and will remain the same since day one, striving for flavor consistency and traditions connecting Texans across time.
---
CONTACT
1140 Eldridge Parkway
Houston, Texas 77077
(832) 230-3842
6401 Woodway Drive
Houston, Texas 77057
(713) 334-7295