A Texas Couple's Rustic Getaway
When you fall in love, you tend to see past one's flaws. In time, you notice things but it's too late. You're already head-over-heals, committed for the long haul and wouldn't have it any other way. For John and Susan Amis, their whirlwind romance with a mountain retreat started when the couple searched for a getaway in their beloved Colorado Mountains. The property introduced itself to them, grabbed their heartstrings and held on tightly as they 'threw their hats across the creek' and placed the updating and design project into the capable hands of Jason Lenox, proprietor of Antèks Home Furnishings in Dallas' Design District.
After searching online for about six months, John found the property—a 2500-square-foot log home, situated on a 40-acre horse ranch north of Colorado Springs, Colorado, which included a small cabin and three horses. "My husband used to ski in Colorado during college and always wanted a house in the mountains," Susan said. "Once we saw it in person, that was it. It's perfect!"
'Perfect' might be a bit generous when you consider the home's kitchen and baths had to be completely redone but, structurally, the 35-year-old log structure was sound and boasted incredible features including heated Saltillo tile floors and soaring windows with magnificent views. While the home had been vacant for a while, the exterior needed only some general cleaning and maintenance, some fence rails needed repaired, the landscaping spruced up.
Realizing they'd need suitable furniture for their new retreat, they started talking about our vision for the place with Jason. "He fell in love with it and we fell in love with him and that was that," Susan said.
Jason would travel with Susan to walk the property, inventory the home, ascertain her vision for how they would use the space and then take the reins for the next five months—hiring contractors and putting his design talents to work. "They wanted to house to be a showplace and leaving the kitchen and bathrooms in the same shape wasn't going achieve that," Jason said. "They wanted to entertain friends and family comfortably and create a place where people would sit and not want to leave. Ultimately, they told me: Design it the way you'd do it if it was yours. After we made sure their interpretation of 'rustic' was the same as mine, I was given complete autonomy."
Great room—great views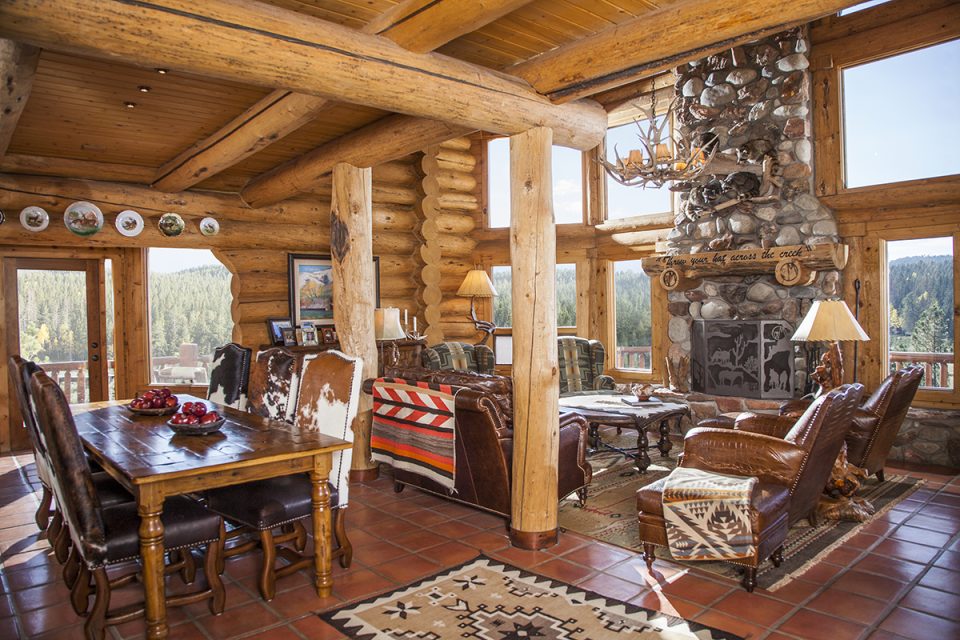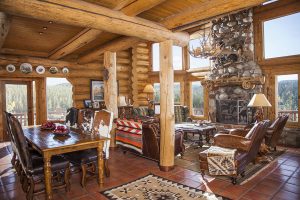 The home's windows were treated with UV film, allowing Jason to leave them unadorned so the view remains the focus and the original antler chandelier needed only a cleaning and new shades. The custom-built antique walnut dining table is flanked by a herd of chairs—each upholstered with a different hide but unified by matching leather seats. Vintage accessories—Bavarian wildlife plates over the door and Navaho rugs—pepper the space with charm and color. "When you have a lot of neutral elements—the wood walls, tile floors, leather furniture—it's essential to layer textures and color to help your eye wander around the space," Jason said.
Showstopper Kitchen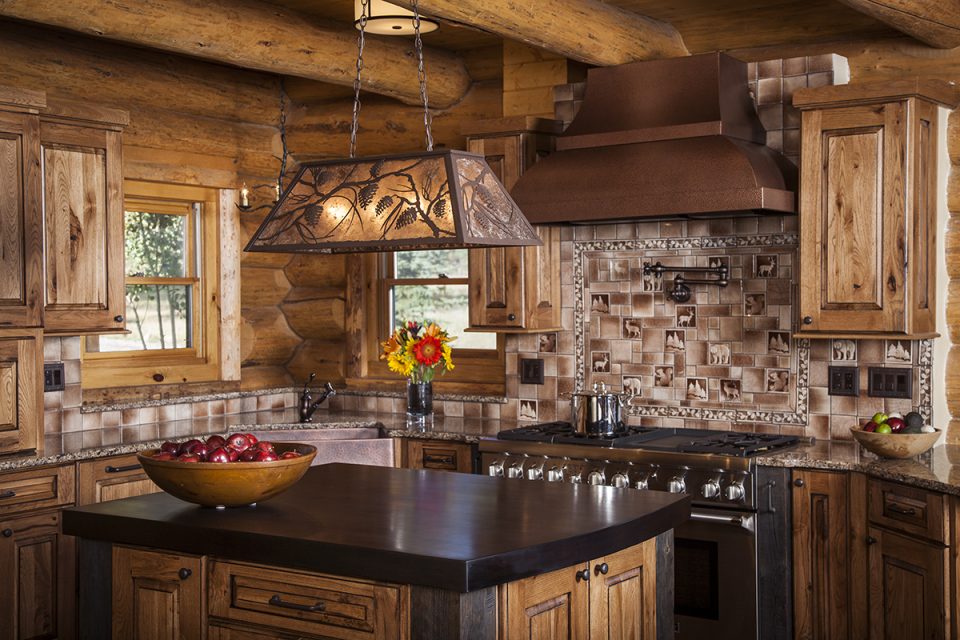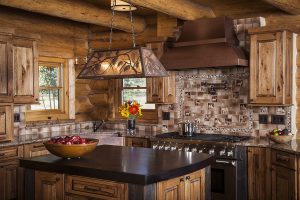 Custom hickory cabinetry, accented with an ebony-stained hardrock maple island top, which covers the appliances features vintage wood accents (culled from an old barn) that lend impressive harmony to the space. The engineered countertop features flecks of glass and copper to emulate a riverbed and ties in with the copper range hood and sink. The backsplash tiles were hand-glazed by a Colorado artist.
The Master Suite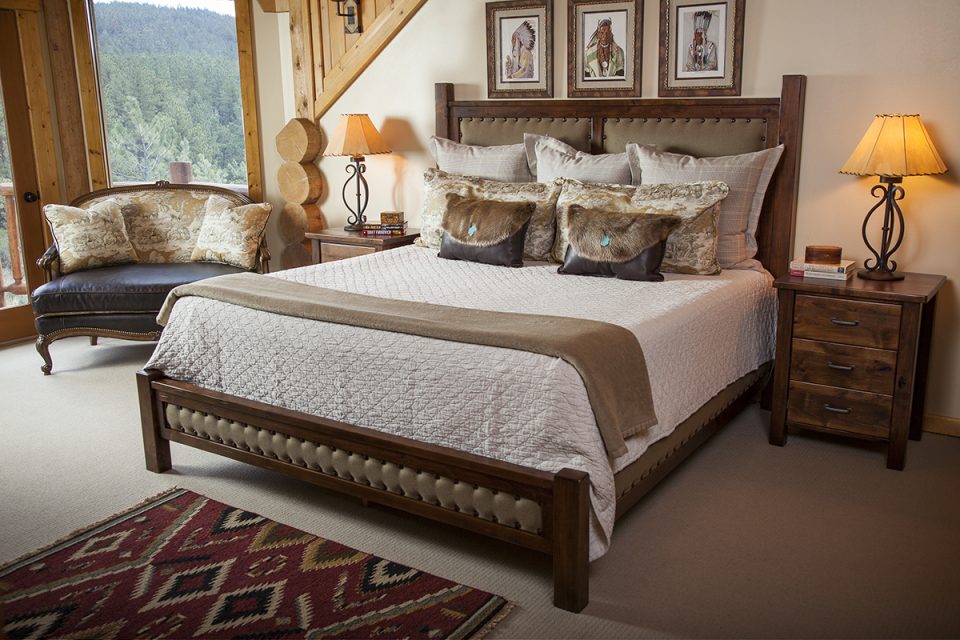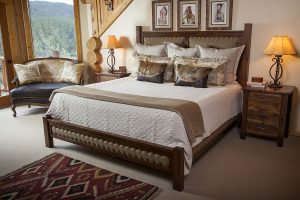 With one of the best views in the home and a private patio, the master suite "was designed to feel more sophisticated, like a resort," Jason said. Custom-made alder wood furniture sets the tone with the bed demanding the spotlight, upholstered in Ralph Lauren cashmere and covered in a quilted washed linen spread. The settee features the same fabric as two pillows and the Navaho rug adds a pop of color. Vintage Sante Fe Railroad advertisements adorn the wall over the bed.
A Restful Retreat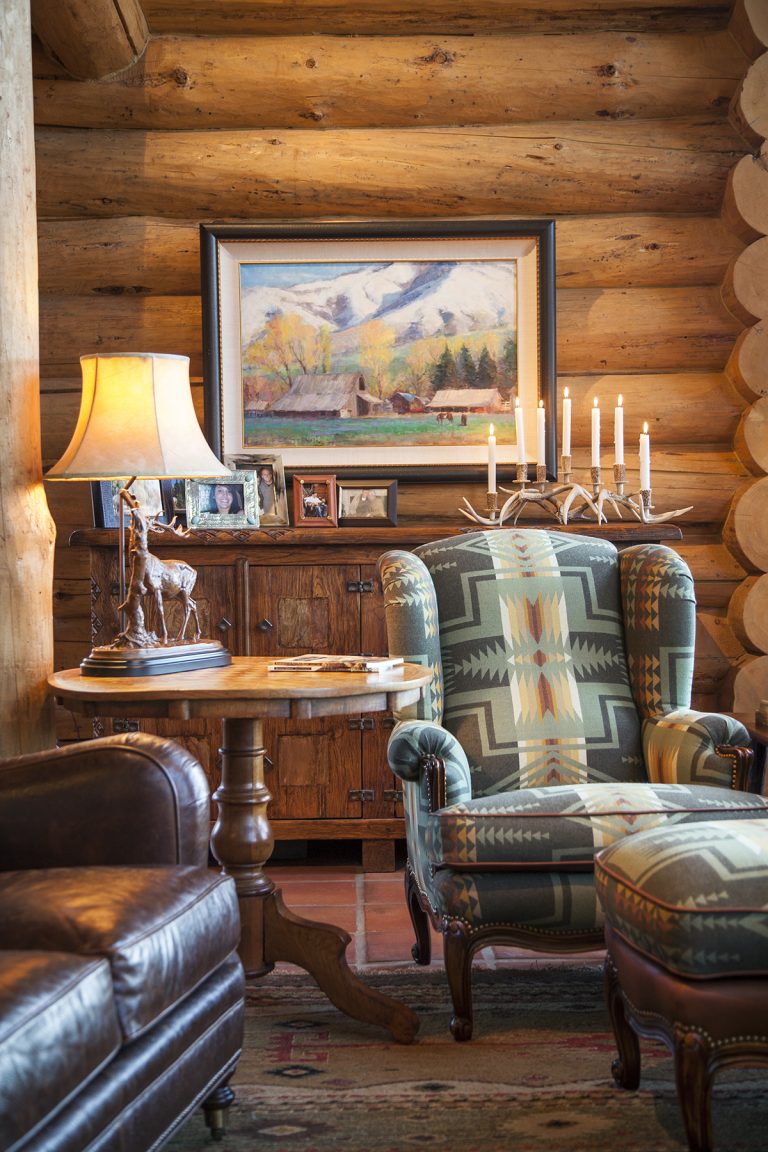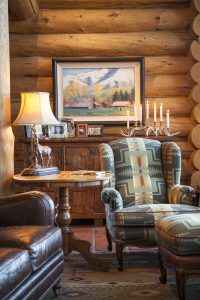 A vintage chair and ottoman, recovered in Pendleton wool Harding Sage, bring character and charm to the great room. The sideboard against the wall functions as storage for games and such while providing the perfect place to display family photos—and a photo of Jason, who is now an honorary Amis!
Hello, down there!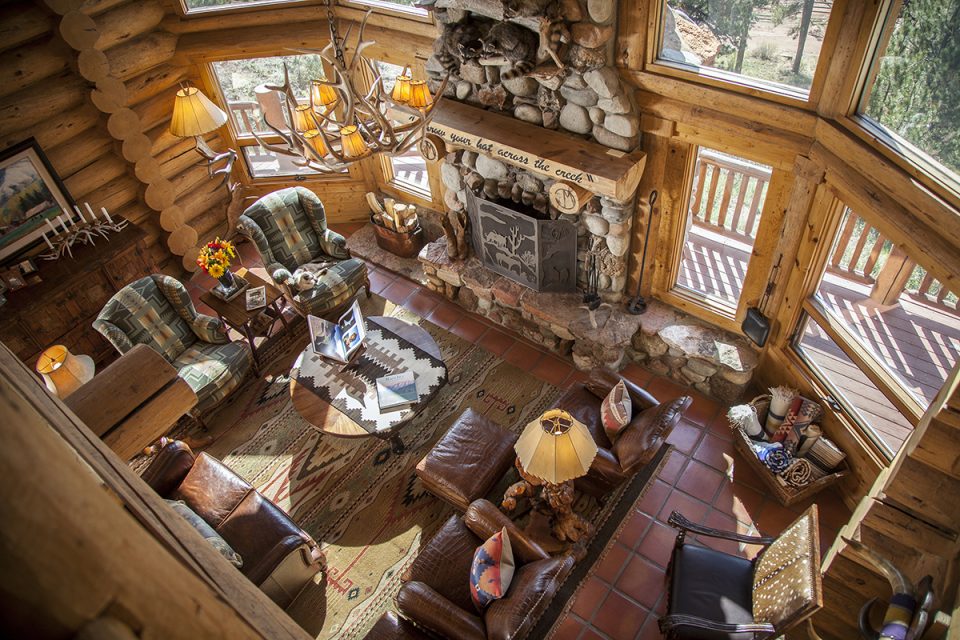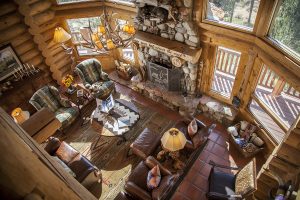 This aerial view of the great room highlights the collections of soft seating, Navaho rugs and saddle blanket and vintage accessories as well as the original mantel engraved with: Throw your hat across the creek. Meaning: commit to something. "If you're crossing a creek and you throw your hat to the other side first, then you're committed to going over," Jason said. Much like this design project. The vintage laundry basket by the door holds a proliferation of Pendleton blankets so guests can grab one for cool evenings spent on the porch.
Text by Pamela Hammonds
Photography by Ben Garrett
Design by Jason Lenox, Antèks Home Furnishings