Superb Bowl
Host a memorable get together for that big football game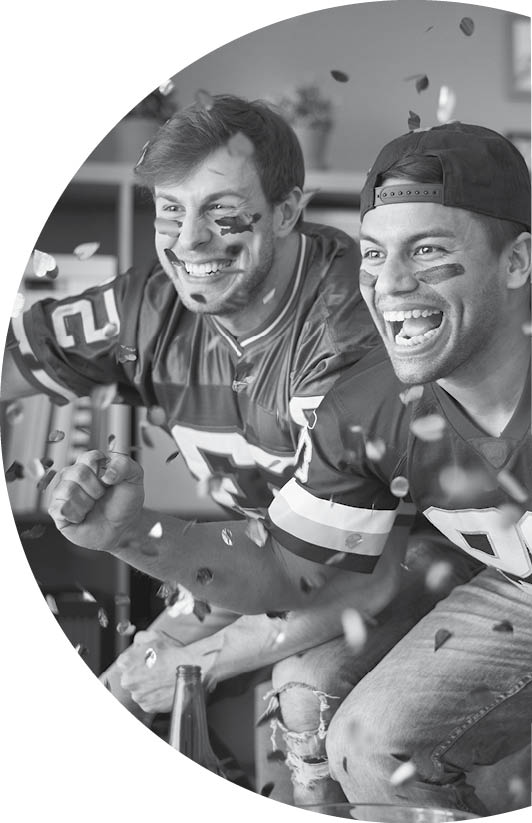 Wow, there have been 52 of these games already? Doesn't look a day over 40…
If you're having a crowd over to celebrate the game (and why shouldn't you?) here are some ideas for making it a time you won't soon forget.
We all know the go-to football party foods: chicken wings, potato skins, nachos, mozzarella sticks, deviled eggs, sliders, chili and on and on. But don't forget your party guests who are watching their waistline. Offer them these healthy snacks that are low on fat, but high on flavor.
Peach Bruschetta with Goat Cheese, Basil, and Honey
1 baguette, sliced at a diagonal into ½ inch thick slices

olive oil for brushing bruschetta

4 ounces goat cheese

4 ounces cream cheese

¼ teaspoon salt

¼ teaspoon cracked pepper

three ripe peaches, wedged

10-15 basil leaves, ribboned

honey
Preheat oven to 400 degrees. Slice baguette into ½ inch slices at a diagonal. Brush both sides with olive oil and bake for 15 minutes, or until crisp. Soften cream cheese and goat cheese in microwave until just soft enough to combine easily with a fork. Mix until smooth. Spread a little goat cheese mixture on each bruschetta and top with a peach wedge. Garnish with basil ribbons, then drizzle with honey, and sprinkle with cracked pepper.
Source: FeastingatHome.com
Healthy Buffalo Cauliflower Bites
6 cups of fresh cauliflower florets

2 teaspoons garlic powder

pinch each of salt and pepper

1 tablespoon butter, melted

¾ cup hot sauce
Preheat oven to 450 degrees. Mix garlic powder, salt, pepper, melted butter, and hot sauce in a small bowl. Add cauliflower into a large gallon-sized bag, and pour the buffalo sauce into the bag. Shake until the cauliflower florets are fully coated. Spread on a baking sheet coated with cooking oil. Bake for 20 minutes. Serve with ranch or blue cheese dressing.
Source: GalonaMission.com
---
An average million and a half Americans call in "sick" the day after the game.
In the 51 Super Bowls played thus far, only one has gone into overtime—Super Bowl LI, last year.
120 footballs will be available for use during Super Bowl LII.
There's no footage of the first football championship. In fact, rumor has it, it was filmed then taped over for a soap opera.
A ticket to the first Super Bowl in 1967 cost $12. For a 2018 ticket at face value, assuming you could even find one, you'd have to move that decimal point over a couple times… and probably double it.
Make up individual mini Mexican seven-layer dip by layering bean dip, guacamole, sour cream, cheese, and more in a clear party cup, so guests can carry them to the TV to watch the game. Don't forget the tortilla chips!
The perfect party needs the perfect playlist. Try these killer tunes to get the crowd in the mood.

"The Monday Night Football Theme" ("Are You Ready for Some Football") by Hank Williams Jr.
"The Final Countdown" by Europe
"Livin' On a Prayer" by Bon Jovi
"We Are the Champions" by Queen
"All I Do Is Win" by DJ Khaled
"Eye of the Tiger" by Survivor
"Win or Lose" by The Foo Fighters
"How You Like Me Now?" by The Heavy
"Get the Party Started" by Pink
"SundayFunday" by MAGIC!
"Let it Whip" by Dazz Band
Did you like this post? Here are more posts you may like!