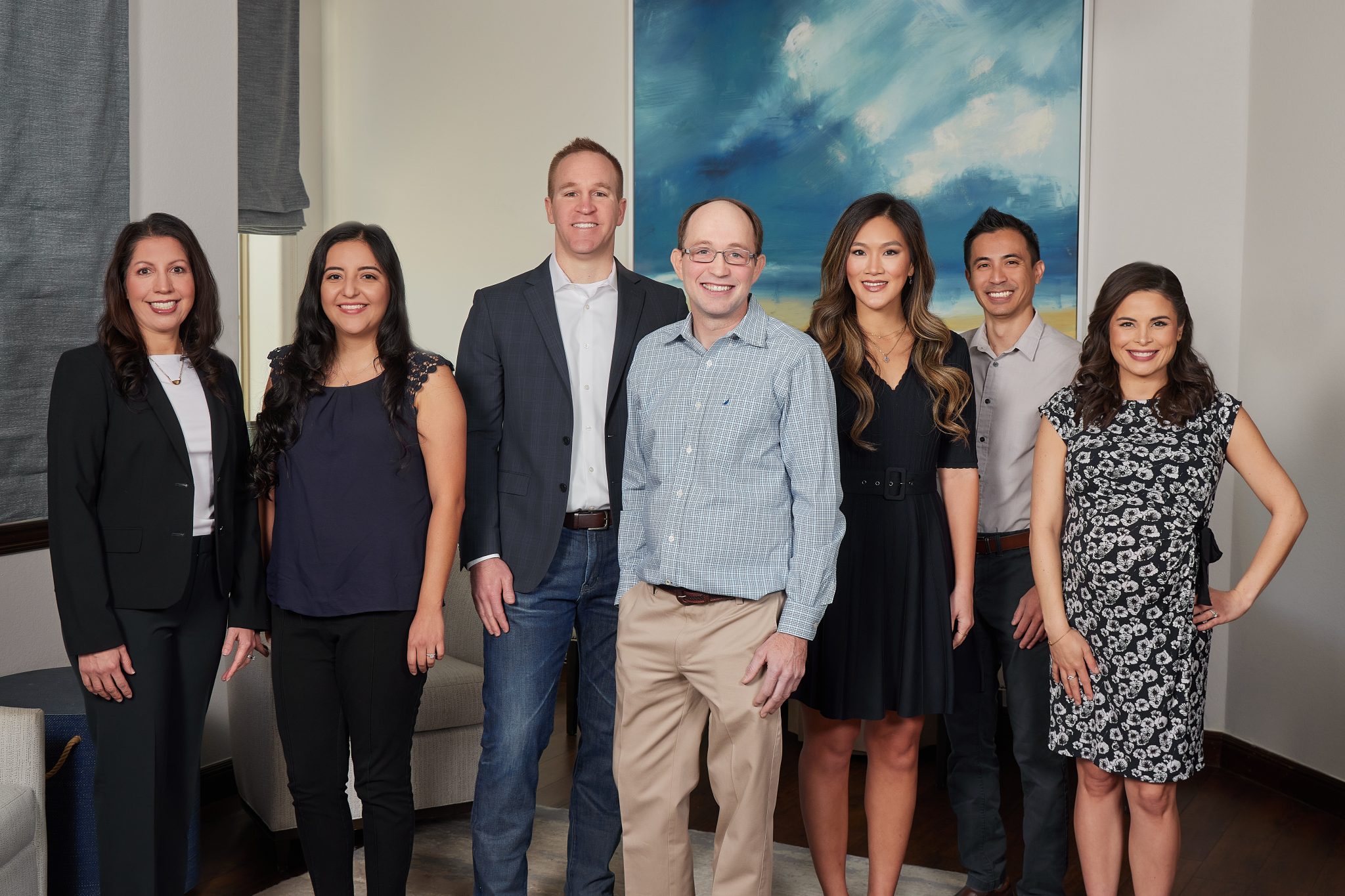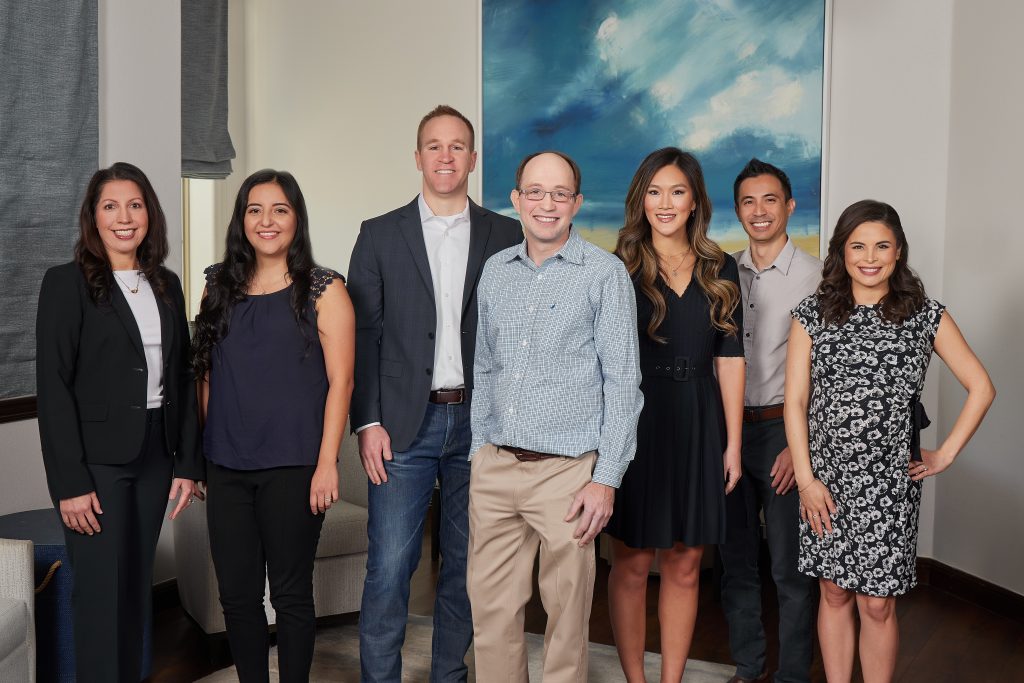 BY MEREDITH KNIGHT | PHOTO BY SCOTT PEEK PHOTOGRAPHY
Over the past 19 years, Stonebridge Dental has established itself as a dental home
for hundreds of McKinney families, serving kids, their parents, and grandparents with all the dental care they need under one roof. From routine preventive and restorative care to cosmetic procedures and orthodontics, families know these premier dentists and their staff will provide them with know-you-by-name care combined with the latest dental technology.
The internet is brimming with five-star reviews from patients who call them "kind, patient, upbeat, friendly, honest, caring, and straight-forward." Here's what a couple of them had to say:
I have previously only had two types of visits to the dentist: horrible and less horrible. This office adds the third category of FREAKING AWESOME! Everyone is friendly, professional, and flat out amazing at their jobs. Plus, they don't push unnecessary treatments on you. My wife had an appointment after me with a different hygienist and a different dentist, and she said the same thing. The rooms are relaxing, and the staff is top notch! I can't say enough nice things about this office. Highly recommended!!! " –Steve F.

We've been going here for several years and think this is the best dentist around. I even changed my insurance so we could continue going here. Every doctor is kind and patient, and they never try to sell you additional services. They let you know what you need and wait for you to decide. The hygienists are very personable and friendly as are the receptionists. I'm a chicken when it comes to the dentist, but I don't hesitate to come here." –Kaye C.
As their patient base has grown, the practice has expanded to not only include PebblePath Pediatric Dentistry and Orthodontics to cater to the needs of the youngest patients, but also a full menu of services including:
Tooth whitening Veneers
Crowns and bridges
Dentures and partial dentures
Root canals
Dental implants
Traditional braces
Adult orthodontics
Invisalign tooth aligners
Dental sealants
Dental night guards
Non-surgical gum treatments
Wisdom tooth removal
Stop-snoring devices/
TMJ devices
Smile Makeover
Our smile is the first impression others have of you, so it makes sense to want that smile to be bright, white, and healthy. According to the American Academy of Cosmetic Dentistry, more than 99 percent of American adults believe a smile is an important asset in social and business situations. The Stonebridge team offers dental procedures to improve your smile and boost your self-confidence. The Stonebridge Dental team can transform your smile's shape, color, alignment, as well as filling gaps and discreetly restoring decayed or damaged teeth with tooth-colored fillings allowing you to achieve a nearly perfect smile.
Digital X-rays and Digital Impressions
Gone are the days of clumsy, gooey dental molds. Stonebridge Dental uses a digital scanner to capture images of your teeth. Digital X-rays not only keep you safer with less radiation but provide dentists with an in-depth view of the structures of the mouth, helping them detect complications and develop effective modes of treatment. Digital X-rays produce instant digital images that can easily be enhanced and enlarged for a more accurate diagnosis, often revealing hidden cavities, bone erosion, and even tooth decay hiding beneath restorations. The images are captured, stored, and even transmitted via in-office computers. In fact, Stonebridge dentists can easily print or email copies of your X-rays in just seconds.
PebblePath
The youngest members of your family will love having their own dental office inside your dental office. The atmosphere within PebblePath is designed to put kids at ease and the PebblePath team is dedicated to making visits fun and stress-free. At this dual-specialty practice, Dr. Thien Tran provides gentle pediatric care for infants through adolescents and has a calming chair-side manner and rapport with special-needs patients.
Dr. Laurie Parks offers advanced orthodontics for patients as young as seven and as old as their 70s using the most advanced orthodontic technology to make treatment quicker, more comfortable, and much more precise. Together with their amazing team, these two dynamic dental professionals love helping little smiles grow up healthy and strong.
In a five-star online review, one parent of a PebblePath patient wrote:
Highly recommend PebblePath Dentistry for your kids. We wouldn't think of going anywhere else! [They] are fantastic, so great with little ones, and made my three-year-old feel very comfortable. We had some fillings, and the whole thing went extremely well. His teeth look great. He was not traumatized one bit and looks forward to going to the dentist." –Erin F.
Introducing Dr. Thien Tran
A good thing got even better with the recent addition of Dr. Tran. Dallas-born and raised, Thien Tran attended the University of Texas at Dallas, where he received his Bachelor of Science in biology. He then went on to pursue his dental degree at Tufts University School of Dentistry in Boston, Massachusetts. Upon graduating, he knew he wanted to move back to Dallas, where he worked in private practice for seven years. It was at this time he made his commitment to treating children and subsequently obtained his advanced education certificate in pediatric dentistry at Tufts University. Dr. Tran is an active member of the American Academy of Pediatric Dentistry as well as the Texas Academy of Pediatric Dentistry. In his free time, Dr. Tran remains an active outdoorsman, who likes to travel, experiment with new recipes in the kitchen, and spend time with his family and pugs.
Stonebridge Dental and PebblePath Pediatric Dentistry and Orthodontics are now accepting new patients. Find out more or schedule an appointment at StonebridgeDental.com or PebblePathDDS.com.
Contact
6633 Eldorado Parkway, Suite 100
McKinney, Texas 75070
(972) 547-0554
StonebridgeDental.com
PebblePathDDS.com