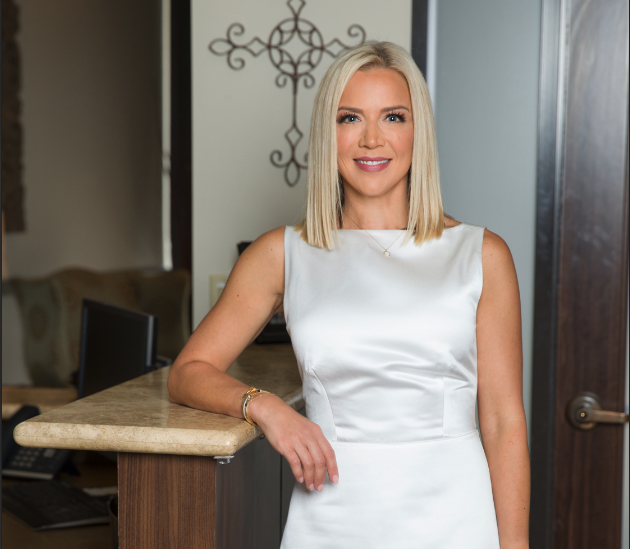 By Annette Brooks | Photos by April Sanchez of Taylor Morgan Photography
---
With the "Zoom Boom" where our faces are front and center on video calls, more of us are enhancing our smiles with cosmetic dentistry. The importance of this decision is supported by research, which indicates the first thing people notice about you is your smile and that a beautiful smile not only impacts how attractive you appear but also how successful you're perceived to be by others.
Finding the right dentist to upgrade your smile is essential. Dr. Erica Cummings' patients will tell you to look no further than Sterling Ridge Cosmetic & Family Dentistry, including Jessica, who shares her story below. Her gorgeous smile is one of the many reasons Dr. Cummings is an award-winning dentist loved and trusted by her patients.
Jessica Enhances Her Smile Before Re-entering the Workforce
"An injury during adolescence made me unhappy with my smile," Jessica shares. Her trust in Dr. Cummings gave her the confidence to get eight veneers on her top teeth.
"My front teeth had old bonding that didn't match my back teeth. I wanted to address this, knowing it would give me more confidence during job interviews and interacting with new people," explains Jessica, a stay-at-home mom re-joining the workforce now that her kids are older.
Dr. Cummings and her team impressed Jessica throughout the process. "We discussed my goals and looked at different veneer shapes and colors together. She assured me my veneers would look natural versus neon white and cartoonish, which was extremely important to me. I appreciated that she never pushed me to make a decision. Her interest was purely in helping me achieve my personal goals and to educate me versus selling me on getting veneers."
Jessica also notes "how painless the procedure was" and how smoothly it went. "There's so much positive, collaborative energy in the office. Everyone there is incredibly attentive and approachable. It's an uplifting environment."
"The minute I saw my new smile, I felt like a million bucks," Jessica shares. "My family thinks it looks great, too. I recommend Dr. Cummings not only for cosmetic dentistry but for all your dental needs."
Dr. Cummings adds, "We work closely with our patients to create customized solutions within their budget and available time. For example, instead of placing veneers on both the top and bottom arches, it's often possible to put a few veneers on top and whiten the rest of the teeth to match."
Whole Health Dentistry, Personalized Care
Voted 2022 Best Family Dentist in The Woodlands, receiving another Living Magazine Readers' Choice award, there's much more to Dr. Cummings and her team's abilities than creating pretty smiles. Passionate about treating patients like family, they provide friendly, attentive, comfortable care, and strive to help you enjoy better health through advanced dentistry.
"Your oral health and overall body health are intricately connected," Dr. Cummings says. "Spreading systemically, disease in one area can affect the other. For example, studies reveal that gum disease is linked to cardiovascular disease, diabetes, and much more. We find practicing whole health dentistry to be rewarding as it enhances the quality of life for our patients in many ways beyond the smile."
Advanced Services
Dr. Cummings' interests include treating snoring and obstructive sleep apnea collaboratively with healthcare professionals in her community. With extensive training in dental sleep medicine, she earned board certification from the American Board of Dental Sleep Medicine in 2019. She is a member of the American Academy of Dental Sleep Medicine, the Airway Sleep and Pediatric Pathway study club, and the Spencer Study Club.
Tricia and her husband saw Dr. Cummings for sleep appliance evaluations. Here's an excerpt from her 5-star online review. "The whole process was super informative, and the technology really helped in understanding the doctor's recommendations. The convenience of seeing someone quickly and doing an at-home sleep test quickly enabled us to move forward. Dr. Cummings' interest and training in sleep dentistry are evident, and I felt extremely comfortable having her treat my family. Her entire team is friendly and knowledgeable, and the office is beautiful, clean, and high-tech. I would highly recommend making Sterling Ridge your dental home!"
Corrine's son, Jerry, breathed through his mouth instead of his nose, ground his teeth while asleep, and had a small mouth, ear infections, and hearing issues. After evaluating Jerry, Dr. Cummings recommended arch development with expanders and the Myobrace System, a preventive pre-orthodontic, intra-oral treatment that addresses the underlying causes of dental problems and unlocks natural growth and development.
"Myobrace aligned Jerry's jaw, helped him breathe through his nose and addressed his teeth grinding. His teeth are beautiful — straight as an arrow — and his bite is good. We were so happy with his results that our second son, Rory, was treated with Myobrace by Dr. Cummings," Corrine shares.
General and Preventive Dentistry

Cosmetic Dentistry

Crowns

Dental Implant Restorations

Obstructive Sleep Apnea

Snoring

Teeth Whitening

Full Mouth Reconstruction

Fillings

And More
More About Erica Cummings, DDS, MAGD, D-ABDSM
A native Texan and Texas A&M graduate, Dr. Cummings earned her DDS at the University of Texas Dental Branch in Houston, Texas, followed by a one-year general residency at St. Luke's Hospital in Bethlehem, Pennsylvania. Completing more than 1,300 hours of continuing education, she was awarded a Mastership in the Academy of General Dentistry (MAGD), an achievement only 2% of dentists reach. Outside the office, Dr. Cummings spends time with her husband, their son, and her stepchildren. She enjoys fitness, the beach, fishing with her husband, traveling, and friends and family. She supports Meals on Wheels, participates in Dentistry from the Heart, sponsors local sports and dance teams, and went on a mission trip to Guatemala before the pandemic.
Welcome to Award-Winning Sterling Ridge Cosmetic & Family Dentistry
Dr. Cummings and her talented team look forward to welcoming you and your family to the practice. Schedule an appointment today.
---
CONTACT
9955 Woodlands Parkway, Suite B
The Woodlands, Texas 77382
(281) 298-2503
SterlingRidgeDentistry.com