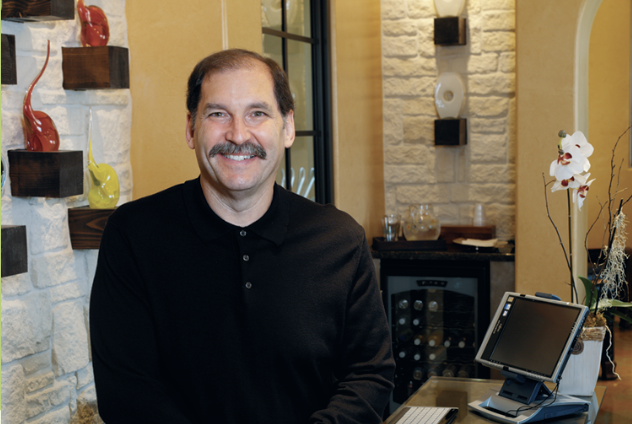 BY SYDNI ELLIS
Voted Best of Cosmetic and TMJ Dentists in Living Magazine 2015 to 2021, Star Ranch Dental is one of the most successful and fastest growing dental practices in the Dallas/Fort Worth area, and for good reason. Drs. Peter Barnett and Trevor Shewski offer compassionate, comprehensive solutions for the total health of their patients, with an equally impressive team at their side. Their high standard of care is matched by a zeal for delivering a signature patient experience. Patients access a wide array of services, from general, restorative, and cosmetic dentistry to a focus on eliminating head, neck, and temporomandibular joint (TMJ) pain, and airway management for sleep apnea treatment.
Compassionate, Personalized Care
As a dentist-owned practice focused on patients over numbers and production, this team's philosophy is centered on putting people first with a deep commitment to serving individual needs. "Most every dentist can clean your teeth and handle your basic needs," said Dr. Barnett. "What differentiates Star Ranch Dental is our approach and outlook on the whole person and helping our patients keep an eye on their total health. There is more to it than a mouth full of teeth." It's this kind of passion that continues to create healthy, happy smiles within their growing patient family. Many loyal patients have been with Star Ranch Dental for years.
"We make available modern types of evaluation to help better pinpoint what we need to focus on," said Dr. Barnett. "We no longer need to rely on generalized research to tell us what may be causing certain issues. Now we can find out exactly – from bacterial indicators to levels of inflammation in your body, we can see a much clearer picture of your oral health, and help you better understand critical contributors to your overall health, and create the optimal plan tailored to your specific needs."
Meet Dr. Peter Barnett
Dentistry was a natural choice for Dr. Barnett, the founder of Star Ranch Dental. He is the grandson of two dentists and his grandmother founded the New York City Community College Department of Dental Hygiene. Dr. Barnett graduated from the University of Pennsylvania Dental School of Medicine and continues to stay up to date on advancing dentistry in the general, restorative, and specialty areas. Dr. Barnett's years of experience, coupled with his straightforward yet calming approach, helps patients truly understand their dental needs.
Currently Welcoming New Patients
Hygiene and Preventive Services
Periodontal Services
Root Canal Therapy
Sedation Therapy
Porcelain Veneers, Clear Braces and Invisalign®
Cosmetic Bonding and Teeth Whitening
Airway Management for Sleep Apnea
TMJ Diagnostics and Therapy
DTR Therapy for TMJ Therapy
Computerized Bite Analysis – T Scan
Diagnostic 3D Imaging Technology
Digital Scanner
In-Network with Most PPO Dental Plans
Contact
5944 West Parker Road, Suite 500
Plano, Texas 75093
(972) 943-5944
StarRanchDental.com