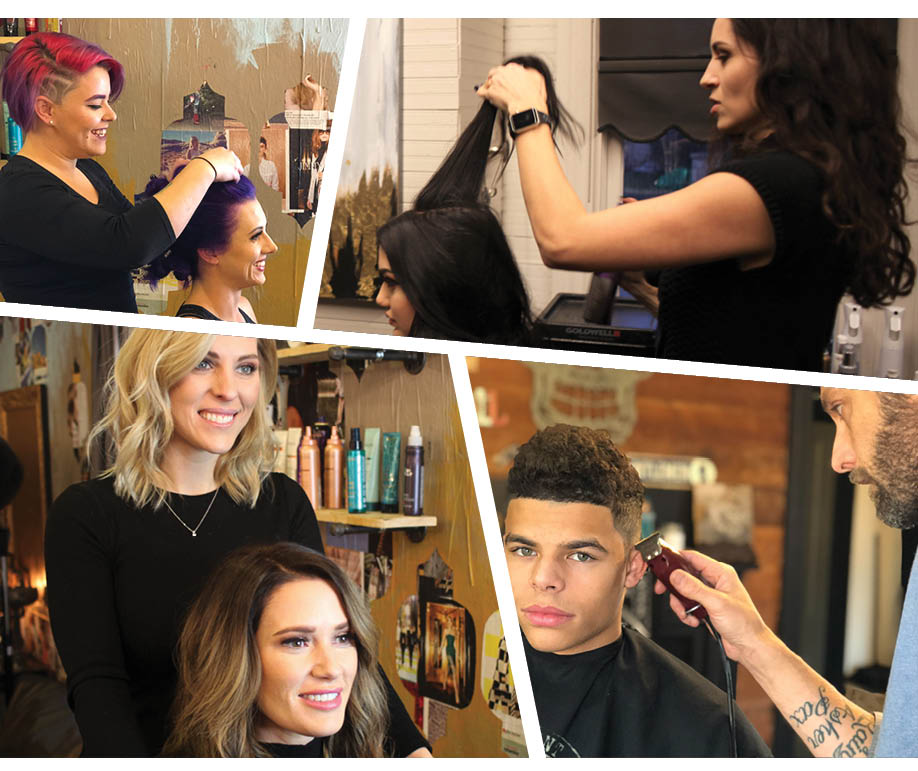 Opened in 2003 and bursting with old Hollywood glamour, fainting couches, chandeliers in every room, original wood floors, and passionate people, Renata Salons is an old-time full-service salon with cutting edge style.
Owner Lauren Jackson traveled the country training stylists and working fashion week events for years before returning to Texas to run the salon with her mom and co-owner, Sherry. She also reconnected and fell in love with her now husband, master stylist Jackson, who runs Renata's new 2nd Floor Barbershop, inspired by vintage shops of yesteryear and complete with walls lined with LPs, craft beer and whiskey, and 110-year-old barber chairs.
Four years ago, Renata added urban salon The Parlour House. Jackson and Lauren and their team are passionate about hair care and have chimed in this month about some prevalent hair-care myths so you can keep your locks looking good.
Do these hair myths make the cut?
Getting your hair cut helps it grow faster.
Answer: FALSE
The truth is trimming your hair prevents split ends. Split ends create breakage and give you a "natural haircut" which causes your hair to look like it's not growing. Regular trims do not promote growth, but do help keep the hair healthy and strong.
– Tracey, stylist
---
Air drying your hair is important.
Answer: TRUE
Air drying as often as possible is great for your hair. Hair is the weakest when it is wet and can easily break under the stress of heat and brushing. Once a week, let hair completely air dry to give your hair a break from the heat. Partially air drying your hair before blow drying also helps. Use a styling mouse that protects from heat and leaves your hair shiny such as Mousse Bouffant or L'incroyable from Kerastase.
-Tianna, stylist
---
Coloring your hair damages it.
Answer: FALSE
This myth comes from the fact that boxed hair dye uses harsh chemicals that are not good for your hair. However, professionals at reputable salons use high-quality products that don't damage your hair. Many also offer deep conditioning treatments so you'll leave with healthier hair than before you colored it! Be sure to research the products used at a salon before you visit.
-Lauren, owner
---
You should avoid pools in the summer because they're bad for your hair.
Answer: FALSE
While chlorine is not good for hair, you can take preventative measures to combat the effect it has on your color. Hair is like a sponge, so wet your hair or use a leave-in conditioner before swimming in a chlorine pool to reduce the amount of chlorine your hair absorbs. Use a clarifying shampoo to remove chlorine buildup immediately after swimming. Deep conditioning your hair regularly to maintain moisture also helps to keep your hair beautiful during the summer months.
-Tianna, stylist
---
Hair should always be rinsed with cold water.
Answer: TRUE
As much as you may hate it, use cold water. Hot water opens the cuticle and allows the color to slip out of the hair. For the same reason, you should always style hair on low heat with hot tools, as heat can cause the color to slip.
-Tracey, stylist
---
Fine hair is drier than curly hair.
Answer: FALSE
Curly hair is naturally drier therefore needs lots of moisture for lustrous locks. Use a conditioner that helps tame unruly and frizzy hair. We love the Kerastase Discipline line for curly hair. Use smoothing products such as Kerastase L'incroyable blowdry cream to help control your hair and to protect your hair from heat.
– Tianna, curly hair specialist
---
There's nothing you can do to help hair color last longer.
Answer: TRUE
Always use a salon professional shampoo and conditioner for color treated hair to extend the life of your color. Only shampoo your hair every other day to maintain the rich vibrant color and keep the natural oils in your hair. Use a moisturizing conditioner to keep the hair healthy. Healthy hair holds onto color better than porous hair. 
-Heather, color specialist
---
Purple dye prevents blonde from going brassy.
Answer: TRUE
If you struggle with brassy blonde you should use a good purple tented shampoo or conditioner.  Our favorite is the purple Color Lustre conditioner by Shu Uemura. A glaze or conditioning treatment every 4-6 weeks will also help maintain shine, luster, and a beautiful tone in blonde hair. Blonde hair can get quite dry so regular trims are also important to prevent breakage.
-Lauren, owner
---
It's hopeless to expect fine hair to ever have any volume.
Answer: FALSE
Use a shampoo and conditioner specifically made for fine hair such as Kerasatse Densifique to achieve volume and lift. Use a styling mousse to achieve amazing volume that will last all day. My favorite product to create texture is Texture Wave by Shu Uemura.
-Lauren, owner
---
Men need a trim twice a month.
Answer: FALSE
Men can easily maintain their style by getting haircuts every 3-5 weeks. Keep your hair line clean by getting regular neck trims too.
-Jackson, owner
---
Renata Salons is a glamorous full-service hair salon in a three-story Victorian home located just off Main Street in historic downtown Grapevine at 224 E College St, Grapevine, TX 76051. Renata is also home to an old-fashioned barber shop. For more information and hours, visit RenataSalons.com or call (817) 488-3444 to make an appointment.
By Katie-Rose Watson
Hair care tips from Renata Salons