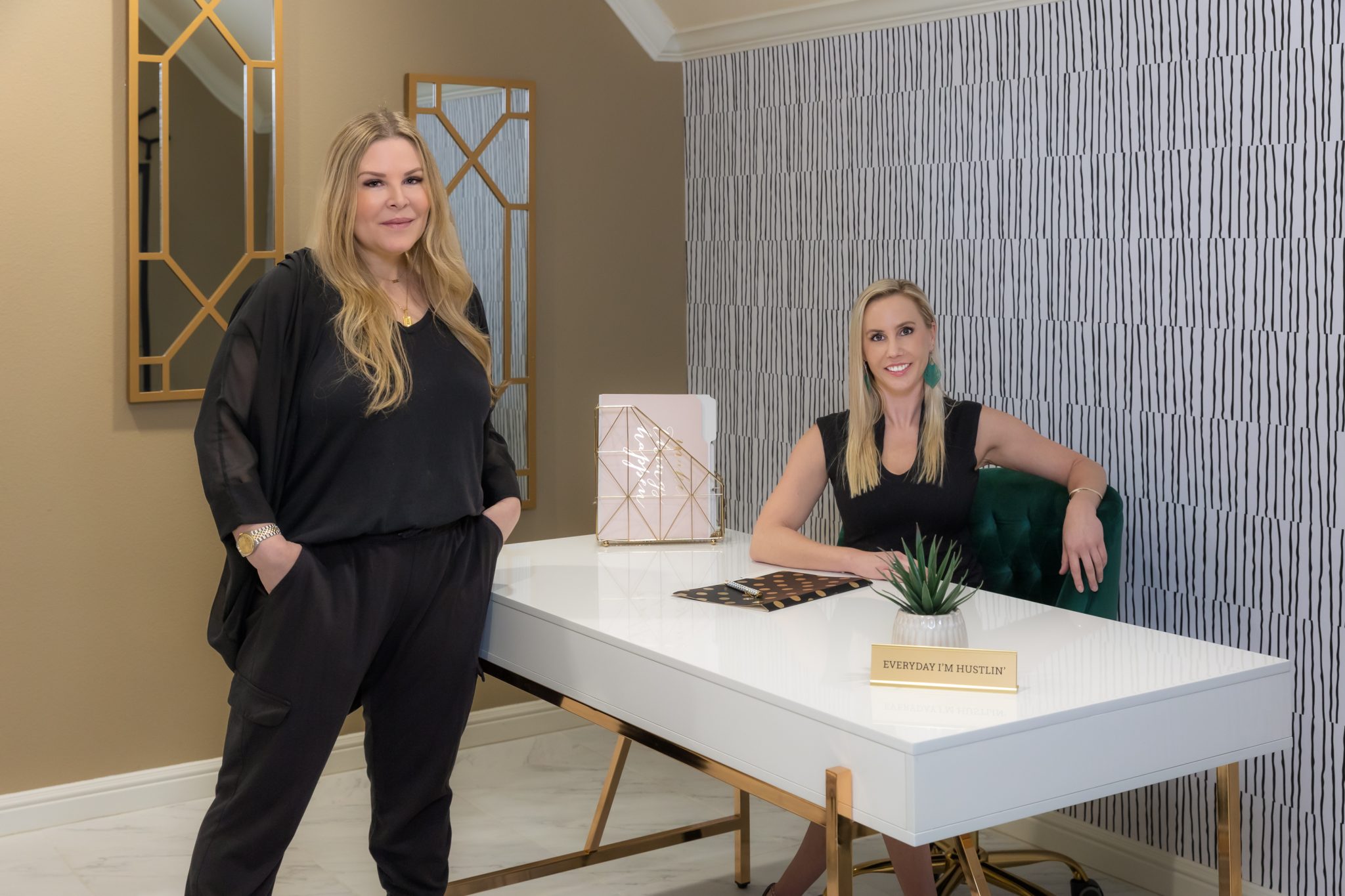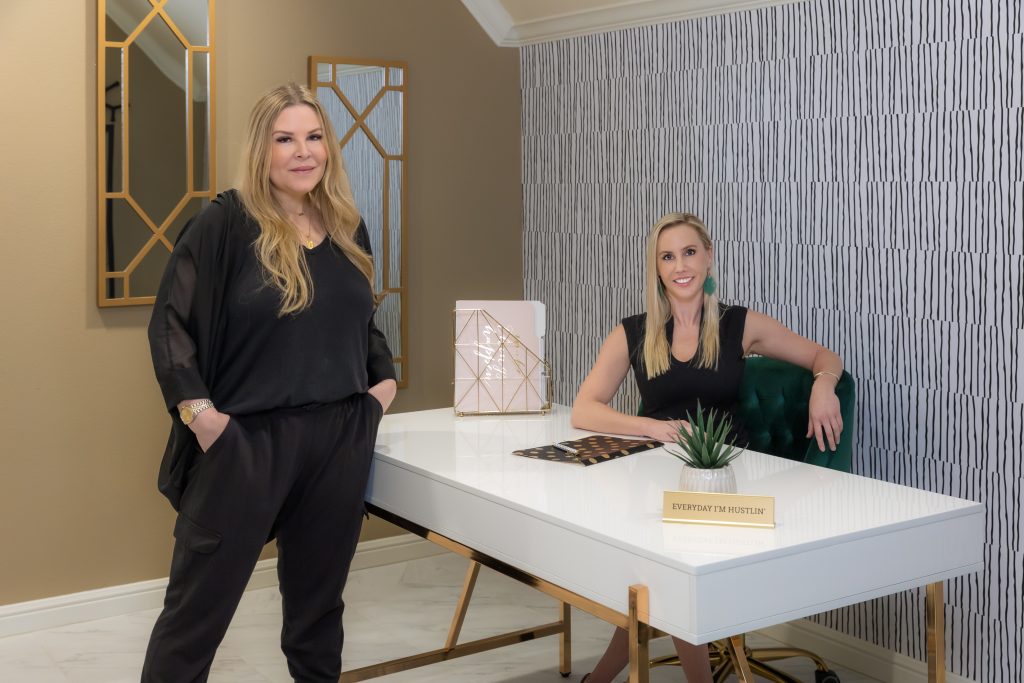 BY MEREDITH KNIGHT | PHOTO BY KENNY RICHARD PHOTOGRAPHY
It takes many types of "leading women" to run a successful business, family, community, and world. There are visionaries who dream what could be and those with two feet on the ground who can turn those dreams into reality. When these two different personalities collaborate, incredible things can happen.
Sonya Ellis and Danielle Geer first met 12 years ago, and each woman instantly recognized and appreciated the other's skillset. They decided to join forces to create the L.A.B., an award-winning med spa in Southlake.
Sonya can't remember a time she didn't want to be a nurse. "I have a servant's heart," she said. "I like taking care of people. It's my MO." She began her nursing career more than 20 years ago in plastic surgery recovery, but it wasn't until 2006 when she administered her first cosmetic injectable, that she found her true passion.
Over the years, Sonya has worked in several plastic surgery offices and premier med spas where she loved interacting with patients and impacting their quality of life. But she also imagined being able to spend more time with each patient, really listening to their goals and giving them the attention they deserved. She enjoyed partnering with them and tailoring treatments to their exact anatomy, lifestyle, and goals, and never seeing them as a dollar sign, but as individuals. She knew to accomplish these goals, she would have to build them a better med spa, one that always puts the patient first.
Sonya knew she could not take on creating the practice alone, so she convinced her first spa manager, Danielle, to step in as her business director to launch and run the company.
"We've known each other for over a decade, and it's not an exaggeration to say I couldn't do what I do without Danielle. I trust her implicitly," Sonya said. Originally from Alaska, Danielle left her small hometown of Homer to attend college at Northern Arizona University where she earned her degree, with honors, in hospitality business management and was quickly offered a management position at the prestigious Four Seasons Resort and Club, Las Colinas. There, she learned the nuts and bolts of the luxury service industry while managing the company's spa and salon. She then went on to manage other luxury spas and plastic surgery offices before joining forces at the L.A.B. med spa.
"Sonya and I complement each other very well," Danielle said. "And despite working hard, we have fun doing it. Sonya's clinical knowledge of the industry is profound. She's a visionary with amazing ideas, and I plan and execute to make them a reality. Sonya has an amazing rapport with her patients, and they trust she will never cut corners. My focus is to grow and maintain the health of the business so we can continue to offer this community our outstanding services."
the L.A.B. med spa Difference
At the L.A.B. med spa, their mottos are "do the right thing" and "the patient always comes first." As one of only two practitioners in Texas certified not just in aesthetics but also plastic surgery, Sonya has married the best elements of lasers, aesthetics, biologics, and uncompromising customer service, while offering state-of-the-art services to men, women, and teens, such as:
Neurotoxin (Botox)
Dermal fillers
PDO threading
Laser resurfacing
Custom facials
Weight management
Chemical Peels
Bioidentical hormones
P-Shots and O-Shots
Skin tightening
IV therapy
And more
Customized Care
Together, Sonya and Danielle hand-selected a staff of aesthetic alchemists who soon became known for their highly personalized treatment plans, always placing the emphasis on the entire patient experience.
"We never want anyone to feel rushed," Sonya said. "We want them to feel as though they're the only one we'll treat that day. I begin each new patient visit with a 45-minute consult where we can just talk, and I can get to know their aesthetic challenges and beauty goals. Where some med spas are happy offering a quick consult and treatment, it's more important to me that we take the time to develop a three-year plan for their aesthetic goals. We believe if you do right by your patients, the growth and success will come. Word of mouth is always the best marketing, and we have built our business from our existing patient referrals."
As you walk through the doors of the L.A.B. med spa, you can almost feel yourself at ease. Within the modern yet elegant environment, patient health and beauty are paramount.
"Our patients trust us to provide them with the finest and latest medical-grade treatments designed to boost their confidence, enhancing both inner and outer beauty," Danielle said. Sonya and Danielle both grew up in small towns and they loved the community spirit it fostered. "Southlake has that small-town feel," Sonya said. They value contributing to their local community. "We do our best to support the patients and organizations who support us," Danielle said.
Leaders in the Industry
the L.A.B. med spa is also sought after for their educational classes through the L.A.B. aesthetic institute. They provide one-on-one, hands-on training, and Sonya trains for some of the top aesthetic companies. She is active on the aesthetic conference circuit, where she gives lectures over several industry topics.
"We're committed to staying at the leading edge of technology and advancements. We want to continue to offer our patients the best aesthetic services available while always keeping their health and beauty at the forefront of all we do. So not only do we train other injectors, but we make sure the whole office stays current with continuing education so we can advance our protocols and techniques in the future," she said.
Sonya and Danielle would be delighted to welcome you to the L.A.B. med spa.
---
Contact
1910 East State Highway 114
Southlake, Texas 76092
(817) 839-0100
thelabmedspa.com