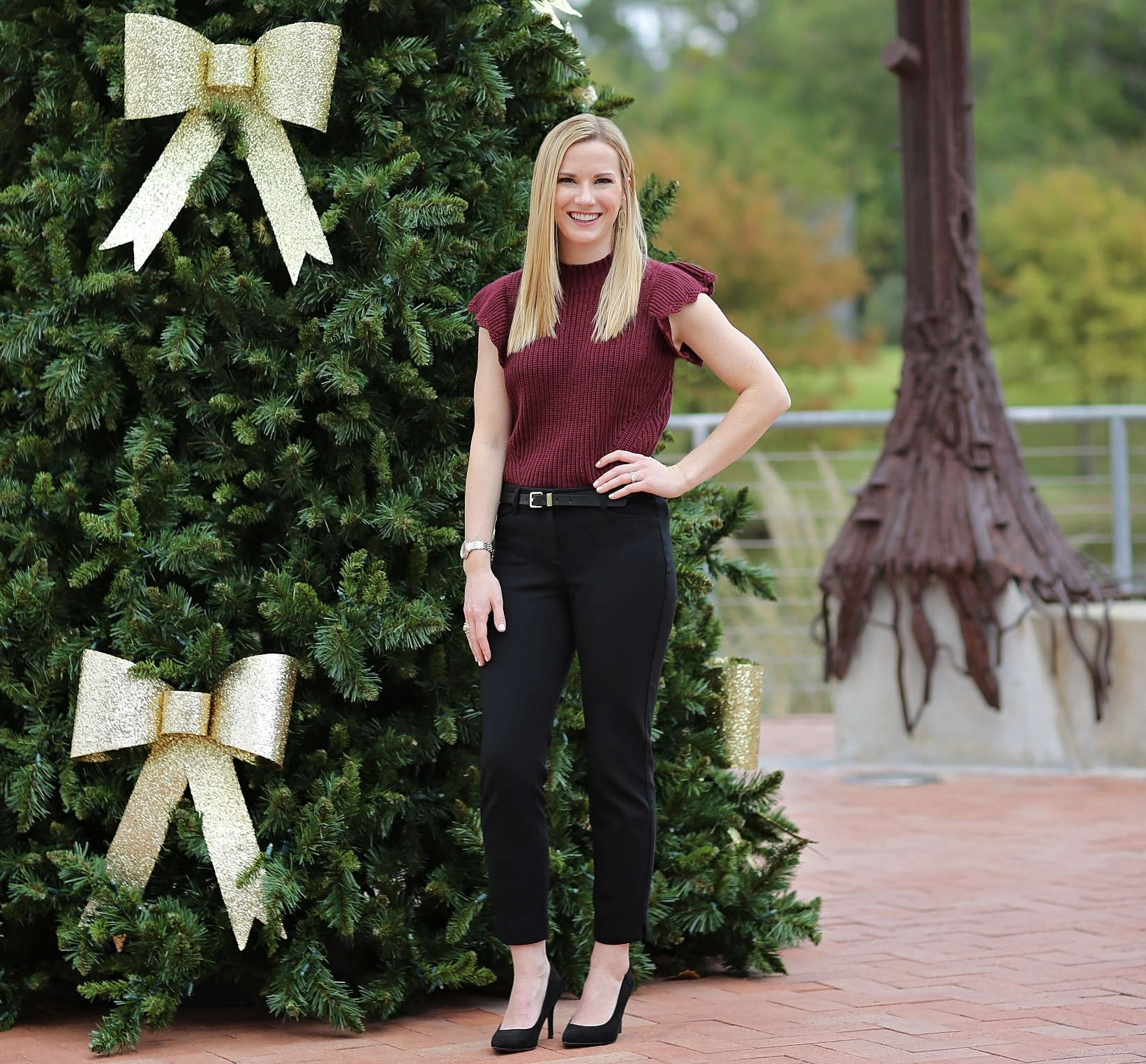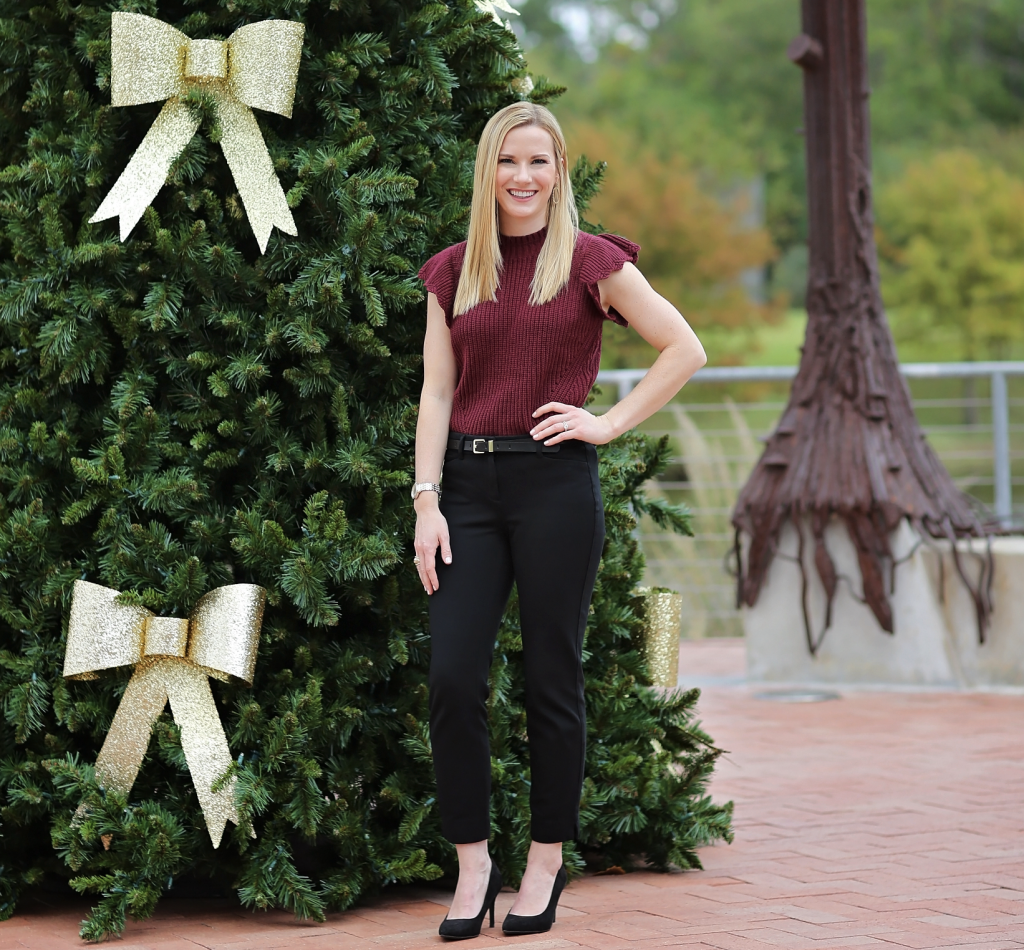 Photos by Karen McConaughey
---
Dr. Ashlyn Snikeris is one of those lucky people who have always known the career she wanted to pursue in life. Her interest in dentistry began at age six when her childhood dentist took the time to explain what a cavity was and how he could fix it. She recalls holding a mirror at each dental appointment so she could learn what dentistry was about. These positive experiences sparked her enthusiasm for dentistry, and her amazement at how changing the look of one's teeth could truly impact their life. Fast forward to today, and Dr. Snikeris is living her dream in more ways than one.
Passion for Family and Community
Born and raised in The Woodlands and a graduate of The Woodlands High School, Dr. Snikeris always knew she would settle down and practice in her hometown where her parents, Michael and Laurie Adamcik, still live in the house where she grew up. She and her husband, Jordan (Jordy) Snikeris, live in The Woodlands and are active parishioners at St. Anthony of Padua Catholic Church.
After earning a Bachelor of Science in biomedical sciences from Texas A&M University and completing her Doctor of Dental Surgery degree at the University of Texas School of Dentistry in Houston, she returned to The Woodlands and began practicing with Dr. Kim Andersen. Dr. Snikeris acquired Dr. Andersen's practice three years later. Jordy Snikeris, who played baseball at LSU and has a Master of Science in Finance, helps with the business management side of Snikeris Family Dentistry. In August of 2022, Dr. Courtney Schweinsberg, also a graduate of The Woodlands High School, joined as an associate dentist. Together, Dr. Snikeris and Dr. Schweinsberg take great pride in serving and giving back to the community they both call home.
"I love supporting my community and helping patients reap all the benefits of having optimal dental health," Dr. Snikeris shares. "We've created a real dental family here and welcome everyone to join us where they will be treated with the care and compassion we would give to any family member."
In addition to treating patients like family, Dr. Snikeris and her team provide genuine know-you-by-name service.
"We're not a practice that treats patients like numbers. We get to know our patients and their stories," Dr. Snikeris explains. "The atmosphere is professional, but that doesn't mean you can't have fun. There's a real camaraderie among our team and patients. It's common to hear laughter between our staff and patients in the office, just like you would hear in a happy family environment."
New patients also feel at ease at Snikeris Family Dentistry, and special care is given to those who have developed a fear of going to the dentist. "Feeling anxious can stem from previous bad dental experiences or simply from fear of the unknown. We talk with our patients about their fear, ask what they're most nervous about, and let them know we understand. We want them to know they can trust us, and we explain each step of the treatment process. We help assure them that dentistry can be a comfortable and pleasant experience."
State of the Art, Comprehensive Dentistry
Dr. Snikeris strives to create a welcoming, family environment for her patients and staff, and offers an exceptional dental experience for every patient, but her endeavors reach beyond this. She stays up to date on leading-edge technology and uses advanced materials and techniques, from an iTero digital scanner to take 3D models of the mouth to the latest teeth whitening Zoom technology. Dr. Snikeris uses the iTero digital scanner for Invisalign, night guards, and crowns, eliminating the need for goopy uncomfortable impression material.
Preventive care is also a priority at Snikeris Family Dentistry, as well as taking a conservative approach to custom cosmetic services like porcelain veneers, preserving as much of the natural tooth structure as possible.
"Visiting the dentist for regular check-ups is essential for maintaining good oral health and good overall health. We now know this is more important than ever. Research shows there's a close, bi-directional relationship between our oral health and our systemic health," Dr. Snikeris explains.
What Patients Are Saying
"I can't say enough good things about my experience here! I've always been anxious about visiting the dentist, and everyone was very kind and thoughtful when I expressed my anxiety… Clean, beautiful office, up-to-date technology, and such a friendly staff. 10/10 across the board!" – Callie P.
"I saw Dr. Snikeris to get some fillings done. The entire experience was better than I ever could have expected. She was kind and knowledgeable, and the staff was warm and pleasant. I'm telling all my friends to come see her now. I highly recommend Dr. Snikeris and her team!" – Sally H.
"Dr. Snikeris is compassionate, gentle, and thorough. She is extremely professional and makes sure to explain what she is doing every step of the way. If you're one to get anxious before an appointment, I recommend seeing her. She makes visiting the dentist a pleasurable experience. I will forever be a patient of Dr. Snikeris! – Emily N.
Comprehensive Services
Preventive Dentistry

Smile Makeovers

Porcelain Veneers

In-office Zoom Whitening

Crowns

Fillings

Dental Bonding

Bridges

Dentures

Dental Implant Restorations

Invisalign

Root Planing

Emergency Dentistry

Nitrous Oxide

And More
Welcome to Your New Dental Home
Snikeris Family Dentistry is welcoming new patients, school-age and up. Call today to schedule an appointment!