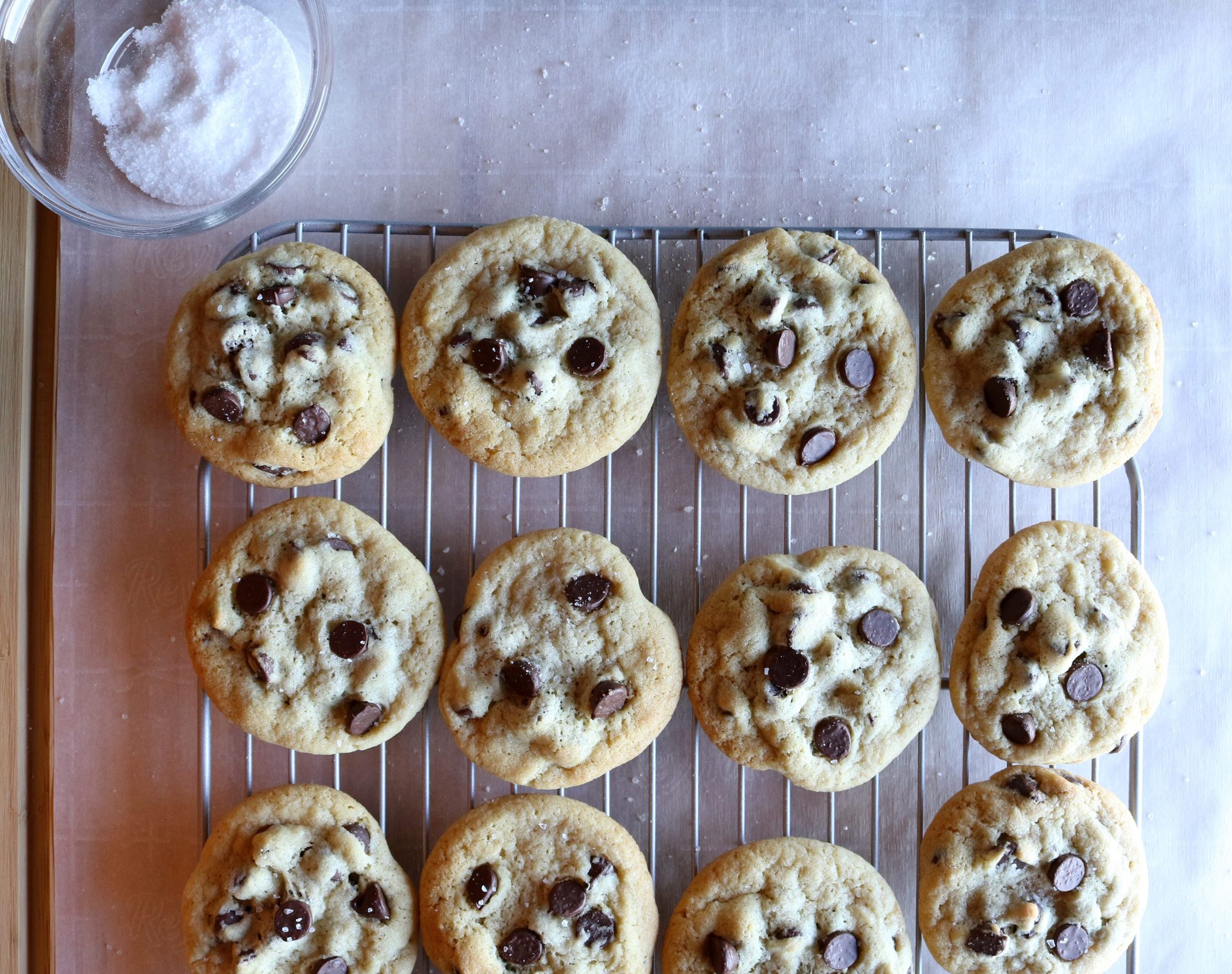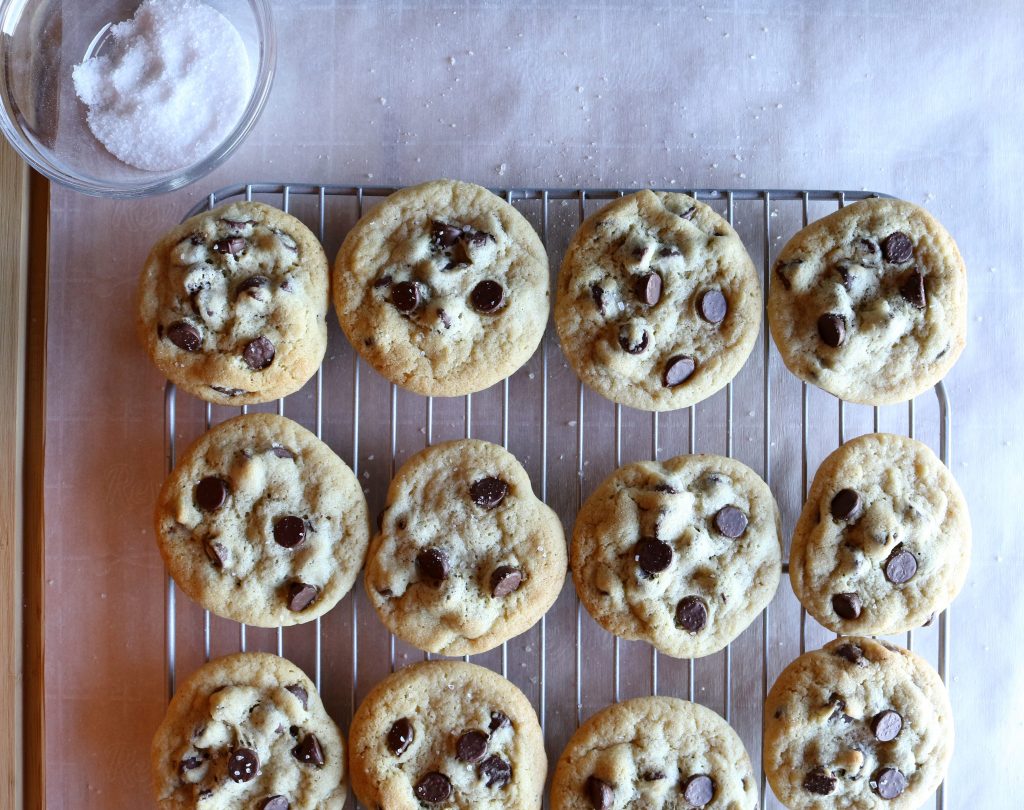 BY MELISSA TATE
Salted Chocolate Chip Cookies
Servings: 40 cookies | Prep Time: 15 min. | Bake Time: 12 min. | Total Time: 27 min.
Ingredients: 2 ¼ cups all-purpose flour | 1 tsp. baking soda | ½ tsp. salt (for dough) | ½ cup softened butter | ½ cup butter flavored Crisco | ¾ cup sugar
| ¾ cup brown sugar | 1 tsp. vanilla extract | 2 large eggs | 2 cups chocolate chips | 1 to 2 Tbsp. coarse sea salt (for topping cookies)
Directions: Preheat oven to 350°. In a small bowl, combine flour, baking soda, and salt. Set aside. Beat butter, butter flavored Crisco, sugar, brown sugar, and vanilla until creamy in a large mixing bowl. Add eggs, one at a time, beating well after each addition. Beat in flour mixture gradually. Stir in chocolate chips. Use a 1 Tbsp. cookie scoop or measuring spoon to drop rounds of dough onto the baking sheet. Bake 10 to 12 minutes or until golden brown on the edges. Remove from oven when ready and immediately sprinkle each cookie with salt. Not too much, just a sprinkle. Move to a cooling rack and let sit for
5 min. Enjoy!
Tips & Tricks: This is a great classic cookie recipe. If you are not a fan of salt, omit the salt for the topping.
Semi-Homemade Chocolate Cake
Servings: 16 slices | Prep Time: 20 min. | Cook Time: 24 to 28 min. | Total Time: 44 to 48 min.
Cake Ingredients: 1 box Devil's Food Cake | 1 (5.9 oz.) box instant chocolate pudding mix | 1 cup sour cream | 1 cup vegetable oil | 4 eggs | ½ cup warm water
Chocolate Buttercream Frosting: 9 Tbsp. butter, softened | ¾ cup cocoa | 3 ½ cups of powdered sugar (may take a little less or a little more) | 1/ 3 cup milk | 1 tsp. vanilla
Directions: Preheat oven to 350°. Grease 2 nine-inch round baking pans with non-stick baking spray and set aside. Stir cake mix, pudding mix, sour cream, oil, eggs, and warm water in a large bowl or mixer. Divide batter evenly into each pan. Bake 24 to 28 minutes until cooked through. When ready, cakes should pull away from the pan slightly, and a toothpick inserted in the middle should come out clean. Allow to cool in pan and then turn onto a wire rack to cool completely. Prepare the frosting. In a medium bowl, beat the butter. Add cocoa and powdered sugar alternately, and a little milk as needed, beating after each addition until all is added. Add vanilla, once all ingredients are mixed in, and mix thoroughly. Frosting should be firm but not dry. If too dry, add a little milk and mix. If not firm enough, add a little powdered sugar and mix. Place one cake on a plate and frost completely. Place the second cake on the frosted cake and completely frost the entire cake.
Tips & Tricks: This cake can be stored in the refrigerator for up to five days.
Homemade Hot Cocoa
Servings: 46 Cups (2 TBSP. Mix, 1 Cup Milk) | Prep Time: 5 Min. | Cook Time: 2 Min. | Total Time: 7 Min.
Ingredients: 3 ½ cups sugar | 2 ¼ cups cocoa | 1 Tbsp. salt | Milk, for serving
Directions: Combine sugar, cocoa, and salt in a large bowl. Whisk to combine well, then store in an airtight container. For individual servings, pour 1 cup whole milk into a microwave-safe mug and microwave on high just until hot. Add 2 Tbsp. of cocoa mix and stir to dissolve. For a larger batch of cocoa, warm the milk in a saucepan set over medium-low heat, taking care not to let the milk boil, as it warms, stir in 2 Tbsp. of mix for each cup of milk.
Tips & Tricks: Add marshmallows, whipped cream, peppermint sticks, or cinnamon to jazz up your homemade cocoa.