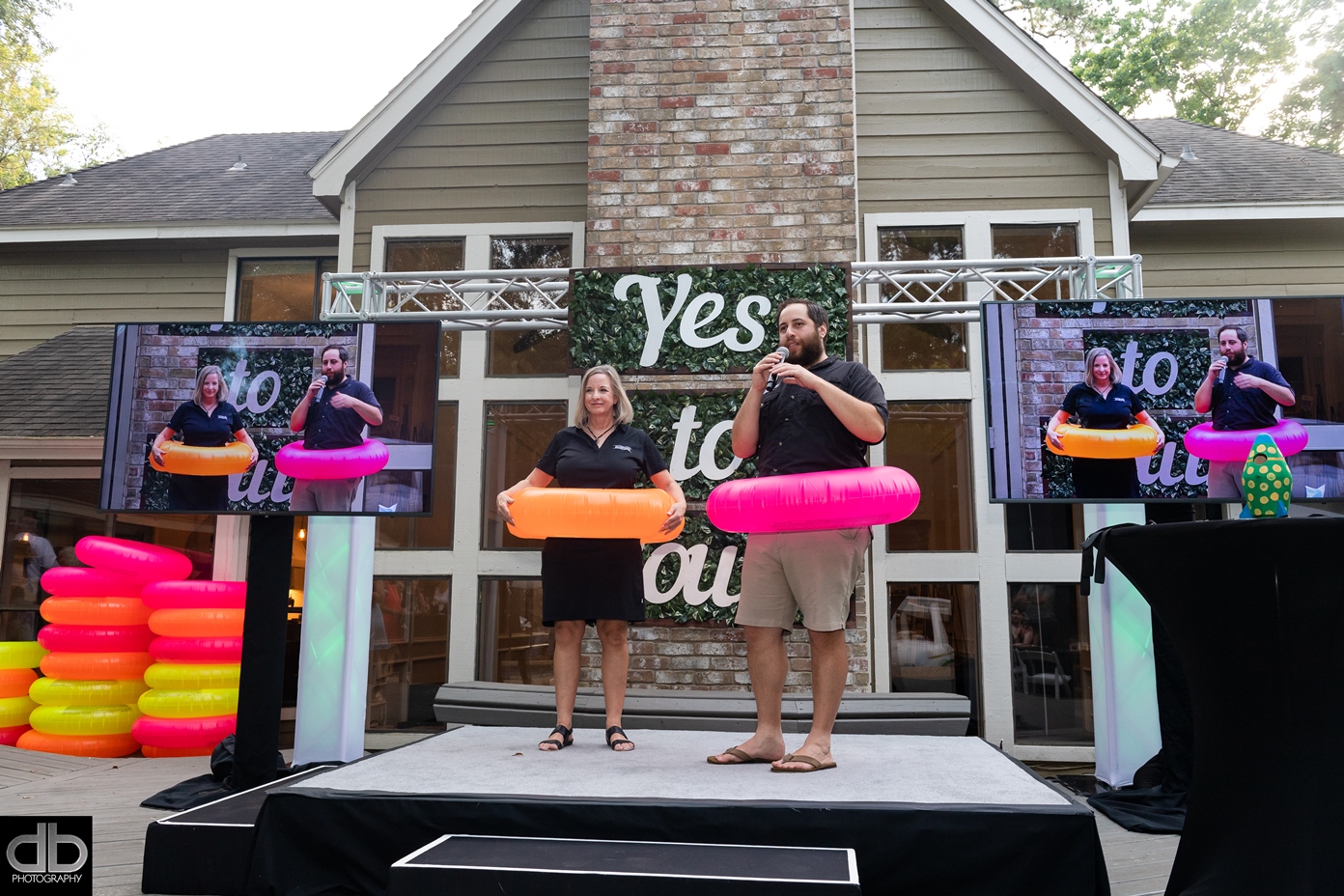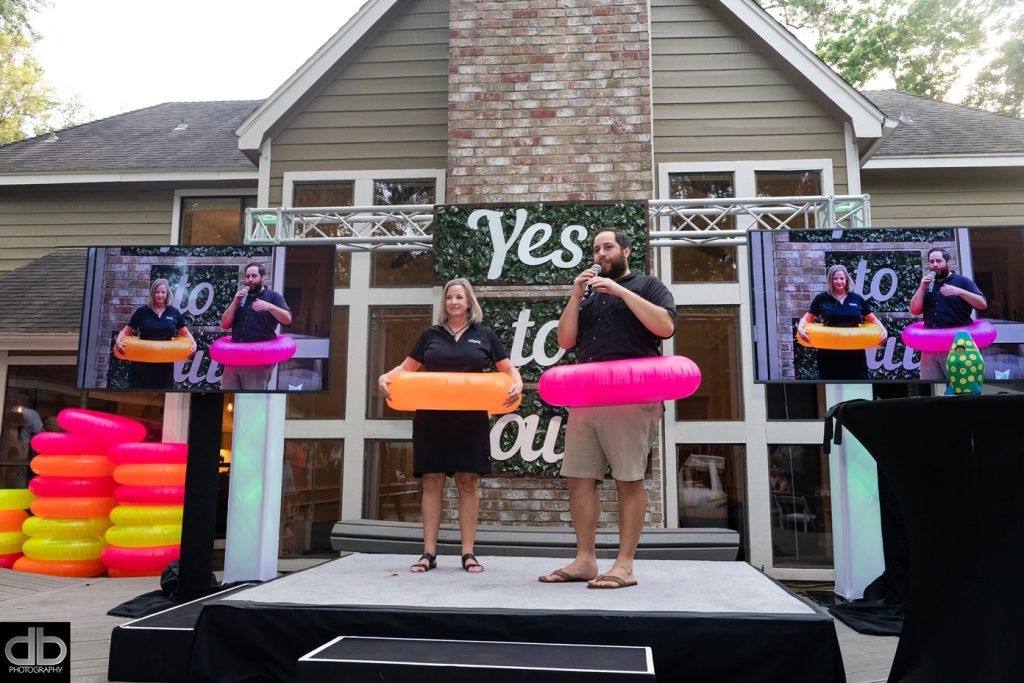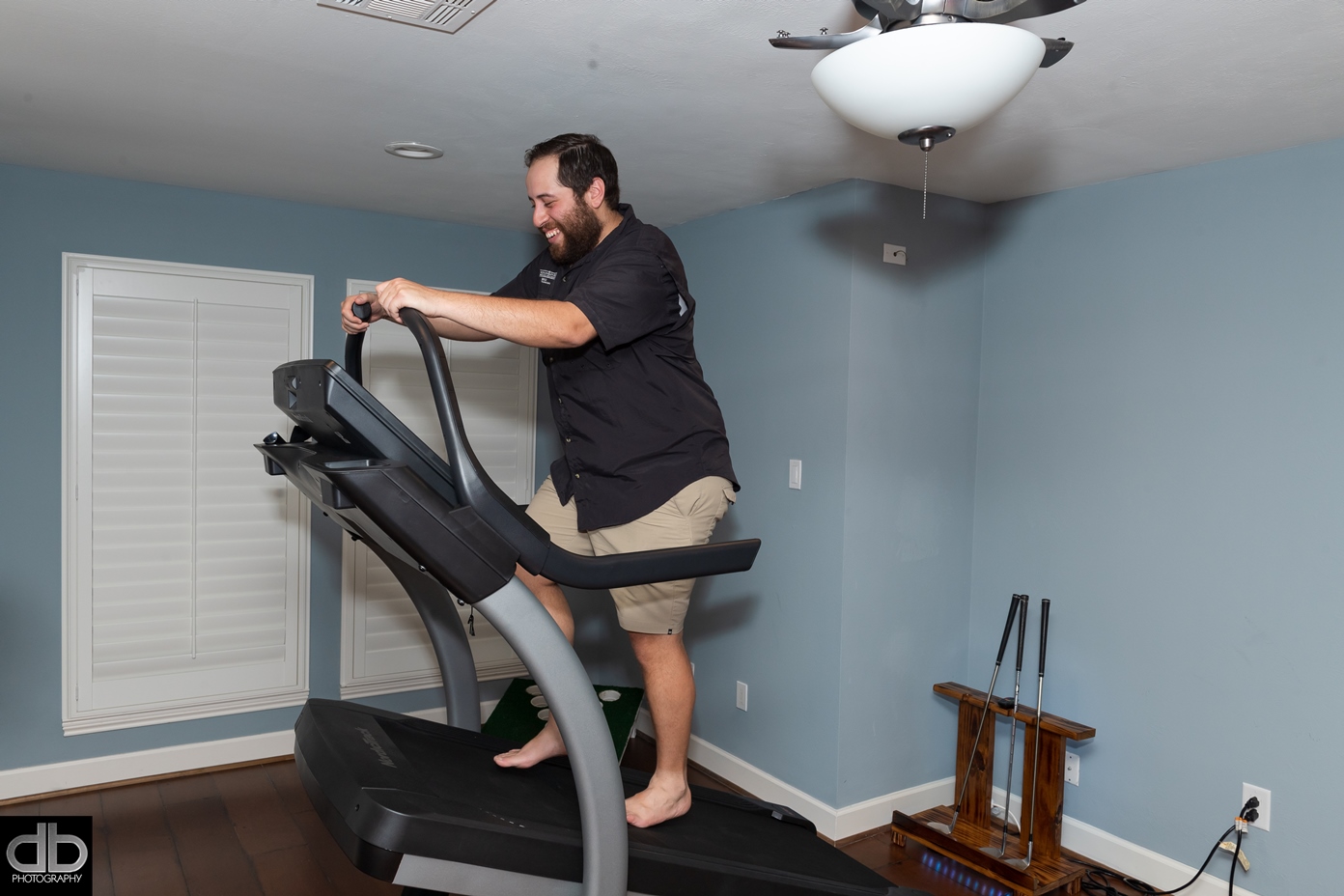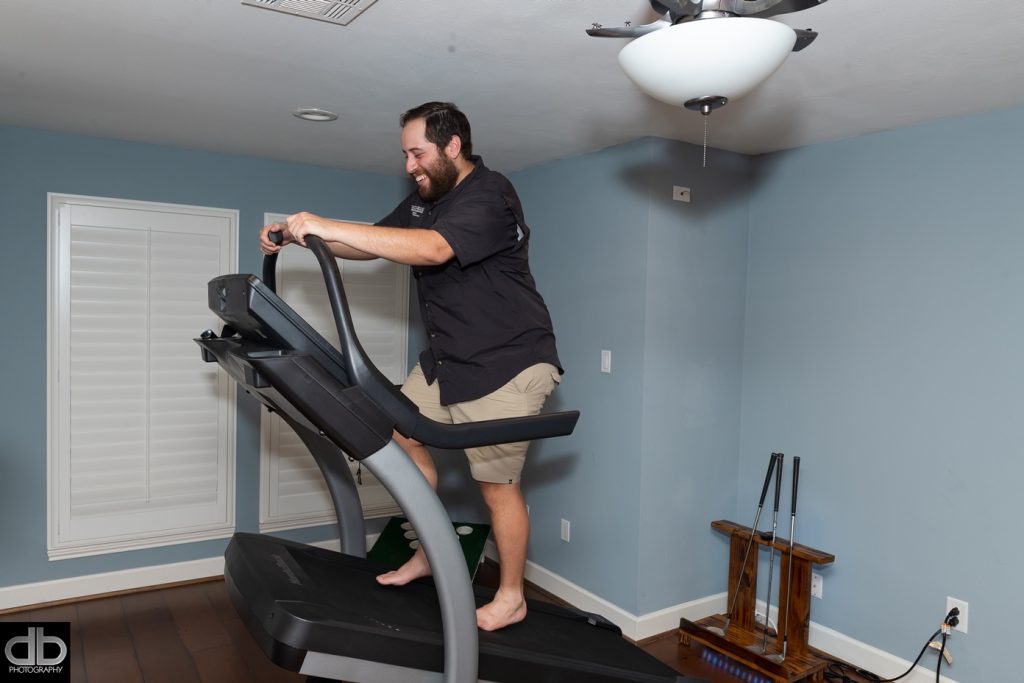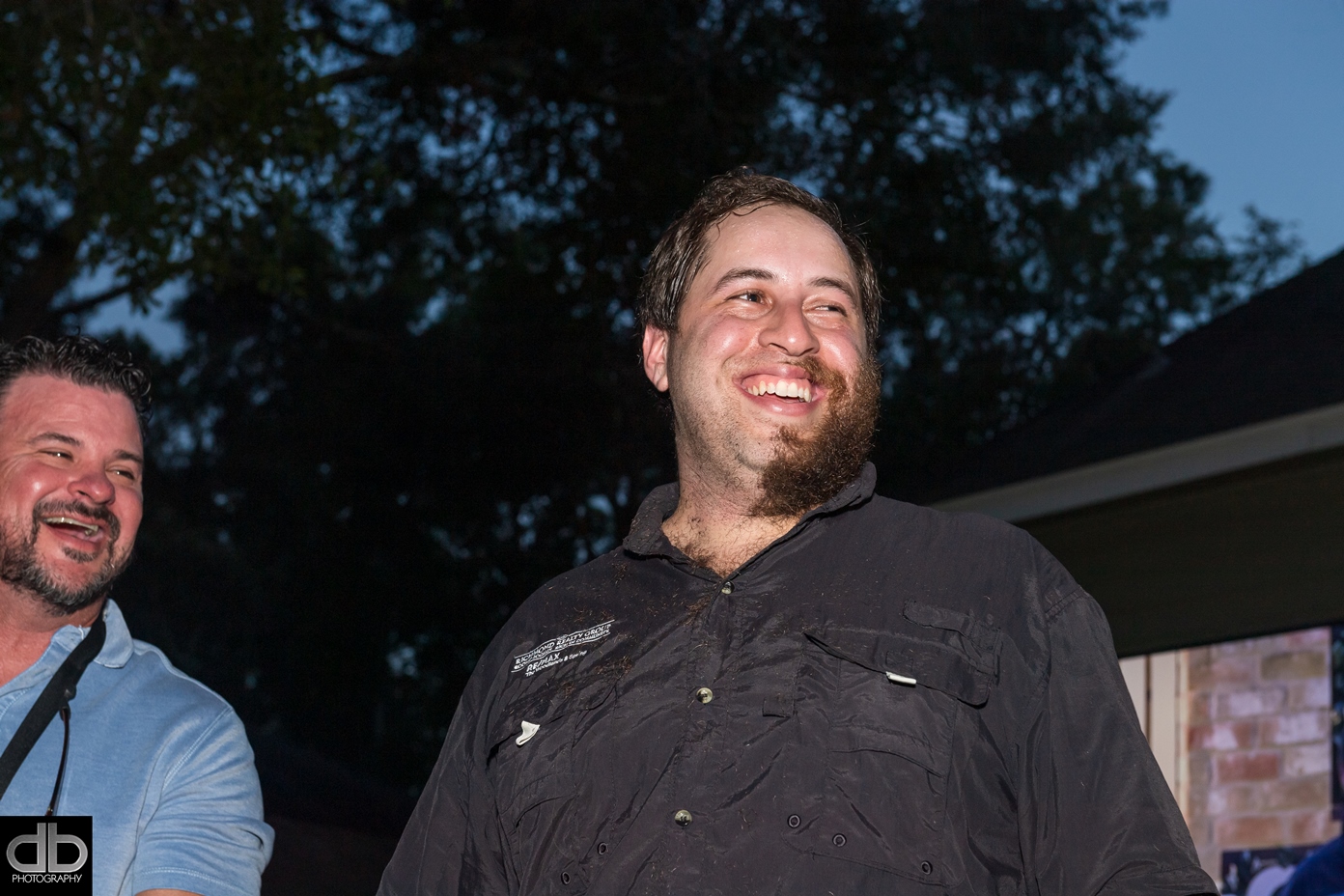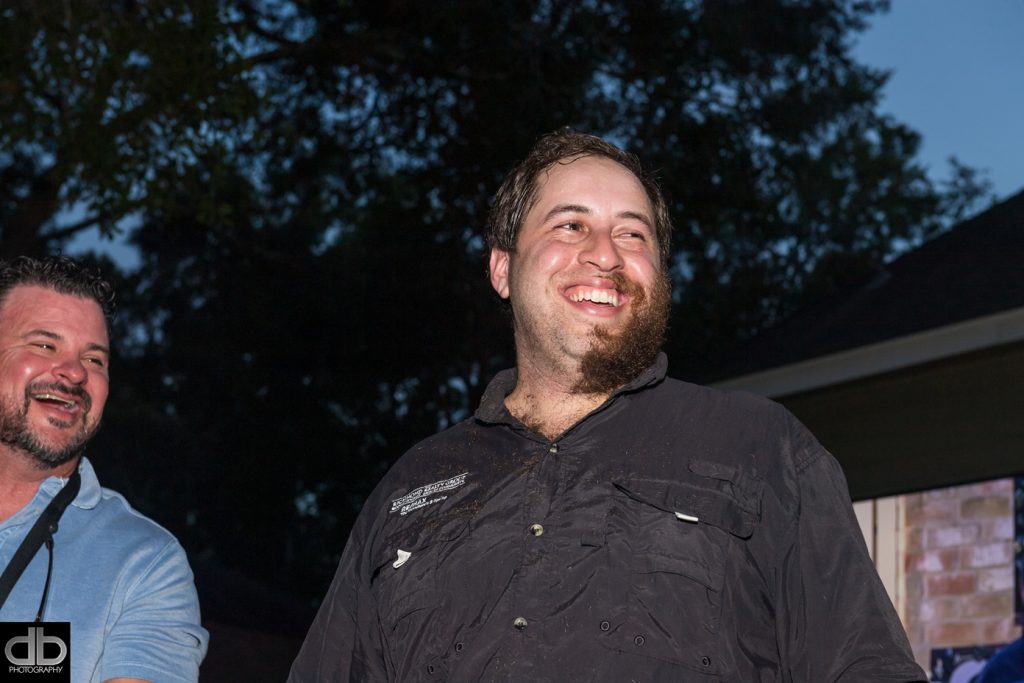 SAY YES, TO YOUTH THIS YEAR'S "SHELTER FOR SHELTER" FUNDRAISING EVENT presented by the Richmond Realty Group RE/MAX The Woodlands & Spring benefiting YES to YOUTH shifted to a festive hybrid event, held on June 18, 2020.
Hosted at Zach and Rachel Richmond's home in The Woodlands (which was fumigated against COVID-19 by Boone's Restoration Technology), guests were greeted with many options for attendance. They could attend outside, mingle socially distanced along the pool patio deck and backyard lawn, inside the house in designated spaces that featured TV monitors for watching a live broadcast or attend virtually from their computer, tablet, or smartphone.
Guests nibbled on offerings from area restaurants, which included Zanti Cucina Italiana, Kirby's Prime Steakhouse, Avenida Brazil, Chick-fil-A, and Tommy Bahama.
Hunter Strong took the stage to rally up live-streaming donations from virtual guests. Adorning the stage was a huge YES to YOUTH logo sign donated by Jen Moore of Moore of Everything, who teamed up with The Wolford Group to facilitate the event's logistics.
In a whimsical fundraising incentive, teams were formed to raise money for which Zach Richmond had to show some sweat equity by walking on an inclined treadmill for one minute for every dollar raised. The top team winners were Rotary Club of The Woodlands at $4,355, Home for Good at $2,930, and Leadership Montgomery Class of 2019 at $1,690. As the largest fundraising team, Rotary Club of The Woodlands chose to shave Richmond's beard. Tom Cox, Jr. did the honors of shaving only half of his face. Richmond agreed to leave his newly shaved style intact for a full week.
In no time, the original goal of raising $25,000 was surpassed, and at its close more than $44,000 was recorded!
Zach Richmond, who serves on the Board of Directors for YES to YOUTH — Montgomery County Youth Services, created the "Shelter for Shelter" fundraising event in 2017 along with his business partner (and mother-in-law), Marlys Mulkey.
"Since its inception, Shelter for Shelter has raised more than $200,000 for YES to YOUTH, which is such a valuable non-profit that provides vital services and resources to at-risk youth in our community," said Richmond. "For every home we sell, our real estate group gives back a percentage of our commissions up to a total of $25,000 to YES to YOUTH's temporary shelter home. We are proud to support such a worthwhile cause, and we appreciate all of the generous participants this year."
YES to YOUTH (formerly called Montgomery County Youth Services) is a non-profit organization that provides crisis counseling, shelter programs, prevention services, and empowerment to young people.
Services include individual, group, and family mental health counseling, presentations and school counseling, crisis counseling, suicide prevention for youth and families, BridgeWay Emergency Youth Shelter (for ages 10-17) street outreach for homeless teens, and Healthy Support Program for pregnant and parenting teens.
PICTURED ABOVE: Ann Wolford of The Wolford Group and Zach Richmond share a light-hearted moment as they explain the COVID-19 safety measures and precautions to the limited-attendance guests, such as the use of brightly colored inner tubes for fun social distancing. Zach Richmond proudly shows off his new look as shaver Tom Cox, Jr., representing The Woodlands Rotary Club, laughs with approval. In a show of sweat equity, Zach Richmond takes on the inclined treadmill for one minute for each dollar raised by fundraising incentive teams.